How to Recover Deleted Text Messages on iPhone Devices?
Ah, that confusing feeling of nervousness, regret, disappointment, and helplessness when you need a text message you know got deleted. We have all been there, in pursuit of freeing up some space or regular device maintenance, you delete those old texts. Sometimes we just delete them by mistake!
Well, don't feel guilty or extremely nervous about it. There are several ways you can go about recovering deleted text messages on iPhones and other iOS devices. In this article, we are going to discuss several proven techniques, as well as answer some burning questions you might have in mind.
Can I Recover Deleted Text Messages on iPhone?
Yes. Deleted text messages are easily recoverable on all iOS devices including iPhones. Many people immediately worry they won't be able to recover deleted text messages on their iPhones. With local and cloud backup services available for iPhones, recovering deleted text messages by mistake is a matter of a few minutes.
Apple iCloud is the main backup service provider for iPhone users. Users can quickly restore saved messages from iCloud if they conduct regular backups.
Some messenger apps like Whatsapp and Facebook also have their local and cloud backup functions inbuilt. This means if you lose or delete text messages in any of these apps, they can still be retrieved. Last but not least, there are optional third-party remote monitoring and backup apps that can help recover deleted text messages. Let's dive in!
How to Retrieve Deleted Messages From iPhone With iCloud?
You can retrieve text messages you deleted by mistake or free up space using iCloud. iCloud is the built-in online backup and restore service from Apple. Restoring a recent backup version will restore your deleted text messages. This requires you to do a full device restore. 
A device restore will revert your iPhone back to the date and time the backup was done. The more recent the backup, the more likely your deleted messages can be recovered. So, this basically acts as an SMS tracking feature, allowing you to finally get back your lost messages.
If you only do weekly backups, and the message was received and deleted before a backup window, good luck finding your deleted text messages. This is why daily backups are recommended.
Follow the 5 steps below to retrieve deleted messages using iCloud.
Open Settings on your iPhone and tap on your name/picture at the top.
Select iCloud -> Manage Storage, then tap Backups.
You'll be presented with a list of available backups; tap one to see when it was saved. Look for the correct backup, which was saved before you deleted the text messages.
Proceed to restore the iPhone to factory settings by going Settings -> General -> Reset -> Erase All Content and Settings.
Once the device is rebooted choose the correct backup and device when you're given the option to recover from a backup and follow all necessary steps.
Note: Bear in mind that the restore process will reset your iPhone to factory settings before setting up your iPhone using the older backup. As such, any data added or device changes made after that backup, will not be available. We recommend creating a different backup or saving all recent files before recovering deleted iPhone text messages with iCloud.
If you are put off by having to do a full reset, don't worry you are not alone. Luckily, we came across a tested solution with great levels of success. This method allows you to restore text messages, without overwriting recent data. Here's what you need to do to recover deleted texts on iPhone via iCloud:
Use your Apple ID and password to log into iCloud.com.
Click on Text Messages, if available.
Proceed to locate the messages backup you need.
Return to your iPhone and head to Settings -> name/picture -> iCloud.
Turn off Text Messages. From the popup, select the option to Keep On My iPhone.
Proceed to turn text messages back on.
Tap Merge. If it was successful, the deleted text messages should reappear on your iPhone.
How to Find Deleted Texts on iPhone With Third-Party Software
If none of the above methods solved your problem, third-party software may be the solution. If you do regular backups to a cloud service, you may want to try them out. While some third-party cloud providers may not be able to restore the text messages to your device, you might be able to access the contents online.
There are other third-party apps like Spybubble Pro which can find deleted texts on iPhone. If installed in a target device, these iPhone and Android monitoring apps will store all inbound and outbound messages, or even detect the ones that are deleted, in real-time. This happens immediately when they are sent or received. So even if they are deleted, you can still access them via an online web portal. 
Other messengers like Whatsapp can create local backups however often you would like. Whatsapp has become a very common messaging platform.
We recommend venturing into the backup settings and configuring/activating daily backups. This way, if anything happens, you will be able to restore your iPhone Whatsapp messages.
Recover iPhone Messages for Free With iTunes
While iPhone spying solutions might be convenient, if you're looking for a free way to recover deleted texts, that action is also possible with iTunes if you often connect your iPhone to your Mac or PC. iTunes allows users to make local backups to their computers. If you are not able to use iCloud backups or third-party software, this might be your best bet.
Most users who use iTunes have iTunes backup enabled. Your iPhone constantly syncs data with the Mac or PC to keep them up to date. This means you can restore the latest backup, to retrieve recently deleted text messages. Simply follow the steps below.
Connect your iPhone and Mac or PC containing the backups then Open iTunes.
Select the iPhone icon in the top left-hand corner in iTunes.
Choose 'Restore backup'.
In a few minutes, the backup data will replace your current data.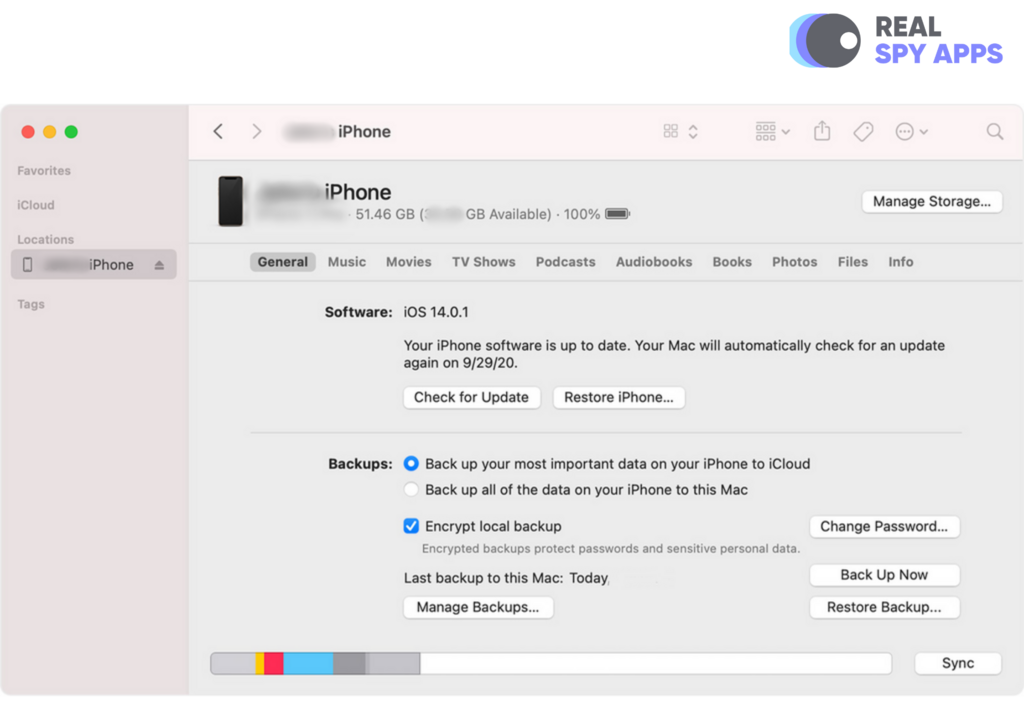 Note: This process will only help you retrieve deleted texts if they were already backed up. It is also crucial to note that just like iCloud backup restore, this process will wipe your current data. We recommend saving your recent files to avoid losing them.
Contact Your Phone Carrier to Recover Deleted Texts on iPhone
If all else fails, we recommend contacting your cellular service provider to recover deleted texts. If they really have to be recovered, say in a legal situation, you can contact your phone carrier to restore your deleted texts. Mobile service providers often save messages, sent over a given period of time.
Ask for technical support when speaking to the customer care representative. You will most likely be asked to explain the reason for this request. Sometimes, your phone carrier may not be able to fulfill your request if their backups have already been deleted. However, they may offer great suggestions that you may not have pursued yet.
While this method is least explored or doesn't guarantee much success, we recommend it before using third-party apps. Some apps that promise to recover deleted texts on iPhones are scams or malware. Be wary of just installing an app on your device because it claims to do something.
Can You Recover Deleted Text Messages on iPhone Without Backup or Computer?
Yes. There are several well-known apps like Spybubble Pro or PhoneRescue by iMobie with advanced features that can be used to retrieve deleted text messages on iPhone. The truth of the matter is things aren't immediately deleted when you trash them. They linger around in storage until they are overwritten. These apps are able to ID and access deleted text messages in such data.
If system services overwrite data containing deleted text messages, nothing can be done about it. Therefore, only employ these solutions if you are sure of success. They may only work if the messages were deleted very recently.
Conclusion 
The trouble of restoring deleted messages on an iPhone is never pleasant. We innocently get rid of them, sometimes against our wishes, only to need them again. Luckily, there are several solutions that may enable you to retrieve them as discussed in this article.
We recommend using iCloud and iTunes if you perform regular device backups to these platforms. This is the safest way to go about retrieving deleted text messages. If you are not pleased about losing all your current data in the process, try our other recommendation. However, your success mileage might vary significantly. The same applies to contacting your carrier service provider.
If all else fails, you might try your luck with third-party apps. Our audience has reported varying success with these as well. The sooner you use them after deleting the text the higher your chances of success. If you're an Android user, you might want to check out our Android deleted SMS retrieval guide.