How to Tap an iPhone Remotely?
The best way to tap an iPhone remotely is to install Spybubble on the target's phone using their Apple ID. Once installed, Spybubble will record the target's incoming and outgoing phones as well as texts, browsing history, and social media messages and send them to your device!
Phone tapping refers to listening in on other people's phone calls with the help of a device or software. Traditionally phone tapping was exclusively used by the police, who would track criminals and build cases against them. However, thanks to the availability of spyware, the average Joe can now easily tap a phone. Keep reading to find out how phone tapping works and in detail how to tap an iPhone remotely!
Can You Tap an iPhone Remotely?
The police can tap an iPhone remotely by applying for a wiretap court order and then requesting the target's telecom company to record their conversations and text messages. Telecom companies typically don't record phone calls unless requested by the police.
So a criminal doesn't have to worry about the police being able to dig up phone calls from years ago to aid their investigation. The police can only listen to phone calls following their request to the telco company. When tapping is done at the telecom level, the target will have no idea that their phone is tapped.
Obviously, if you are a member of the general public, you can't just ring up a telecom company and request they record someone's calls. However, you can tap an iPhone remotely via spyware. Spyware is specialized 3rd party software that records everything a person does on their phone, including phone calls, call logs, texts, browsing history, GPS location, and social media private messages. It then sends all of this data to your device 100% remotely!
High-quality spyware is incredibly hard to detect and leaves no traces on the target's iPhone. The target will not suspect a thing as they make their routine phone calls, browse the web and scroll through social media. The great thing about spyware is that once it's installed you don't have to lift a finger. The app will continuously track the target and automatically send the data to you via the internet.
Why Do You Need to Tap an iPhone?
Tapping iPhones has now become extremely common thanks to the invention of commercially available spyware. Here are some of the main reasons people want to tap iPhones:
Catch a cheating partner – Did you know over 20% of people cheat? With cheating being so common, it is no wonder that many spouses won't know for sure if their partner is faithful. By tapping an iPhone, you can listen to your spouse's phone calls and find out exactly who they are talking to and about what! You will once and for all know if your partner is actually chatting to a friend or if they are really talking to their co-worker about business.
Keep an eye on rebellious teenagers – Unfortunately, it is common for teenagers to engage in high-risk behavior such as taking drugs, drinking alcohol, going to parties, and talking to creeps online. By tapping your kid's iPhone, you can quickly establish who they are talking to and put an end to any dangerous behavior.
Criminal investigations – A very common way police build cases against criminals is to tap their phones. Many criminals have confessed to crimes via wiretaps and have revealed all of their criminal operations. Whenever you see a big drug bust in the news, the police were often tipped off thanks to wiretaps.
Business disputes – Are you concerned that your business partner or employee is plotting against you or stealing money from the business? Then you can tap their phone and catch them red-handed!
Improve employee productivity – Are your employees constantly slacking? Do you want to hear how they speak to prospects on sales calls? Then use Spybubble and record all of their phone calls!
Phone tapping can be used for a variety of purposes. No matter your motivation to tap an iPhone, Spybubble can help. In just 5 minutes, you can install this app on the target's device and then listen to their phone calls 100% remotely! Keep reading to find out how this epic app works.
What Are the Signs Your iPhone Has Been Tapped?
Did your iPhone just make a strange noise? Has your battery's performance just plummeted? Uh Oh! Your iPhone may be tapped. Check out all of the common signs below!
Your iPhone's battery dies quickly – Lots of spyware apps negatively impact the performance of the battery because they use up a lot of processing power. If suddenly you constantly need to charge your iPhone, then your device might be tapped!
Your device is overheating – Some call-intercepting apps can cause your iPhone to go into overdrive. Your iPhone should not just start overheating for no reason. Unexplained heating is a classic sign your device is infected with some kind of malicious app.
Your iPhone is making all kinds of beeps and bops – Whenever you make a phone call, does your mobile start clicking and beeping? Are there lots of static on the line? It might be time to dump the phone!
Your cell phone bill has increased – If your phone bill has skyrocketed out of nowhere and you don't recognize a lot of the calls, then your iPhone may be compromised. Other times hackers will steal your number and start running up massive charges via dialing international numbers and receive a kickback from shady telco companies.
Your iPhone switches on and off – If your iPhone starts acting erratically, you should definitely be concerned! A hacker may have put spyware on your device and be tracking all of your phone activity!
You keep getting strange text messages – A common way cybercriminals infect your device with spyware is to send you a phishing text with a malicious link. Once you click the link, the spyware is automatically downloaded to your device, and they now have the power to record your voice calls, read your texts, and even check out your social media messages.
If your iPhone is tapped by the police at the telco company level, then you won't notice any of the above signs. The telco company will hit a switch and start recording all of your calls and texts, and you won't notice any changes to your device's performance.
The only way to know if your device has been tapped at the telco company level is to stop paying for your phone bill. If your device is still working, then the cops are listening! This is because the police instruct the telcos to never disconnect a tapped phone.
Also if your iPhone has been infected with high-quality spyware like Spybubble, you also won't recognize any of the above signs. Spybubble runs in stealth mode and leaves no trace. It does not impact an iPhone's battery performance, it won't cause the device to overheat, and it will cause the phone to switch on or off.
Is It Possible to Tap Someone's iPhone?
It is possible to tap someone's iPhone. Law enforcement can request telco companies to record every phone call a person makes. You can also tap an iPhone by stealing someone's phone number or installing spyware on the device.
We have already talked about how police tap iPhones and spyware. However, phone number stealing is another method that is very common. In the past, criminals would have to physically get their hands on your SIM card and then copy it, resulting in a clone. But nowadays, they first gather personal information about the target, such as date of birth, full name, and address. Then they ring up the target's network provider, impersonate the target and convince them to move the phone number to another cellular carrier.
This is known as a port-out scam. If the criminal is successful, all of your incoming phone calls will go directly to their device, and they will receive your text messages. Criminals mostly use this technique to break into online accounts, such as bank accounts which require 2FA via text message. However, it can also be used for phone tapping.
What Is the Legit Way to Tap An iPhone?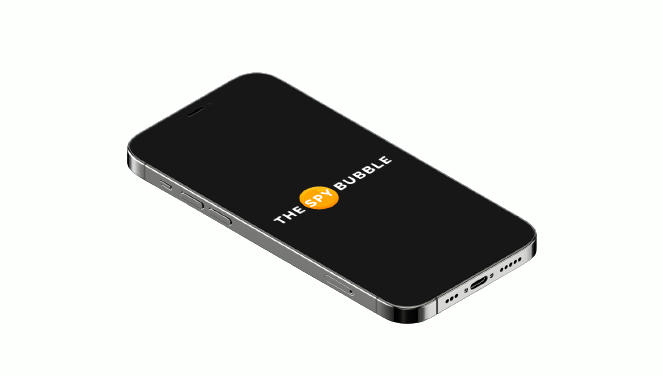 The most legit way to tap an iPhone is to install Spybubble on the target's phone. Spybubble can be installed 100% remotely on the target's phone using their Apple ID and only takes 5 minutes to set up.
This epic spy app is not only super affordable but comes loaded with features. It records every single thing a person does on their iPhone, including phone calls, emails, and private social media (Facebook, Instagram, TikTok, Twitter, WhatsApp, Telegram) messages.
Spybubble does not require any tech skills to set up. Just follow our step-by-step guide listed below, and a few minutes later, you will have access to all of the target's iPhone activity. Spybubble is known for being one of the most reliable spy apps on the market and gives you the power to monitor any iPhone 100% remotely.
How Does Spybubble Work?
Spybubble is a spy app that, once installed, records everything a person does on their iPhone. It then transmits this data to your Spybubble account via the target's internet connection. You then can log into the Spybubble account from your device and access the target's data at any time!
Spybubble is 100% hidden and virtually undetectable. It does not impact the iPhone's performance and leaves no trace. The target will have zero clue that you are tracking their every move. Spybubble can also be installed remotely. You do not need to touch the target's phone as long as you know their Apple ID credentials and they have iCloud backup enabled!
How To Install Spybubble on iPhone:
Head to Spybubble.com and create an account
Sign into your account and load the Setup Wizard by clicking Get Started
Click iOS
Select the model of iPhone you want to tap
Enter the target's Apple ID login credentials
Click Finish
Wait about 30 minutes
Sign in to your Spybubble account from your device and click on the dashboard
From Spybubble's dashboard, you can see all of the target's iPhone activity. This includes recorded phone calls, call logs, emails, text messages, social media private messages, browser history, and even the target's live physical location! Remember, for Spybubble to work, the target must have iCloud back enabled, and you need to know their Apple ID credentials.
What Features Does Spybubble Have?
Spybubble doesn't just record phone calls! This is a comprehensive tracking app that gives you access to everything someone does on their iPhone. Here are some of the top features:
Read private social media messages – Spybubble can track all major platforms, including TikTok, Facebook, Instagram, WhatsApp, Telegram, Twitter and even hack a Kik account!.
Access all of the target's emails – Get inside their Gmail account and view all sent and received emails.
View their browser history – Incognito mode isn't powerful enough to escape the all-seeing eyes of Spybubble, you can instantly see every site the target has visited.
GPS tracking – See the target's location in real-time via super accurate GPS coordinates, you can also see previous locations the target has visited.
Text messages – Who is the target constantly texting? Install Spybubble and read all sent and received messages
.Listen in on phone calls – This awesome spy app records all incoming and outgoing phone calls and saves them to your account. You will be stunned by the quality of the recording.
Access the target's photos and videos – Spybubble will collect all of the files on the target's phone and send them straight to you. Instantly you can have your hands on their private videos and photos.
How Much Does SpyBubble Cost?
For less than $0.5 per day, you can use Spybubble and tap any iPhone on the planet remotely! Even though Spybubble does not offer a free trial, they do have a 14-day money-back guarantee and a demo version where you can test out all of the app's features. Spybubble offers a number of different plans, including:
Cost of Spybubble For iPhone
1 month – $29.99
3 months – $49.99
6 months – $79.99 – only $26.66 per month
12 months – $149.99 – only $12.49 per month
Spybubble gives the average Joe the power to remotely tap any iPhone on the planet. This app is affordable, easy to use, and comes loaded with features. In just a few minutes, you can access all of the target's iPhone activity and listen in on their most private conversations!
How to Prevent Your iPhone From Being Tapped?
There are a number of counter-measures you can use to prevent your iPhone from being tapped. If you employ all of these techniques virtually, no one will be able to spy on you!
Turn off your iPhone and remove the battery when you are not using it – When your phone is off, spyware won't be able to record and send your latest messages. Also, some spyware prevents your device from turning off, so this trick can reveal if your device has been compromised!
Disable bluetooth – Hackers love to wreak havoc on your iPhone via bluetooth. You should be extremely cautious about the connections you accept. Also, it is wise to turn off GPS tracking because spyware uses this to reveal your location to nefarious 3rd parties.
Reach out to your network provider – Network providers are able to conduct their own investigations and determine if your phone is being spied on. They can also wipe your phone's memory and, if need be, provide you with a new number.
Scan your iPhone with an antivirus – A high-quality antivirus can quickly scan every part of your iPhone and identify spyware. Then at the click of a button, you can remove all of these nasty apps. If you have even the slightest suspicion that your iPhone has been tapped, we recommend running an antivirus scan.
Remember it is not enough to employ just one of both tactics, they need to be used in unison. If you still can't prevent your phone from being tapped, then you need to get a new number and device. However, before you do that, you need to determine how your phone got tapped in the first place because the hackers will just use the same tactic on your new device!
Is Phone Tapping Legal?
Phone tapping is legal if it has been authorized by a judge or the target has consented to have their phone monitored. Typically the police need fairly strong evidence to convince a judge to authorize a wiretap order.
You can also legally tap your child's phone if they are under 18 without telling them. As their guardian, you have the right to protect their safety and see who they are calling and closely monitor their phone activity.
Now if you want to tap your partner's iPhone without them knowing, this is illegal. However, the chances of you getting caught are incredibly low, especially if you use a top rated spy app like Spybubble. Also, do you really think the police are going to care about you catching your cheating partner? Of course not!
Phone tapping has always been controversial as, on the one hand, people argue that if you are doing nothing wrong, you shouldn't have anything to hide. But the other camp rightly points out that phone tapping is a breach of privacy and infringes on individual rights.
Before you start tapping your child's or partner's iPhone, you should consider the potential fights it might cause if your devious ways are discovered! Your kid or spouse is going to feel like you don't trust them, and they may feel like their privacy has been violated.
But at the same time, you have a duty to protect your child, and you should not have to put up with a cheating spouse. Just make sure you have a strong suspicion your partner or child is up to no good, and you secretly install Spybubble!
Conclusion
Do you want to turn into an FBI agent and effortlessly tap an iPhone? Spybubble is your ticket to becoming a phone-tapping maestro! This easy-to-use and well-designed spy app can be installed remotely on all iPhones in under 5 minutes!
Once installed, Spybubble immediately gets to work as it records every single thing a person does on their iPhone, including phone calls, social media messages, emails, photos and videos, browsing history, and live location. You then can access all of this juicy data from your own device by simply signing into your Spybubble account!
For under $15 per month, Spybuble gives you the power to tap any iPhone on the planet remotely. All you need is the target's Apple ID, and you are ready to rock and roll. Even better, the target will never find out because this spy app is undetectable. Head to spybubble.com and download this epic app today!