FamiGuard Review – Parental Control Spy App
Cell phone spy apps like FamiGuard give parents peace of mind, that their child is safe online. Famiguard also allows parents to monitor and control their child's cell phone activities. It features Web filter, App time control, Geofence, and location tracking.[…]
FamiGuard
https://realspyapps.com/demo/famiguard
https://realspyapps.com/go/famiguard
Android
Modern parents have a difficult time parenting. Today's playgrounds are not parks, rather online platforms like Facebook, Twitter, Snapchat, Viber, TikTok, Tinder where children interact with total strangers. These strangers could be cyberbullies, operators of dangerous websites, or online predators/kidnappers who could harm your child's physical and emotional well-being.
Cell phone spy apps like FamiGuard give parents peace of mind, that their child is safe online. Famiguard also allows parents to monitor and control their child's cell phone activities. It features Web filter, App time control, Geofence, and location tracking. In this review, we will take a look at:
What is Famiguard
How does the Famiguard mobile spy app work on Android?
Famiguard spy app Compatibility
Famiguard features
Famiguard installation
Famiguard price
What is Famiguard Mobile Spy App?
Famiguard is an Android parental control app, with location tracking, geofences, and screen time limit among others. These features allow parents to control app usage and view their child's app and web activities. This means parents can always be informed and feel secure that their children are protected online. Famiguard is a safe, simple, and secure option for monitoring your child. Before accessing your child's data, Famiguard requires a pin. This is a feature we have not seen on any dashboard before. It means only you can access your child's data. The registration and setup process is very easy, and customers have left very positive reviews on their website.
How does the Famiguard Mobile Spy App Work on Android?
Famiguard is a simple to use, and easy setup android cell phone spy app. The simplicity begins with the easy, 3-step setup process.
Step 1: Create a Famiguard user account.
Simply access FamiGuard – Professional Parental Control & Kid Tracker App and Sign Up for an account:
Enter your preferred email and password.
Type in the code and remember to
Tick the EULA and Privacy Policy check box after reading them.
Tap Sign Up.
Step 2: Setup your security pin.
This will be used to access the dashboard every time it goes to sleep after a certain period without activity. This is an awesome feature because no one can access the data if you forget to log out!
Step 3: Set up the target android device
You will arrive at the setup page. Here you will set up the target android device after installing the Famiguard cell phone spy app. We will discuss how to install the app on the target android device later in this review.
Famigaurd Mobile Spy App Compatibility
The Famigaurd cell phone spy app is exclusive to android. Currently, they do not support iPhones/Ipads.
Famiguard is compatible with all Android smartphones and tablets running Android 4.1 and up.
Famigaurd Mobile Spy App Features
Famiguard offers six features for child monitoring and control. They include:
Screen time
App activity
Activity summary
Web filter
Location tracking
Geofence
Screen time
Social apps and gaming platforms have become very addictive. Children are glued to their device screens all day. This is not good for the physical and emotional well-being of the child.
Famiguard's Screen time feature enables parents to instantly pause their child's phone usage. Simply Tap the 'Pause Phone Usage Instantly' button on the upper right of your screen time menu in the dashboard. The app will instantly lock the device to keep your child from using their cell phone.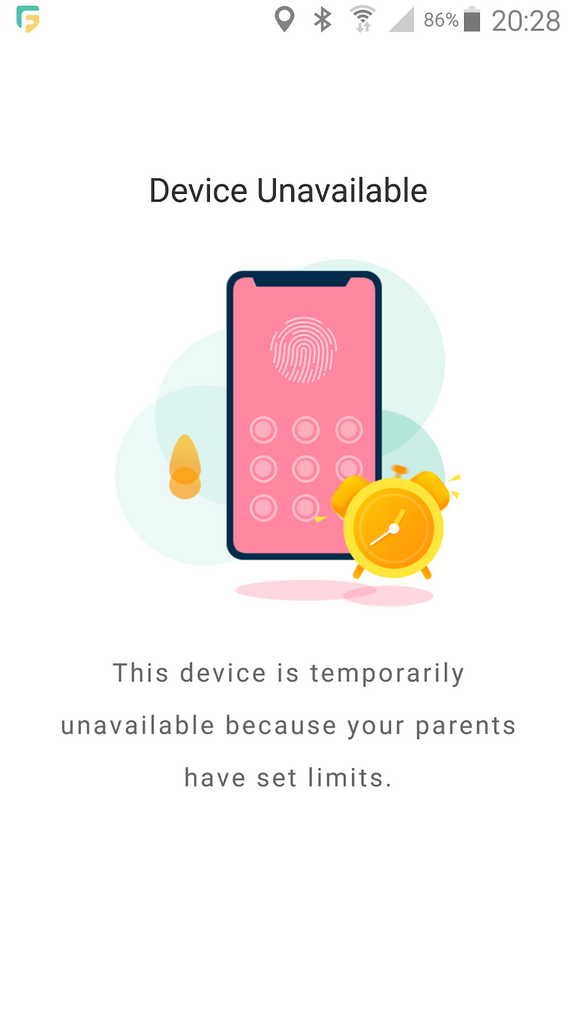 The feature can also be set to activate based on a set schedule or by setting a fixed screen time. If the time limit is reached, your child will no longer be able to use their device.
Doing this helps you prevent distraction, prevent Internet and game addiction, as well as put them on a schedule.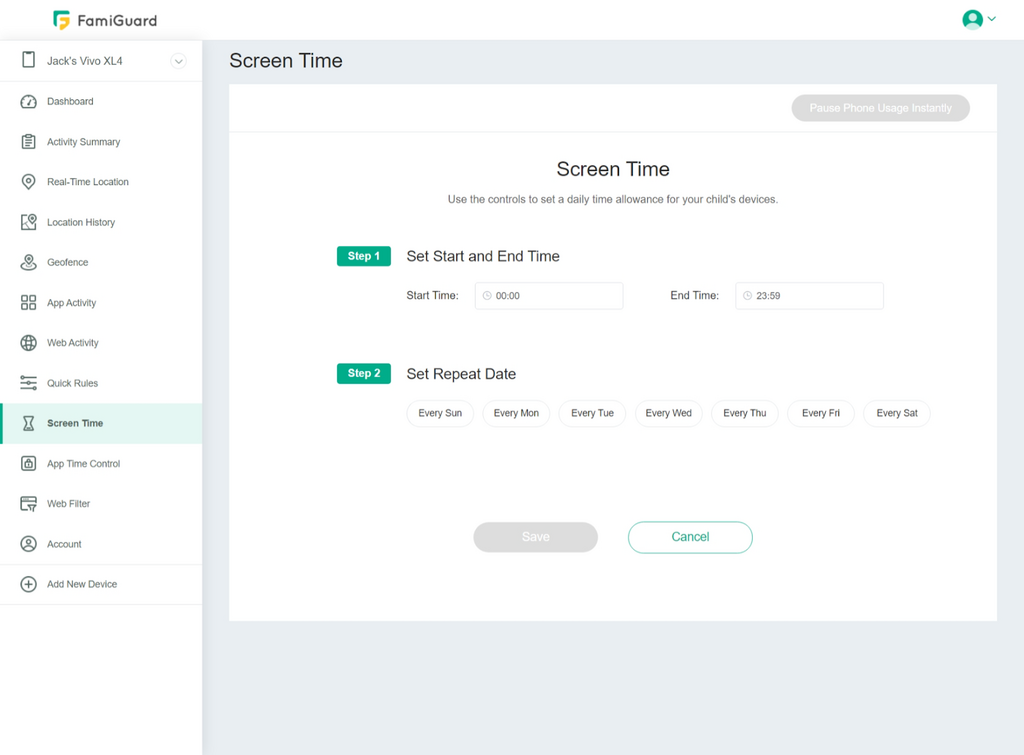 App Activity
Knowing what your child does online is very important. They may be exposed to bad websites or communicating with the wrong people.
Famiguard gives you access to an overall report on how your kids are spending their time on their cell phones. This will include app usage data, browsing history, and online routine.
The feature can also:
Inform you what kind of contents your child is accessing
If the content is harmful or not
When they leave and enter geofences
Access all the app usage history
All this can be accessed conveniently from your dashboard. Based on the data, you can choose to activate features like screen time as a parental control measure.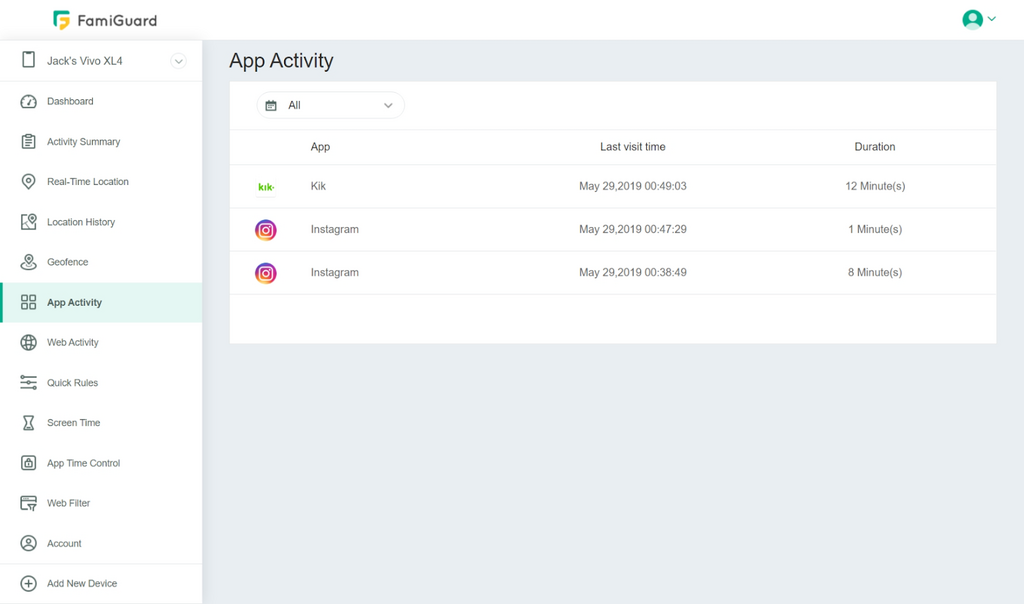 Activity Summary
Activity summary is not very different from App activity. However, instead of only showing different apps usage, it will show that of the entire device. This will include location data, web history, and app usage as well.
This is great if you want a quick glance at what your child is doing in general. However, I found it mostly redundant in the system. You can see my activity on the device gallery after taking installation screenshots on an old Galaxy Note 4 running Android 6.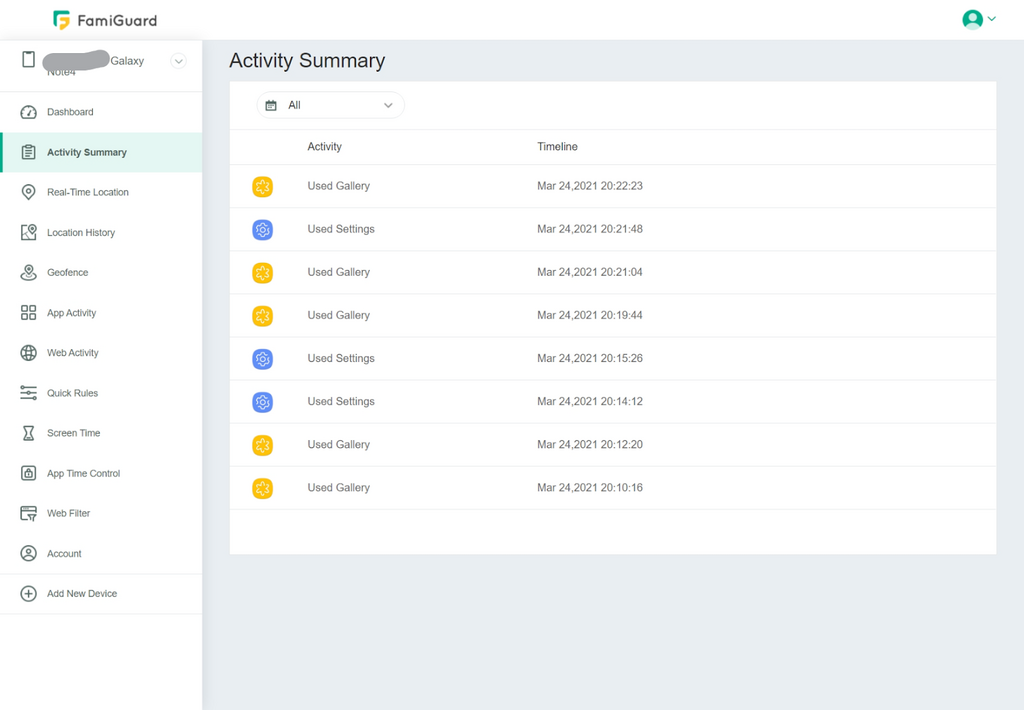 Web Filter
There are many online predators hiding behind fake social media profiles. There are equally as many scammers waiting to ransom your child.
Famiguard's web filter enables parents to block inappropriate websites. This is important to prevent your child from any online threats.
Online content like pornography, gaming violence, gambling, groups, and many more can also be very influential to a young mind. Famiguard's web filter allows them access only to websites that are deemed age-appropriate.
You can block each category you do not want the child to access. Famiguard also allows you to set website exceptions. These will not be blocked.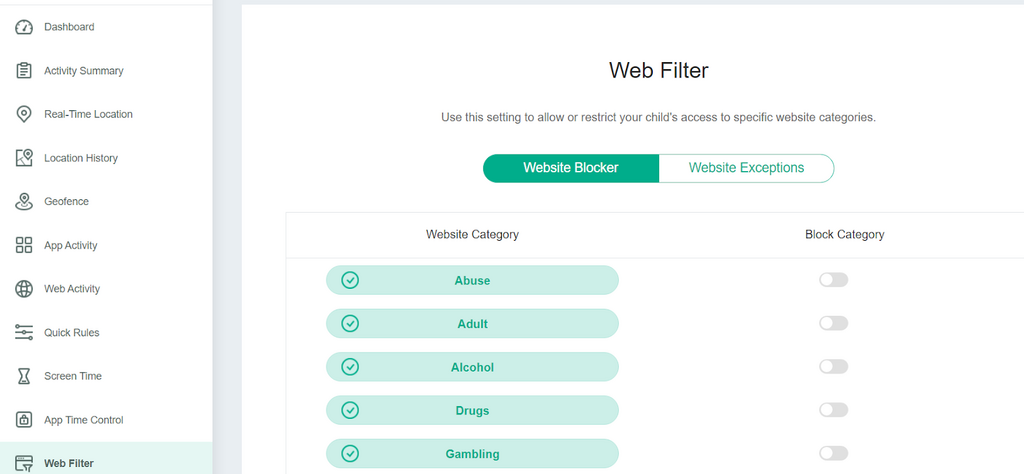 Location Tracking
As a parent, you constantly worry about where your child is. This is usually for security concerns. Having the ability to know where your child is currently is therefore very important. Famiguard's real-time location tracking enables you to do just that. From your dashboard, you can see the current location of the target device on a map.
Geofence
Geofencing is a very important child tracking feature. Having the ability to know where your child is precisely is important for many situations.
There are countries where child abduction is rampant. Parents can set safe zones to make sure children are away from potential kidnapping locations. Parents can create a precise zone on a digital map and mark it as a safe zone.
In addition, they can name the zones, specify a radius, set guard times and an email to be alerted on. A perfect example is a home, school, a gym, or neighbors place.
Famiguard allows the parent to:
Set geofences and safe zones
Receive alerts when they enter or leave specific geofences
Be informed of your child's whereabouts in case of emergencies
Know they are in the correct location at the correct time
Do I Need To Root My Phone To Install Famiguard Mobile Spy App?
No. luckily, unlike other mobile spy apps, Famiguard does not require the target device to be rooted. Also, it can be accessed straight from the Play Store. This means it has been verified by Google to be secure for use. Other cell phone spy apps are not available on the Play Store.
Famiguard Mobile Spy App Price
Android Price
Famigaurd has a four-tier pricing system for android:
Three-day Trial
1-Month plans
Quarter Plan
1-year plan
Famiguard Mobile Spy App Installation
How To Install Famigaurd Mobile Spy App On Android
To install the Famiguard app on the target android device, there are two options:
Option 1: Use the email you received after signup
Follow the provided instructions to set up the device, and access your dashboard.
Option 2: Directly from the target device
Step 1: Head to the Play Store on the target android device.
Step 2: Tap on the search bar and type Famiguard.
Step 3: Select the first option and Tap install.
Step 4: Tap Open to open the app once the installation is complete.
Step 5: Scroll or skip through the feature slides and Tap Get Started.
Step 6: Read the EULA & Privacy Policy and tap Agree
Step 7: Complete all following prompts on the target cell phone. Agree to all permission requests for all the features to work as intended.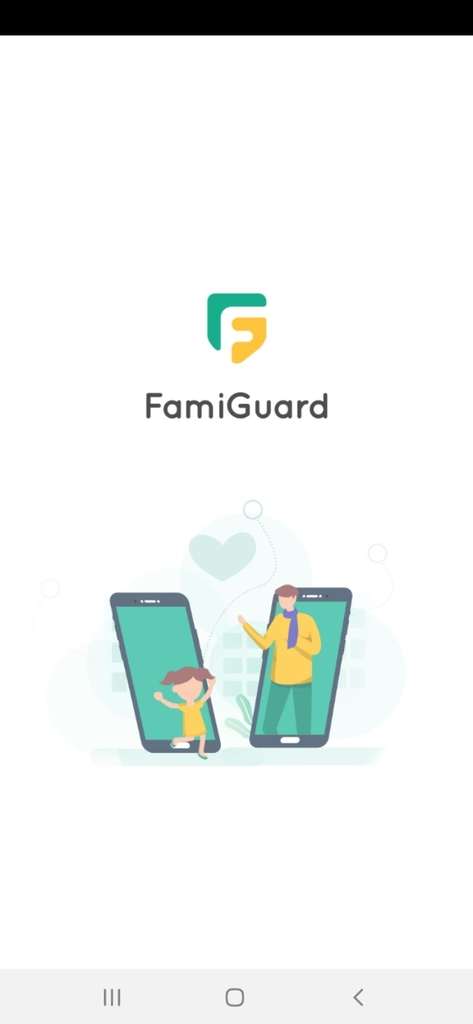 Step 8: proceed to set up the target device on the web control panel. Follow all instructions and prompts.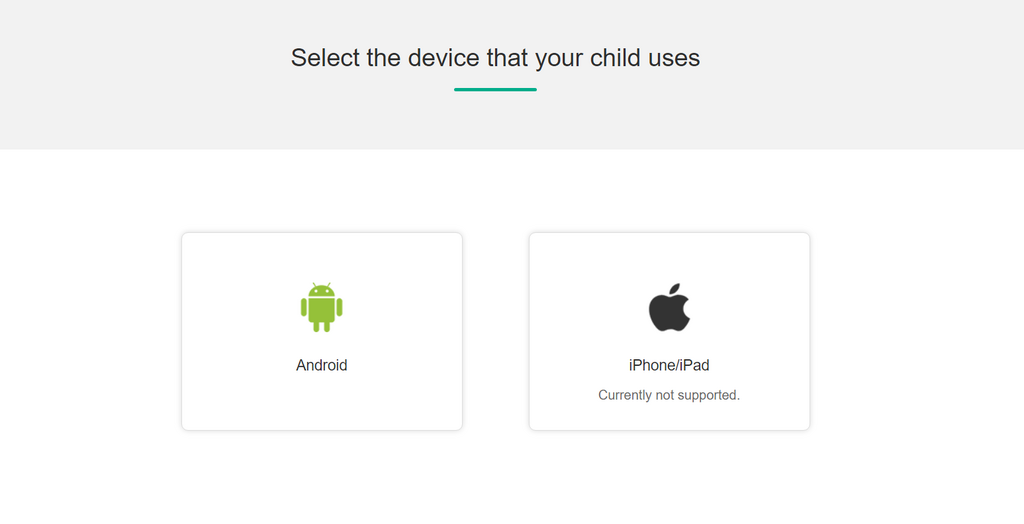 Once the setup on the target android device is complete, a dashboard will appear on your online account with device data.
Data is synced to Famiguard's servers every time you log into the account. This means you will always have all the latest information and updates.
Is Famigaurd Mobile Spy App Detectable?
Yes. The Famiguard spy app is detectable because the icon can be seen on the screen and app list. If you wish to, it is easy to hide an app icon on android if you are monitoring a child and you don't want them to know. However, when Famiguard is active, there is a notification in the notification panel indicating so.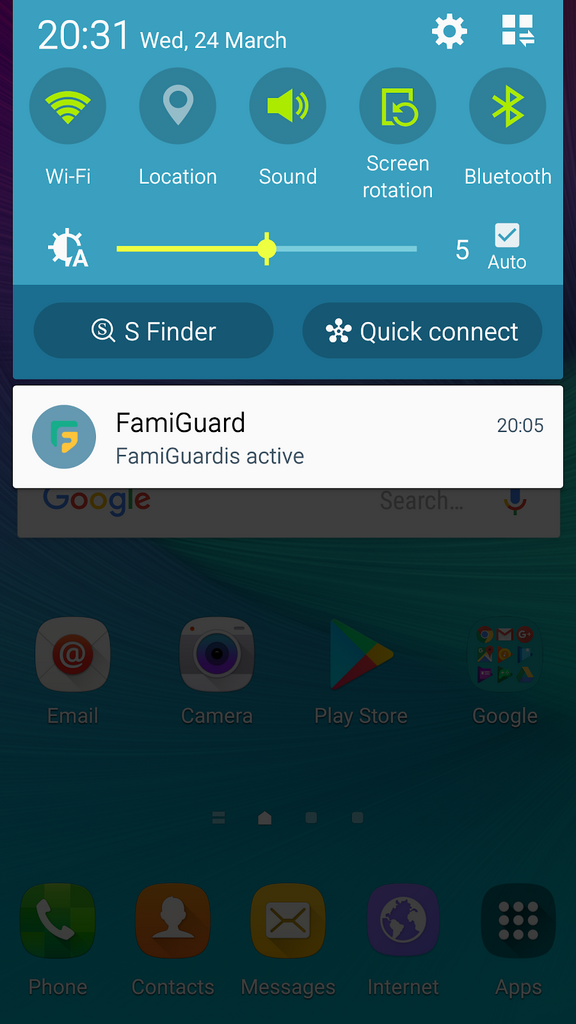 Is Famiguard Mobile Spy App Legal?
Yes. Many spy apps are legal as long as the person is informed and the icon is visible. However, you should always check your local laws and regulations to see if they require consent from their target. Failure to do this, you might face serious legal consequences. Always seek the advice of a council before engaging in any spying and monitoring activities.
Can You Install Famiguard Mobile Spy App Remotely?
No. You need physical device access to install Famigaurd. Famigaurd cannot be installed remotely.
Pros And Cons
Pros
Simple to set up and use
Paid options are very affordable
Three-day free trial available
Cons
Lacks many advanced spying features
Conclusion
The Famiguard cell phone spy app for child monitoring and control can be a great tool for any beginner parent. It features screen time control, app activity and control, activity summaries, location tracking, and geofencing.
It is also very simple to install and use, without the need to root the target device. I also liked the neat and organized dashboard, making the entire ecosystem a joy to use.
I was not impressed by the lack of advanced features such as Social media account monitoring, Sim tracking, and Gallery access. These features give the parents a lot of insight into a child's life.
Nevertheless, the Famiguard mobile phone spy app delivers on its promises and works as intended. I recommend having a go with the three-day trial for a start. Give the app a proper test drive and see if it fulfills your child monitoring and control needs.
Expert's verdict
In the list of phone tracking android apps, FamiGuard stands out with its outstanding parental features. Note down that this app is one of the easy-to-use yet effective tools to trace out your kids remotely.