Spyzie Review – Is It Worth the Hype?
It's a mobile phone software that you can use to track unusual behavior on a given phone. Many people commonly use it for child and employee monitoring procedures. […]
Spyzie
https://realspyapps.com/demo/spyzie
https://realspyapps.com/go/spyzie
Android, iOS
Staying informed about the important things that occur in our lives today has become a challenging task. Whether it's business partners, spouses, or even children, keeping up with any suspicious behavior can be a daunting task.
However, solutions such as the Spyzie Phone tracker have recently come to the foreground. These are highly convenient measures that you can use to keep track of suspicious activity on a given phone.
The app might provide various unique features, but it's also good to look at how it functions and ways to make the most of its functions. These include the features, compatibility, installation factors, and the app's price.

What is Spyzie?
It's a mobile phone software that you can use to track unusual behavior on a given phone. Many people commonly use it for child and employee monitoring procedures.
Furthermore, the app is also reliable if you want to determine issues associated with infidelity in relationships.
How Does Spyzie Work?
Using this app is a simple process, and you should expect the following steps:

#1. Create a Free Account
The first step is to create a user profile, which will provide organized access to a control panel. The panel will give you access to the features you need for tracking.
#2. Download, Install and Configure Spyzie
Once you complete the registration, download the app to your phone. Then, proceed to calibrate the app for monitoring functions.
After successful installation, login and access the dashboard to start using the application.
Spyzie Compatibility
Similar to most apps, Spzie functions on both Android and iOS. However, some functions might require jailbreaking or rooting procedures to work. Below are some specific things to expect from the app:
Operating System Minimum Version
Android Android 4.0 (Ice Cream Sandwich).
iOS iOS 8.
Spyzie's Main Features
Packed full of different features for monitoring purposes, Spyzie lets you perform various unique procedures. A few of the common ones include:
Call Tracking
The app keeps a log of all the incoming and outgoing phone calls from the chosen phone. Plus, the mobile software can record phone calls for storage.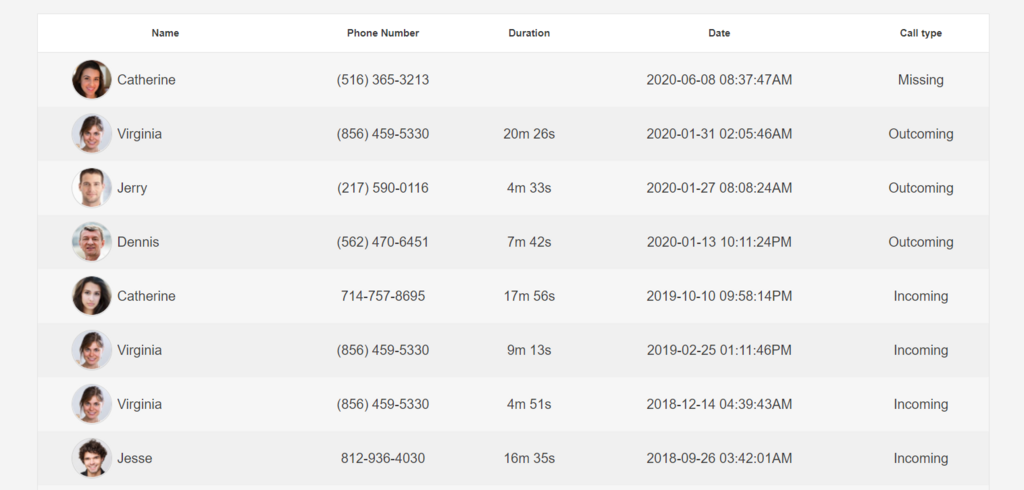 So you have real-time insight into their conversations with any unusual parties. A few of the call metrics the app will record include:
The timespan of the phone call
Date and time stamps
Contact details such as name and number.
PRO TIP! While the app does not have a filter for search purposes, you can still alphabetically organize content for your convenience.
SMS Tracking
The average smartphone owner has to send at least one SMS per day. You can use Spyzie to keep track of such communications through the "Messages" tab on the dashboard. Plus, the app tracks deleted messages and all the relevant time stamps.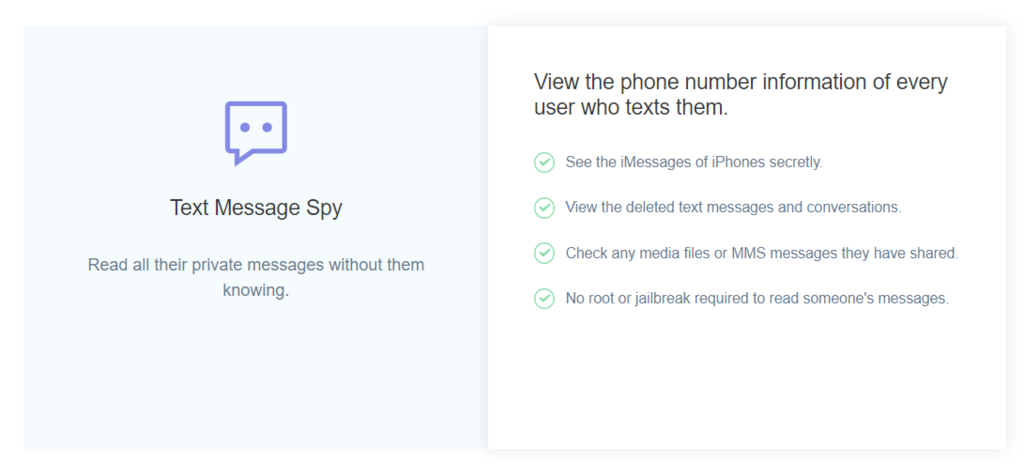 Many users like how the app organizes messages in a conversation view rather than using a listing. So, it's easy to navigate and access messages, especially for cell phones with lots of content.
Location Tracking
You can gain lots of insight into any form of unusual behavior in a friend or partner by tracking their location. Doing so manually is not easy and can be a tiresome process.
However, Spyzie lets you track the location an individual visits through GPS data logs. It provides you with information such as physical addresses and indicators on a map. Also organizes the data in a convenient table.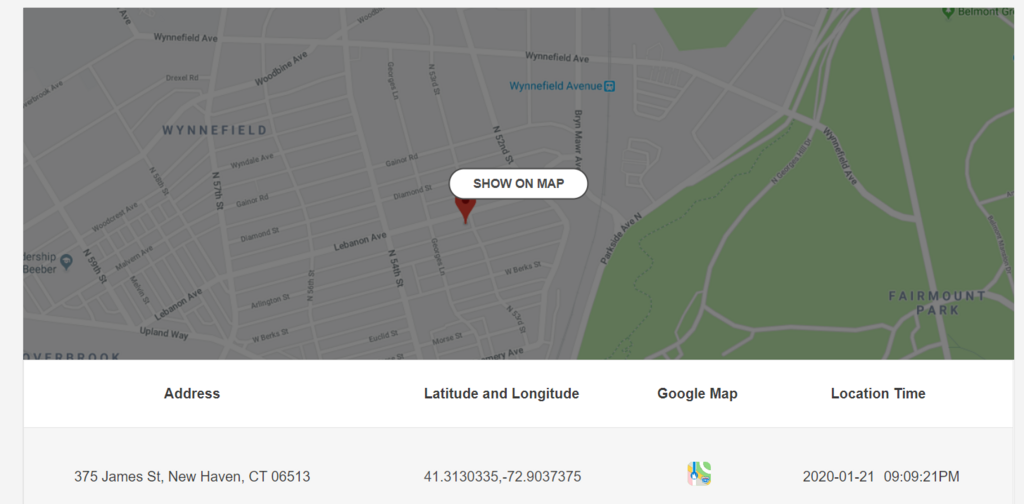 Even if the app does not have a search option for locations, you can still access various other useful data types. These include data such as
Address.
GPS information.
Location time data.
Geofence Alerts.
Taking the location tracking feature further would be the Geofence Alerts. If you are new to spy software, you should know that this feature works pretty simply.
You will receive these alerts when the target phone goes out of a specific virtual zone. You have to set the virtual zone on the Spyzie App map with specific location indicators.
Social Apps Monitoring
According to a recent publication, the average person spends over 140 minutes using the internet daily. With Spyzie, you can gain real-time insight into their online activities, especially when it comes to social media usage.
You can track the activity on platforms such as:
Facebook
The app can track incoming and outgoing texts on the Facebook Messenger. That said, it might require jailbreaking and rooting. Plus, there is a keylogger that tracks any input the user delivers through their keyboards.
WhatsApp
Available with a keylogger feature for tracking any inputs delivered through the user's keyboard. Plus, it also includes details such as timestamps and notifications. Unfortunately, you won't have any access to any media, such as photos sent through WhatsApp.
PRO TIP! The Social Apps Monitoring feature requires keylogger usage, but you will find it easy to use after the first few tries.
Stealth Mode
The "Holy Grail" of features in this app would be the ability to function discreetly. So, the owner of the phone never realizes the presence of the Spyzie App.
Aside from tracking unusual behavior, the stealth mode can also be beneficial for tracking a lost device.
Website History Tracking
Most people visit many different websites through their phones. Spyzie lets you access the various forms of valuable data relating to the sites they access. You will receive information on:
The last visit data.
Bookmark data.
The visit frequency.
Visit frequency.
Last visit date
Bookmark Status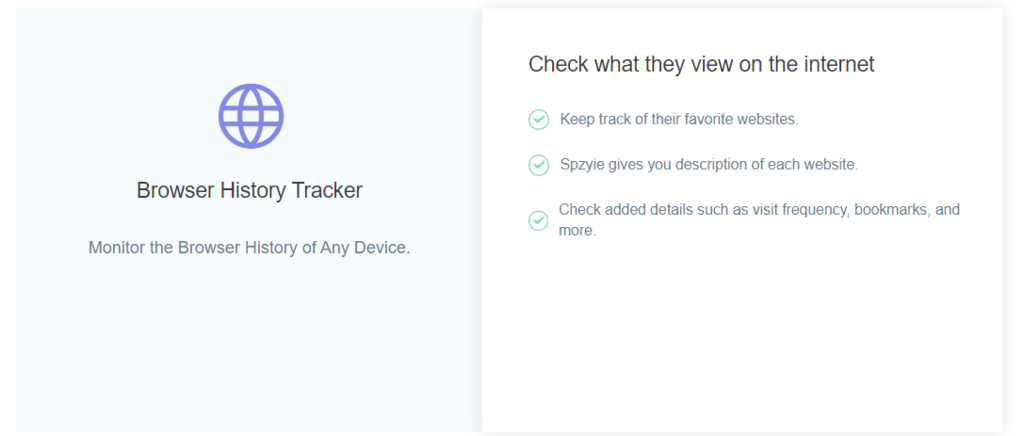 SIM Location Tracking
SIM cards carry lots of data about cell phone activity. The Spyzie Spy App provides alerts on any sim card changes on the given phone. With Spyzie, you can track various metrics on Sim Cards, including:
SIM code and carrier.
IMEI number.
SIM card phone number and location.
Besides, Spyzie's SIM location tracking can also notify you if there's a change of SIM cards. This can come in handy if you want to track a lost phone.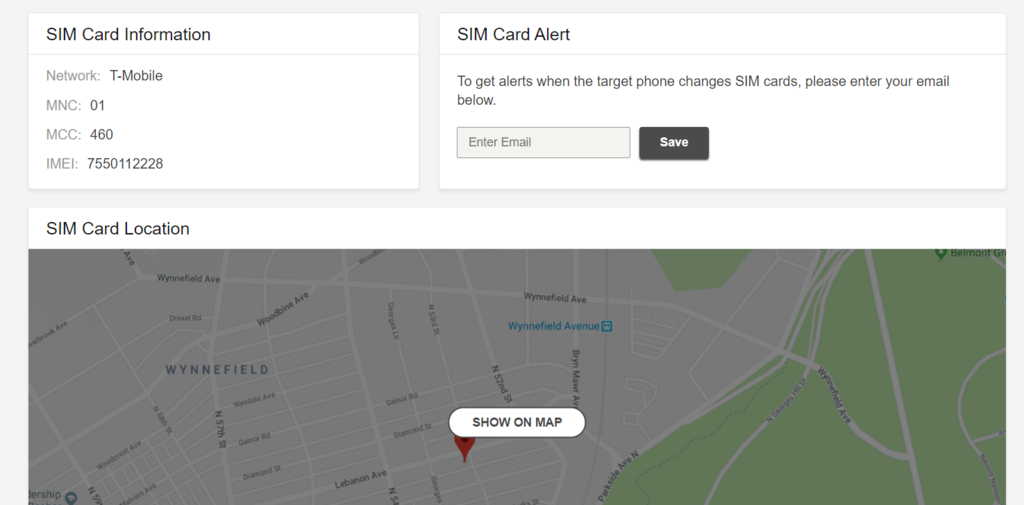 Using Spyzie For Android
Ranking high up among the best Android Apps, Spyzie for Android is unique because it does not require rooting. We also consolidated a few other useful details surrounding using the spy app on Android.
Which Android Versions Does Spyzie Support?
The Android Version that Spyzie supports is anything Android version 4.0 (Ice Cream Sandwich) or higher. Anything lower might lead to bugs and compromised app functions.
How Does Spyzie Work on Android?
Weighing in at just 2MB, Spyzie won't leave a huge footprint in your storage memory. Plus, it runs in the background so that it won't consume lots of battery power. The app works.
You create a user account, download the app, and start monitoring.
Spyzie for iPhone
Similar to the Android version, the iOS version has several features you can use for monitoring.
However, the app functions differently because you don't need to install it on the phone. You may only need to set up an iCloud account to access the data.
How Does Spyzie Work on the iPhone?
As an Apple device enthusiast, you probably know about the high standards they like to maintain. So, using spy software on any Apple cell phone might not be easy.
So, that is why you can use the app by setting up an iCloud account.
Also, exceptional would be the fact this app can also work on non-jailbroken iPhones. However, the following features are only available on Jailbroken iPhones.
Geofence alerts.
Social apps monitoring.
Web history tracking.
How to Install and Use Spyzie
The installation process for this mobile spy software is simple, but you have to remember that it varies between devices.
Requirements
Active internet connection
Verified Spyzie account and subscription
An updated web browser
Android or Ios device
How to Install Spyzie on Android
Phase #1: Register for a Free Spyzie Account
You need a verified user account, which you can create by clicking on the "Sign button" on the Spyzie homepage.
You will have to provide specific details including email, and password. Then choose a subscription plan that suits your budget. Ensure you choose one that is compatible with your device.
The app should redirect you back to the dashboard.
Step 2: Prepare the Target Device
Spyzie classifies as a "third-party" app, and you have to be cautious when before using it for spy purposes. You have to customize a few settings through the installation process:
Find the app on the Play Store on the target device.
Proceed to the hamburger menu, then move to Play Protect > Settings.
Ensure that you check both options under the Play Protect setting. These are the "Disable scan apps with Play Protect" and "Disable improve harmful app detection."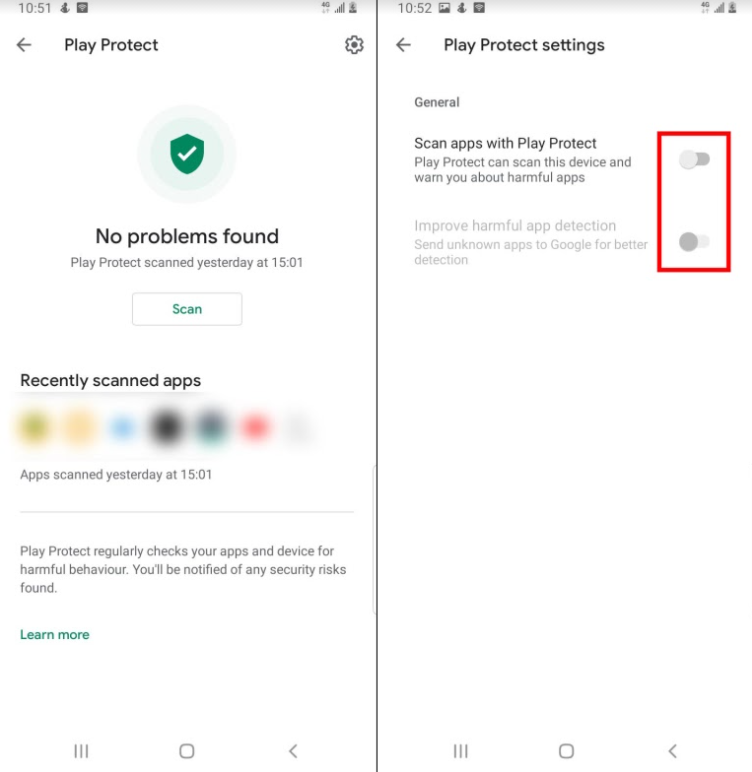 Step 3: Download and Install Spyzie Software
You can now install the app on your chosen phone. However, you need to customize the app to ensure it functions in discrete mode.
Open your web browser on your given device, and activate the "Private Browsing" feature.
On the address bar, input the link to the site, and follow the instructions to download the app.
It should start downloading an APK file and then click "Install" to set up the app.
Then, click to open the app.
Step 4: Finalize the Spyzie Setup Process on the Cell Phone
Once the setup process is complete, you will gain access to the setup wizard. The steps involved in this process include:
Click "Agree" on the policy menu that comes up.
Use your credentials to login and start the setup procedure.
The app will seek permissions to access data such as SMS, location, and more. Click on "allow" for all options.
The app will seek usage data access. Click on "Proceed to Settings," then activate the toggle button on the "System Services" section. Doing so should take you back to the main menu.
Tap on "proceed to settings," which should take you to the settings. Ensure you switch on "System Service."
Proceed to the oncoming permissions similarly. The app will ask whether you want to activate the "stealth mode" function. Then, click on "start monitoring."
PRO TIP! Activate stealth mode by dialing **001**
Step 5: Start Monitoring
Now, you can start using the app to monitor any unusual activity. Do this by accessing your account and the personalized dashboard.
How to Install Spyzie on iOS
Installing Spyzie on Ios is simple and straightforward when compared to an Android device. That said, the app has a few additional requirements
Verified user account and Spyzie subscription
iCloud credentials – these user details will make it easy to track the given device.
Access to the target phone – you may have to access the target phone if it does not meet specific standards.
Steps for Installing Spyzie on iOS
Phase #1: Create a Spyzie Account and Pick a Subscription
Visit the site, and create a user account. Then choose a subscription plan for your Ios device.
Phase #2: Customize Spyzie
You will then proceed to the Spyzie setup page once you choose a suitable plan. Then provide all the necessary information for app use.
Phase #3: Enter iCloud Credentials of The Target Device
On the setup screen, you have to input the iCloud credentials. That said, remember to access these settings:
Enable the iCloud backup feature
Disable two-factor authentications.
Phase #4: Select the Device to Monitor
Since the specific iCloud account may have links to various other devices, you will have to select the specific device to monitor.
Phase #5: Start Monitoring
You are now ready to start using the app. Click on "Start" to complete the setup process.
How to Remove Spyzie From the Target Phone
Removing Spyzie is a simple process. The things to expect in this process include:
Go to Settings > Security on the target device.
Choose device administrators, then Deactivate the update service.
Get to the settings menu and go to activate Update Service > Deactivate.
Find Spyzie on the list and then click on "Uninstall."
How to Uninstall Spyzie on iOS
You don't have to uninstall the app because you have to revoke access to the iCloud platform.
Pricing
On average, the subscription plan for Spyzie averages between $9.99 to $399 per month. That said, the specific price depends on your preferred subscription plan.
The basic plan is limited and only offers access to a few features. These include call logs, text messages, bookmarks, browser history, and more.
Can Someone Detect Spyzie?
No, Spyzie is not detectable. However, you have to conceal it by activating the stealth mode during the setup process.
Can Spyzie Access Private Browsing Data?
Yes, Spyzie can keep track of any websites that you access during private browsing. Also, the app can keep track of the common sites that the user visits.
Is Spyzie Legal?
Yes, Spyzie is legal to use. That said, proceed with caution before using the app for monitoring purposes.
Can Spyzie Be Installed Remotely?
Yes, it's possible to install Spyzie remotely. However, it's only possible for Ios devices. Android devices require physical access to the device.
How Many Devices Can I Monitor with Spyzie?
You can monitor as many as 25 devices using Spyzie. But you also have to choose the right product subscription plan.
How Often Does Spyzie Update the Monitoring Log?
Spyzie updates the monitoring log after one day for devices that are not rooted or jailbroken. That said, for devices that have undergone these procedures, you can choose customized update frequencies.
Final Take
Overall, Spy apps are the next big thing when it comes to monitoring unwanted behaviour. A good example would be the Spyzie app. The app is simple to use, and the set up process for both iOS and Android devices is a breeze. So try out this app if you want to track illicit relationships or a compromise in your business.
Expert's verdict

Miloš Jovanović
Chief Technology Officer
Overall, Spy apps are the next big thing when it comes to monitoring unwanted behavior. A good example would be the Spyzie app. The app is simple to use, and the setup process for both iOS and Android devices is a breeze. So try out this app if you want to track illicit relationships or any other suspicious activities.
In sum, Spyzie is an affordable option for a parental control app for iOS and Android. However, one of the biggest problems is that it is not compatible with computers. Nonetheless, it is feature-packed. You can monitor social media, calls, texts, and multimedia content using this app. You can also block certain keywords and apps. With all these features, it can provide you with peace of mind.