FamiSafe Review – Is This Spy App the Real Deal?
Famisafe is the most reliable parental control app. It features app usage tracking, web content monitoring, screen time limitations, app blocker, location history, real-time location tracker, and sleep time tracker, etc.[…]
FamiSafe
https://realspyapps.com/demo/famisafe
https://realspyapps.com/go/famisafe
Android, iOS, macOS, Windows
Predators are everywhere online. As a parent, always having your guards up around your precious bundles of joy is very important. That is where FamiSafe comes in.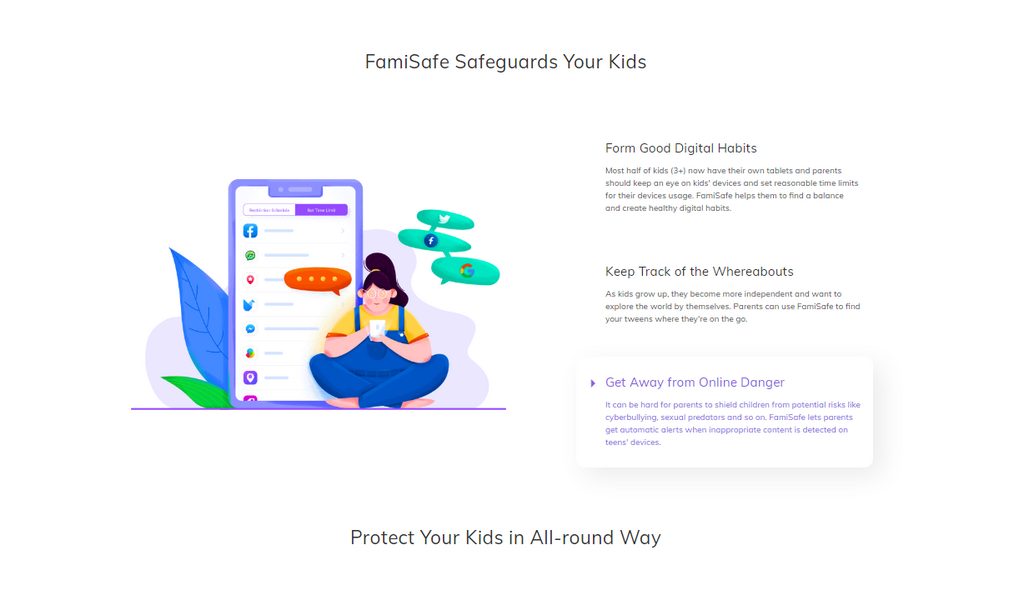 Famisafe is the most reliable parental control app. It features app usage tracking, web content monitoring, screen time limitations, app blocker, location history, real-time location tracker, and sleep time tracker, etc.
In this review, we will take a look at:
What is Famisafe MOBILE SPY APP?
How does the Famisafe MOBILE SPY APP work on Android?
How does the Famisafe MOBILE SPY APP work on iPhones?
Famisafe MOBILE SPY APP Compatibility
Famisafe MOBILE SPY APP Features
Famisafe MOBILE SPY APP Price
What Is Famisafe Mobile Spy App?
FamiSafe by Wondershare is your quintessential reliable parental control app. Once installed on the target device, you can use its features to control it. Famisafe has state-of-the-art features like location tracking, app usage monitoring, and web content monitoring.
Parents use these features to keep their children from dangers online, keep track of their whereabouts as well as developing good digital habits.
Currently, FamiSafe is providing safety cover to over 1 million kids worldwide. They have great reviews online and the app works as advertised based on the same reviews. The app is also compatible with a wide array of devices making it one of the best mobile spy apps available.

How Does The Famisafe Mobile Spy App Work On Android?
Famisafe is simple and easy to use. To get started on an Android target device, you must install & register a FamiSafe account first on your device. An online registration option is available if you do not prefer the App.
Step1: Register for a Famisafe on their sign-up page. Enter your email of choice and password to create an account by tapping Sign Up.
Step 2: Download and install the Famisafe app from Play Store on the child's/target device. This is necessary to tie up and manage your kid's device.
Step 3: Launch the Famisafe app on the child's Android cell phone and Choose the identity as Parent.
Step 4: you will be redirected to a sign-up page. Tap on "Have an account? Login" to log into your FamiSafe account.
Step 5: After a redirect to the pairing page, use the provided pairing code to tie up your kid's device.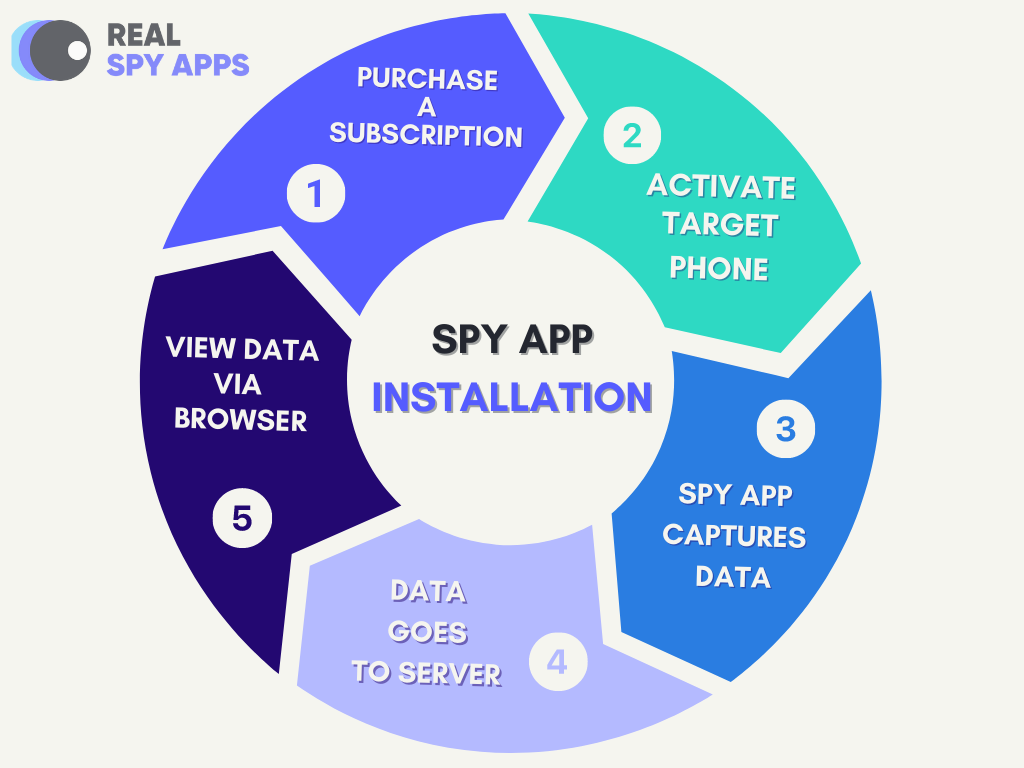 How Does The Famisafe Mobile Spy App Work On Iphones?
Famisafe works similarly across all platforms. This means the detailed guide provided above works for Famisafe for Android, iOS, Kindle Fire, Mac as well as Windows. However, differences in the interface mean you might have some specific steps according to the device you use.
Famisafe Mobile Spy App Compatibility
The Famisafe cell phone spy app works perfectly on devices running on Android 4.4 and above or iOS 9 and above.
It is also compatible with Kindle Fire, Mac as well as Windows.
Famisafe Mobile Spy App Features
FamiSafe comes loaded with many features. In this review, we will take a look at:
Activity Report
App Usage & Blocker
Parental Alerts
Screen Time
Web Content Filter
Family Locator
Activity Report
The activity report is a feature that gives you insight into what your child does on their mobile device. FamiSafe enables parents to track a kid's daily activities on their cell phones.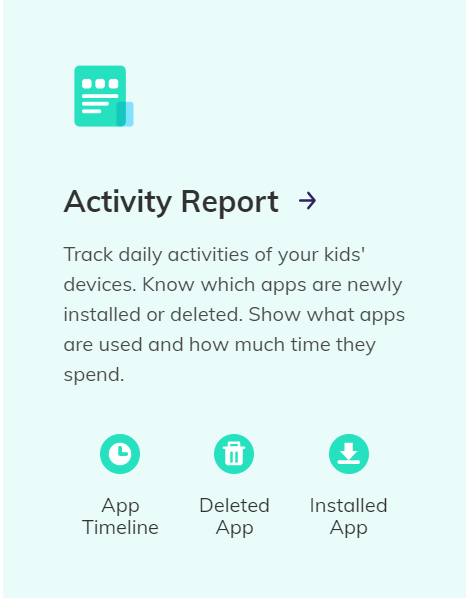 With Famisafe, you can put in place internet filters, to ensure your child views only the right content. From the dashboard or parent app on your device, there are reports about which apps were installed or deleted along with their usage statistics.
App Usage & Blocker
Children spend too much online. Many studies show that this has a significant effect on their cognitive development. Also, there is a lot of inappropriate online content, which we do not want them exposed to.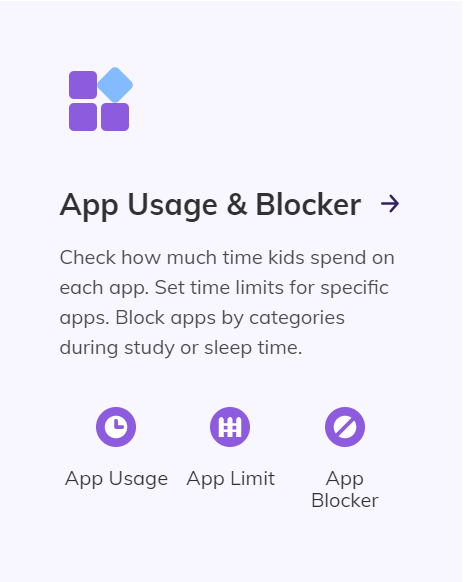 Famisafe's app usage and blocker allow you to take control of these elements. FamiSafe app blocker enables you to set the time limit for particular apps and block apps that you don't want your kids to access.
Parental Alerts
Social media acts as a hotspot for unwarranted bullying, pornography, malicious comments, and more. Parents can now keep a close eye on such activities and create a list of offensive words on Famisafe's dashboard.
Famisafe will then alert you when your child's online activity reports the blacklisted words. This is a useful feature, especially for children who are prone to bullying. You will be able to react in real-time and prevent the child from emotional distress.
Screen Time
Left to their own devices, children will spend a ridiculous amount of time online. Traditionally, it was hard for parents to get a grip on this. Not anymore; with Famisafe's screen time limiting feature, you can dictate the amount of time they have to play with mobile devices. This will help your children focus more on their school assignments and other activities.
On the Famisafe dashboard or parent app, you can also prepare a schedule for them. Also, if needed, you can remotely block the device to prevent any further usage. Parents can finally help children get rid of phone addiction and keep their screen time within control.
Web Content
It is very easy for your kids to stumble on inappropriate web content. Most children have access to mobile devices with fast internet. It is crucial as parents that we prevent them from consuming such content.
Thankfully, with the help of FamiSafe, you can now check your kids' browsing history and set-up a list of websites to allow access to or block out the unsafe web content that can be accessed by the children. In case your child tries to access a blocked website, the Famisafe app will notify you.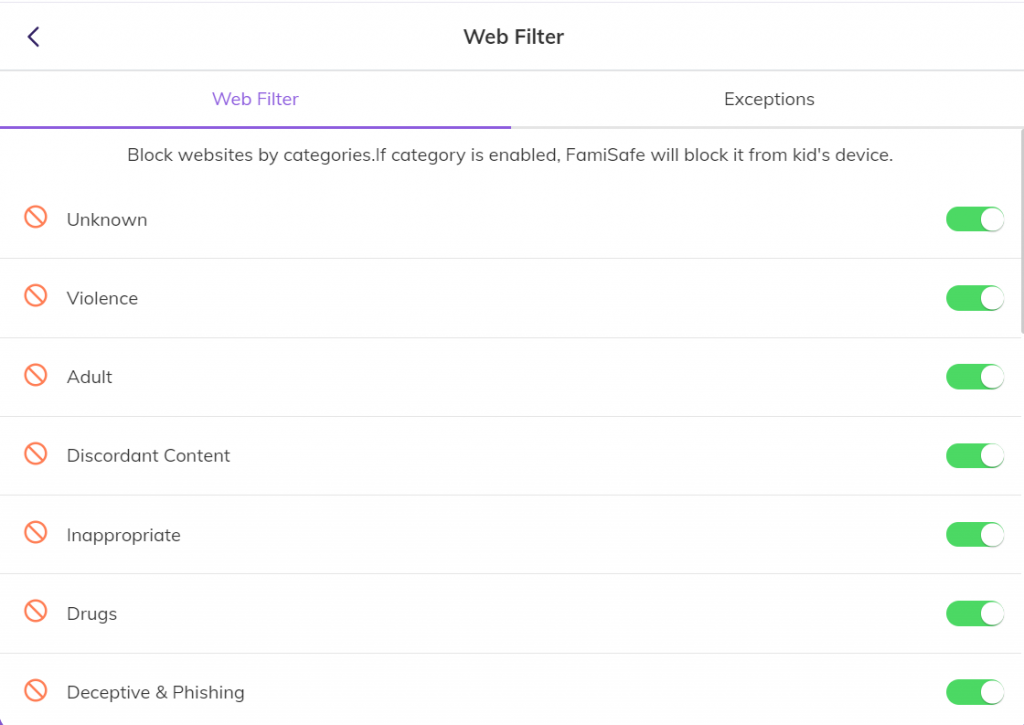 Family Locator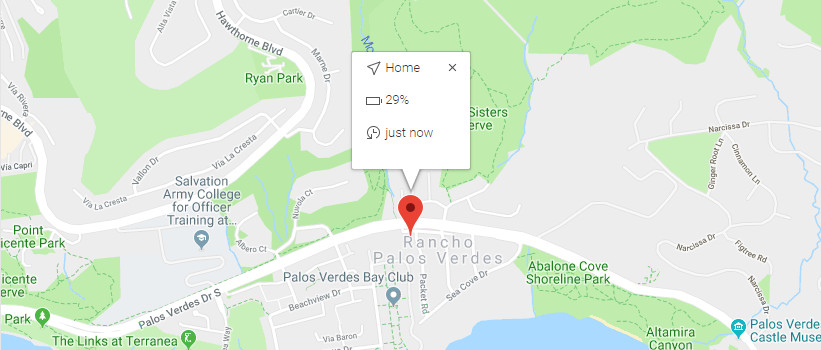 Location tracking is one of the most important children monitoring and tracking features every spy app should have. Having the ability to know your kids' whereabouts when they are outside the protective confines of the home is extremely important for parents.
You can now simply track your child's location in real-time without always calling now and then. The app also provides you with insights into the location history of your kid.
With FamiSafe, you can also create a geofence around safe locations such as school and home. The app will notify you if the child steps out of the zone.
Famisafe Mobile Spy App Price
Famisafe uses a 3 tier pricing system for all its supported devices.
They have a Monthly, Annual, and Quarterly plan.

How to Install Famisafe Mobile Spy App on Android
Step 1: Register yourself as a Parent and choose your kid's identity.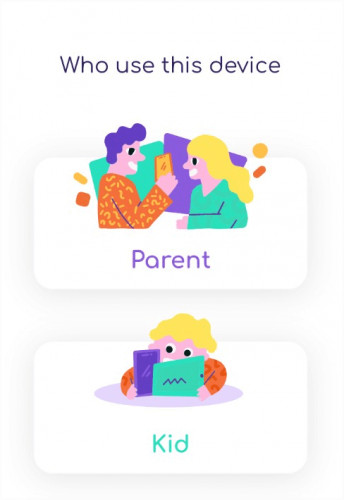 Step 2: Provide the required permissions.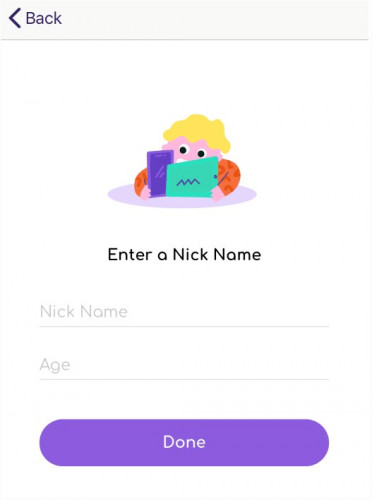 Step 3: Grant administration access to FamiSafe. This will ensure that your app is not uninstalled by anyone other than you.
Step 4: Connect your phone to the kid's device, and you are good to go.
How to Install Famisafe Mobile Spy App on iPhone
Step 1: Download the app on your phone and the kid's iPhone and install it.
Step 2: Launch the app and register for a FamiSafe account.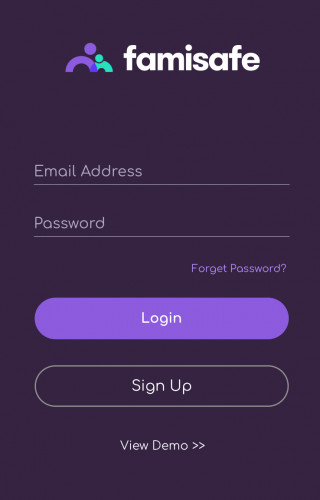 Step 3: Log in to your account and choose the identity as Kid on the kid's iPhone. Fill in the kid's details.
Step 4: Select the kid's device OS and grant the necessary permissions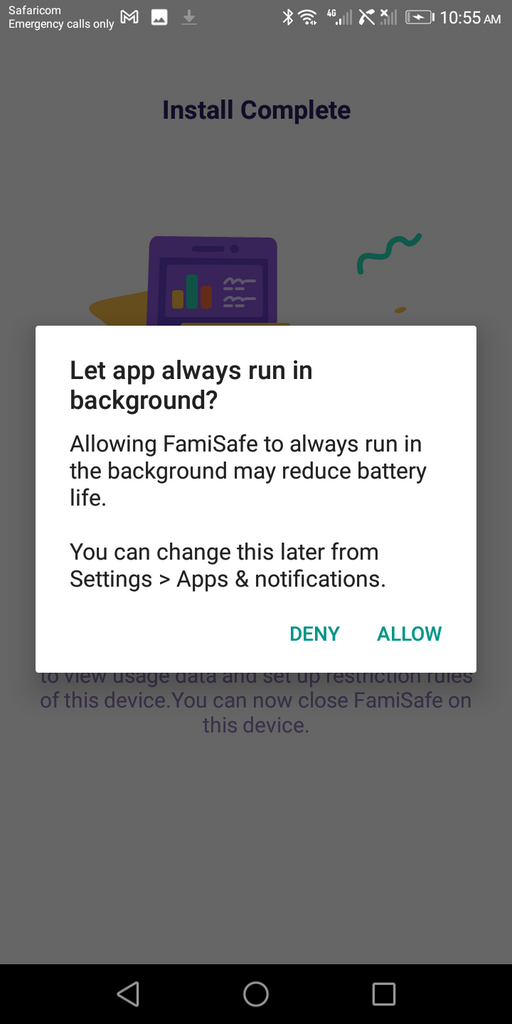 Step 5: On your phone, select the identity and connect the app to your kid's device and start monitoring it.
Do I Need to Root/Jailbreak My Phone to Install Famisafe Mobile Spy App?
No, You do not need to root the target Android device or Jailbreak an iOS device to install Famisafe.
Is Famisafe Mobile Spy App Detectable?
Yes. In some mobile devices, the app can be detected and uninstalled like normal apps.
Is Famisafe Mobile Spy Apps Legal?
Yes. Famisafe is intended for legal use only. The law generally requires that you notify owners of the monitored devices, on which the Licensed Software is installed.
Violating this could result in severe monetary and criminal penalties imposed on you. It is pertinent that you consult your own legal advisor about using the Licensed Software within your jurisdiction before installing and using it.
Can You Install Famisafe MOBILE SPY APP Remotely?
No. Famisafe cannot be installed remotely. You will need one-time physical access to the device to install and set up the licensed software.
Pros & Cons
Pros
Multiple device support
Easy and quick installation
No need to root/jailbreak target devices
Relatively affordable
Loads of features allowing to limit, block and moderate your kids' phone usage
Cons
Famisafe can be deleted like other normal apps
Web filtering might not work properly
Conclusion
The Famisafe mobile spy app offers one of the best parental control experiences on the market. The app is easy to set up and use. It is also quite inexpensive relative to its competitors.
Famisafe offers a lot of advanced features at this price point as well. However, as mentioned in the cons section, we did notice some features did not work as described.
This is why we always recommend putting to use the three-day free trial and test drive the app and see if it fulfills your needs.
However, If you just want a rock-solid mobile spy app, we recommend mSPY. You can check out our full review of mSPY to see why we recommend this cell phone spy app as our number 1 choice.
Expert's verdict
FamiSafe is a parenting tool that promotes close online supervision of children without violating their privacy. It eliminates the need to root or jailbreak a device, making it easy to install. Although FamiSafe doesn't log calls, monitor conversations in messaging apps, or scan contacts, notes, and calendar events, its compatibility with Windows and macOS makes it stand out.