Qustodio Review – Best Spy App for Worried Parents?
Qustodio is intuitive and straightforward to use mobile software for spying purposes. It features various intelligent monitoring features, which you can use to protect, manage, and supervise your child's online activities[…]
Qustodio
https://realspyapps.com/demo/qustodio
https://realspyapps.com/go/qustodio
Android, iOS, macOS, Windows
Spy apps are becoming increasingly popular, and it's because people are frustrated with unusual behavior.
Let go of any frustrations in your life by using the highly intuitive and reliable Qustodio app. Even if the app has features that focus on ease of use and convenience, there is more to it than meets the eye.
Luckily, we have organized all the valuable information you may need in the guide below:
Features
Compatibility
System Requirements
Pricing Plans
Installation Process
What is Qustodio?
Simply put, Qustodio is intuitive and straightforward to use mobile software for spying purposes.
It features various intelligent monitoring features, which you can use to protect, manage, and supervise your child's online activities.
Furthermore, the app features excellent parent control functions and is flexible enough to work on different operating systems.
How Does Qustodio Work?
The app functions primarily as a parental control mobile software. Thus, it has a few design functions that focus on simplicity and ease of use. Plus, it's highly intuitive experience is also evident in the few critical ways through which the app functions.
To start using the app, you have to perform the following steps:
#1. Create a free user account
Register for your free account on the app, and then wait for the verification e-mail to get to your inbox. Keep the credentials safe, as you will use them to gain access to the control panel.
#2. Install Qustodio on Your Child's Device
Next, download the app, and set it up on the given target device. Doing so will make it easy to collect information.
#3. Start Monitoring the Activity
Once you complete the installation process, the app will start delivering information to the control panel.
Qustodio Compatibility
Among some of the most notable features of this app would be that it's multi-compatible on different operating systems. Qustodio can report and block websites on the following browsers:
Windows computers: Google Chrome, Firefox and Microsoft Edge.
Mac computers: Google Chrome, Safari and Firefox.
Android devices: Google Chrome and Firefox.
Kindle devices: Amazon Silk Browser.
iOS devices: Google Chrome and Safari.
Chromebook devices: Google Chrome
Qustodio will automatically block unsupported browsers by default.
iPhone and iPad App
Android App
For an optimal experience, we recommend using Android OS 5 or higher.
Older versions of Android (e.g. Android 2.3), Android Go, and forked versions of Android may be subject to compatibility issues.
Kindle App
Kindle Fire OS 5.0 or higher
PRO TIP! – While Qustodio can function in different apps, it's not compatible with Linux, Windows Phones, and Chrome.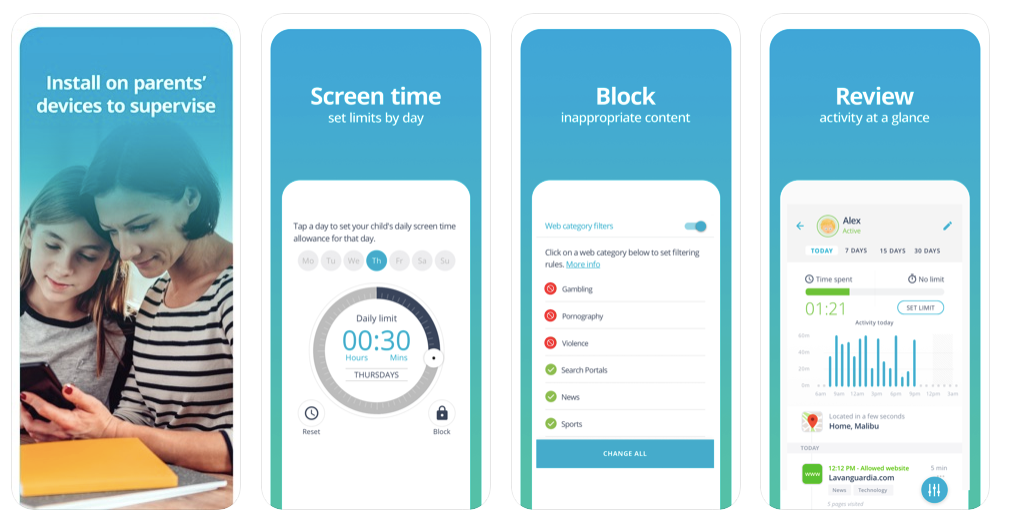 Browser Compatibility
The app does not provide any specific information on the browsers that it can support. That said, the app can function on Google Chrome, Microsoft Edge, Amazon Silk, Safari, and more. Remember that the app won't support some functions on outdated browsers.
Qustodio Features
Qustodio provides various features for monitoring unusual activity on a target phone. Best of all is the fact that the app functions in a discrete manner. Below is an in-depth guide on the main things to expect:
SMS and Call Monitoring
You will be able to access any information sent through SMS apps on the given phone. You can access information such as texts, media, time logs, and more.
The main dashboard also gives you a roster of all the call activity on the phone. Plus, you will also gain insight into the average duration of phone calls.
There is a highly convenient filter option, which you can use to track down specific phone calls and SMS data. It's a crucial feature that you won't find on traditional spy apps.
You can use this feature to also block calls and SMSs from getting to the target phone. If you don't want to block a specific number, go to the "Call Exceptions" tab.
Web Filtering
The internet has lots of unethical content that is not suitable for kids. However, Qustodio lets you manage your child's online experience through the Web Filtering feature.
You can use it to manage access to specific websites based on categories. So, you will find it easy to block different sites without adding them to the filter.
If your child is disciplined at web browsing, you can still protect them by ensuring the app blocks specific websites. Or you can set it to provide alerts of when they access any such sites.
Control Games and Apps
Managing the apps and games that your child accesses is not easy. With Qustodio, you get in-depth reports of these data. Once the blocking is complete, your child will only encounter a black screen when accessing the given app.
You can choose one of two options regarding app access. These include:
Blocking access entirely.
Customizing a time limit for the process.
Daily Time Limits
You have to be aware of the two distinct Daily Time Limits the app provides. The one under Games and Apps is different from the one for other functions for the given phone.
To be specific, this function lets you regulate the total use time for the phone on particular days. Once the time limit decreases, your little won't be able to access the app's functions.
Social Network Monitoring
There is no denying that phone users spend a large portion of their time on Social Media. These include on platforms such as Facebook, Instagram, and Whatsapp. With Qustodio, you will find it easy to access your child's activity on such a platform.
You also get the ability to limit the amount of time that they can spend using these apps. Things can be way easier if you have your child's credentials, particularly on Facebook. Why? Because you can integrate the spy app directly to the site.
Location Tracking
You never know the specific places your child visits when you are at work or even away on vacations. With Qustodio, you can use the location tracking feature, which provides particular GPS coordinates you can use.
The app will then provide a list of these "Locations" so you have accurate information on their movements. Unfortunately, the app does not list these locations on the map, and you may have to click each individually.
Activity Timeline
The other useful function of this app would be the activity timeline. You will gain access to accurate information on your little one's activity online.
With the convenient filter option, you will access specific details with the simple click of a button. However, you have to select the particular function you want to filter through, such as by clicking on "Call and SMS Records."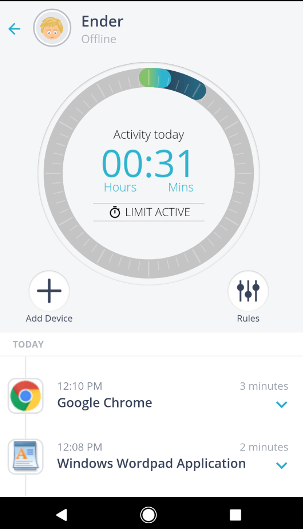 Panic Button Alerts
Safety for your child should be a top priority, and Qustodio lets you achieve this goal by providing accurate GPS updates.
It features an SOS button that will deliver location-based alerts if your child is in danger. Even if it's a simple feature, you will find it convenient to use in many ways.
With this feature, you can also add three specific contacts that will receive a notification when your child is in danger.
Multi-Device Operation
Since you probably have an Android device or iPhone, you will be pleased that this app offers excellent flexibility.
You can use it on the following platforms:
Windows.
Mac OS.
Android.
iOS.
Kindle.
Qustodio for Android
The app runs on any Android O.S version 5.0 or higher, so you should be sure it will work on your child's phone. A few of the supported features include:
Smart web filters.
Customized Facebook monitoring.
GPS tracking.
Call and SMS monitoring.
Games and apps blocking.
Panic button alerts.
Time controls by device.
Qustodio for iPhone
The app only functions on various Apple devices and offers support for many different features. A few of the standard features it supports include:
Advanced Facebook monitoring.
Location tracking.
Games and apps blocking.
Time controls.
Smart web filters.
Qustodio Desktop Requirements
Since the app supports many different features, there are a few device requirements to get it functioning at optimal levels. These are the features required for it to run on your PC:
OS: Windows 7 or higher / Mac OS X Mavericks or higher
RAM: 1GB or higher
CPU: 1.5 GHz or faster
Hard Disk Space: 1 GB or more
Qustodio Website and Family Portal Requirements
You can access these features in the app through any well-updated web browser. A few of the common browsers the app supports include:
Google Chrome.
Microsoft Edge.
Mozilla Firefox.
Safari.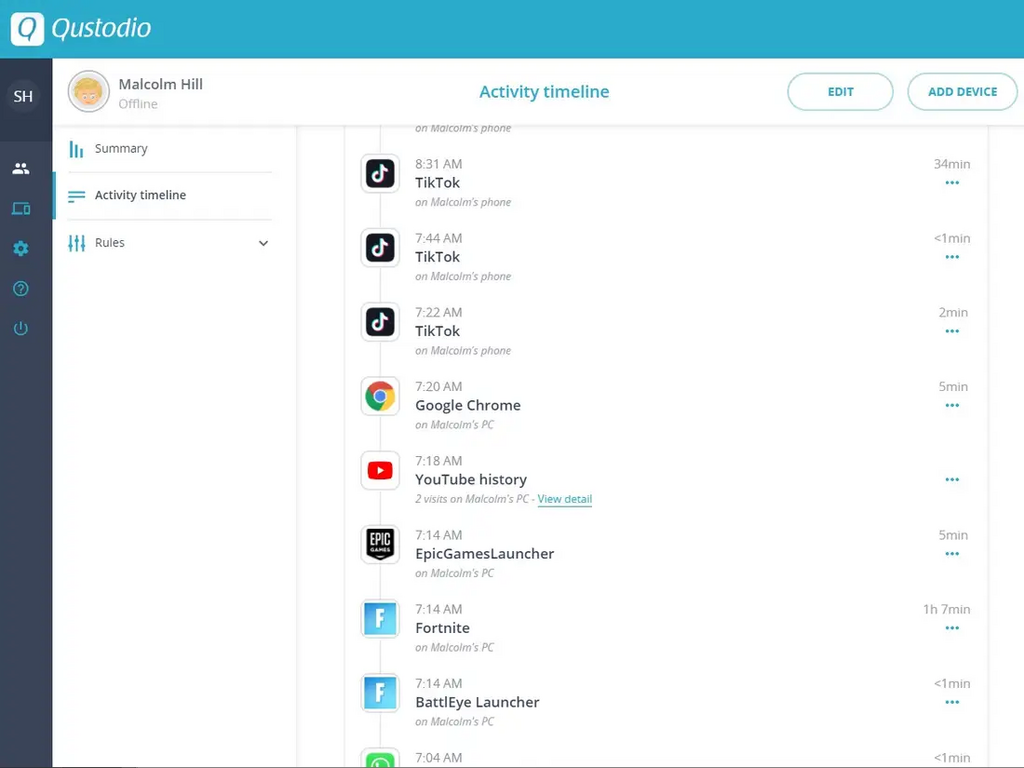 PRO TIP! Qustodio is not compatible with Linux and Chrome OS Systems.
How to Install and Use Qustodio
Installing this app on your phone is a simple process, especially if you already have a verified user account. You first have to get a few requirements in hand before you can start the process:
Requirements
Physical access to the target device.
Active internet connection.
An updated web browser.
Verified user account.
Installing Qustodio on Android Devices
Expect a straightforward process when installing the app on your Android phone. The steps involved include:
Phase #1: Create a User Account
You need the account so that you can secure all the details in a simple and organized profile. The good thing is that Qustodio is available with a 3day trial.
The steps in creating one include:
Head over to the website, and click on the "Sign Up" button.
You have to provide details such as the email address, name, and password. Then ready and approve the privacy policy. Once you do so, proceed to click on "Create User Account."
The app should automatically redirect you to the dashboard, where you will customize the access details. These include names, dates, sex, and more.
After saving the information, the app will ask you where you prefer to download and install it (depends on your specific device type)
Step 2: Download and Installation
The steps involved during this step of the process include:
Get the device in question and click on the "Play Store" app.
Search for Qustodio at the Play Store.
Click on the app, and it will download automatically. Then install it and open it to launch.
Step 3: Complete Qustodio Setup Wizard
Once it's through installing, you have to customize a few basic settings. They include:
If you already have a user account, click on the "I have a parent account" option.
Then, click on "Accept All" to the terms and conditions.
Input the login credentials and then hit enter.
Provide the device name for ease of identification.
Then, click on monitor "Kids Device in the following menu.
Choose the existing phone you created earlier.
On the setup menu, activate functionality by selecting "Activate Now."
Find the Accessibility Settings page, and then enable the app to monitor operations.
Then, activate notification access by clicking on "Activate Now" once again. Then, turn on the toggle that is close to the Notification access section. Then, click "Allow" on the next screen.
Next is to activate app supervision. Click on "Activate now" again on the following page. Then, click on "Allow" so the app can display over other apps.
Activate user permissions by clicking on "Activate now." Then, approve access to features on the device by clicking on "Allow."
Then, click on "Activate Now." For the uninstall protection function. Proceed to tap on "Activate this device admin app" on the following page.
Finish installation.
Phase #4: Start Monitoring
Login to your user profile and access the dashboard to start monitoring the activity.
Installing Qustodio on iOS Devices
Installing the spy app on an iPhone is almost similar to that of Android. You have to visit the apple store and choose either the Kids App or the Professional version.
Requirements
A fully functional web browser
Physical access to the given device
An active connection to the internet
A device that supports app usage.
#Phase 1: Create a Free Qustodio Account
You need to create and verify a Qustodio account. You will use it to access the data through an organized user dashboard.
The steps to create the account include:
Visit the Qustodio site, and click on the "Sign up" tab.
Provide the relevant details such as your email and name. Then click on "Create Your Account."
Once you log in to your account, you will access the dashboard and then create the kid`s profile.
Provide the relevant details such as names on the next screen and the "Continue."
Phase #2: Download and Install Qustodio
Once you have a verified account, you have to prepare your Ios device for the installation process. A few of the things to do include:
Remove device restrictions by navigating to Settings > Screen Time > Disable Screen Time.
Remember to activate JavaScript on Safari by using Settings > Safari > Advanced > JavaScript.
Then, remove any remaining versions of the app.
Proceed to find the App Store on your child's device.
Once you find the app, click on the "Install" button to set up the app on your device. Then click on "Open."
Step 3: Complete the Setup Process
The next major step in this process will be to customize the necessary app permissions. Things to do at this point of the process include:
Once you launch the app, choose the "I have a parent account" option.
Then, input your email address and password to log in.
On the oncoming screen, select the "Kid's Device" option.
Select your child's profile on the oncoming page so that you can use the app to monitor your child. If you have not created a profile, click on "New User" to complete the setup. Complete by clicking on "Next."
Then on the "Grant Permissions" page, click on "Grant," then "Enable Location" on the following screen.
Proceed to Qustodio > Location, and set it to "Always."
Proceed to click on "Install ios profile" to let the app function on the target device. It will download a configuration plan which you should install.
For those using ios 10.3 or higher, you have to ensure you activate the trust certificates. Do this by clicking on Settings > General > About > Certificate Trust Settings.
Then, proceed to activate both Qustodio Service CA and Qustodio MDM Root CA.
Open the app to check if it's complete.
Phase #4: Start Monitoring the iOS Device
If you completed this step the right way, the app should now be monitoring in the background.
Qustodio Pricing
The pricing plan for Qustodio relates to a few specific use cases. They include:
Family Plan – suitable for monitoring a few family members. It's available in three packages, which are small, medium and large.
School Plan – ideal for monitoring activities in schools. It can support up to 100 devices, and it's available at customized rates.
Business Plan – similar to the school plan in pricing. The only difference is that they provide varying support levels.
Pros and Cons
Pros
Comes with advanced parental functions.
Has a clean and user-friendly interface.
It is equipped with a panic alert button.
Available with a free version.
Cons
The premium plan is costly.
Is Qustodio Detectable?
Unfortunately, Qustodio is detectable on handheld devices. However, the desktop version of the app is not detectable.
Can Qustodio Access Private Browsing?
Yes, the app can see private browsing. These include browsing through private browsers or the incognito mode function.
Is Qustodio Spy App Safe?
Yes, using Qustodio is safe. The app is an excellent tool to keep track of your child's activities through detailed reports.
How Many Devices Can The App Monitor?
The number of devices you can monitor depends on your preferred subscription plan. You can use it to monitor about 5, 10, or 15 devices at the same time.
Does it Offer a Money-Back Guarantee?
Yes, Qustodio has a 30-day money-back guarantee. You can access this offer by getting in touch with the customer support team.
Final Take
You can now rest in peace knowing that your child uses their smartphone their right way. Install Qustodio app on their device, and gain real time updates into their online activity. Plus, the app is also reliable and offers an intuitive user experience.
Expert's verdict
Qustodio enables parents to take precise control over their child's activity across desktop and mobile devices. Qustodio's best features are its robust time restrictions geofencing tools, and app-blocking on web and mobile platforms. Its improved web interface and well-designed mobile apps are high points too. Qustodio's main drawbacks are that it is expensive and that a VPN extension can get around its web filters on desktop browsers.