TheTruthSpy Review – Tested By Experts
Thetruthspy is a cell phone tracking app that makes spying on people look easy. It features a wide array of advanced cell phone tracking, spying, and monitoring features such as Social networks monitoring, internet browser activity, messages/calls, and location tracking.[…]
TheTruthSpy
https://realspyapps.com/demo/thetruthspy
https://realspyapps.com/go/thetruthspy
Android, iOS
Thetruthspy is a cell phone tracking app that makes spying on people look easy. It features a wide array of advanced cell phone tracking, spying, and monitoring features such as Social networks monitoring, internet browser activity, messages/calls, and location tracking.
Thetruthspy makes everything available conveniently on its online dashboard. From here, you can remotely perform several tasks on the target Android/iOS device.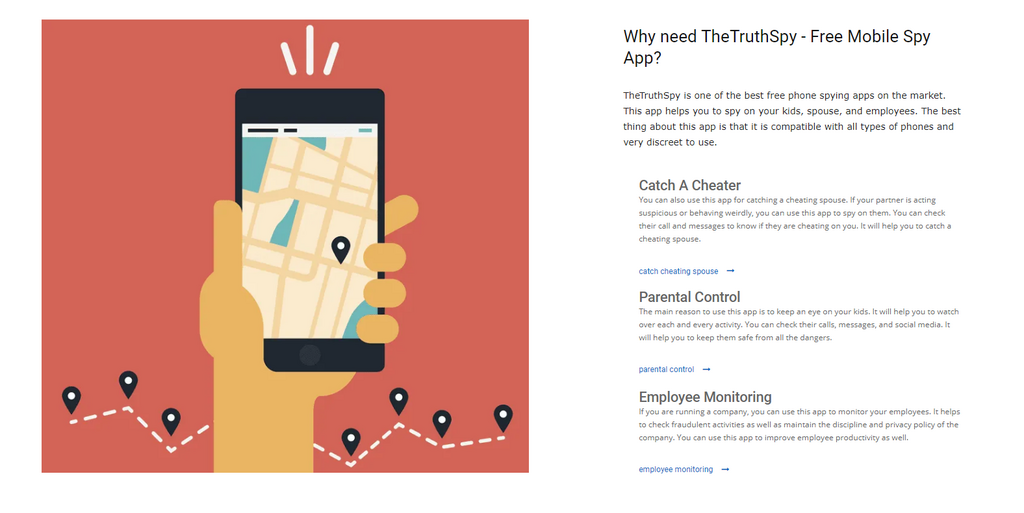 In this review, we will take a look at:
What is Thetruthspy mobile spy app?
How does Thetruthspy mobile spy app work on android?
How does Thetruthspy mobile spy app work on iPhones?
Thetruthspy mobile spy app compatibility
Thetruthspy mobile spy app features
Thetruthspy mobile spy app price
What Is Thetruthspy Mobile Spy App?
Thetruthspy is a cell phone spy app aimed at heedful parents, attentive employers, or worried spouses. If you have concerns about rebellious teens, unreliable business partners, suspicious spouses, or other people close to you, ThetruthSpy app will come in handy.
It is an invisible mobile spy app that allows users to check their entire target cell phone activity from any browser on PCs, tablets, or smartphones.
Using Thetruthspy app is also very intuitive and satisfying for anyone in need of remote control of the target mobile phone. Thetruthspy app team has also made the Sign-up, Install, and setup process very easy. In just three general simple steps, you can be up and running.

How Does The Thetruthspy Mobile Spy App Work On Android?
Thetruthspy mobile spy app is simple to use. All you need is an account and a subscription. The account registration process and subscription are done on Thetruthspy's website in a few simple steps. Then, it's a matter of downloading the mobile spy app onto the target device. Thetruthspy will then run undetected on the target device.
How Does The Thetruthspy Mobile Spy App Work On Iphones?
Spying on iPhones using Thetruthspy cell phone spy on iOS is simpler than spying on Android phones. This is because you don't have to access the target device physically. All you need is their iCloud ID and Password. This allows you to install the mobile spy app remotely. If you need advanced features, a jailbreak is required!
NB: Thetruthspy team has been facing issues with jailbreaking. It depletes the target device battery rapidly so it has been disabled. The team hopes to solve this issue in the new version.
Thetruthspy Mobile Spy App Compatibility
Thetruthspy is compatible with both Android and iOS devices.
Thetruthspy Mobile Spy App Features
Thetruthspy has 15+ mobile spy features. The features also work in stealth mode which reduces chances of getting caught while spying.
In this review, we will take a look at:
Message Tracker
Calls Tracking
Social Media Tracking
Location Tracking
Internet Browser Monitoring
Remote Spying Functions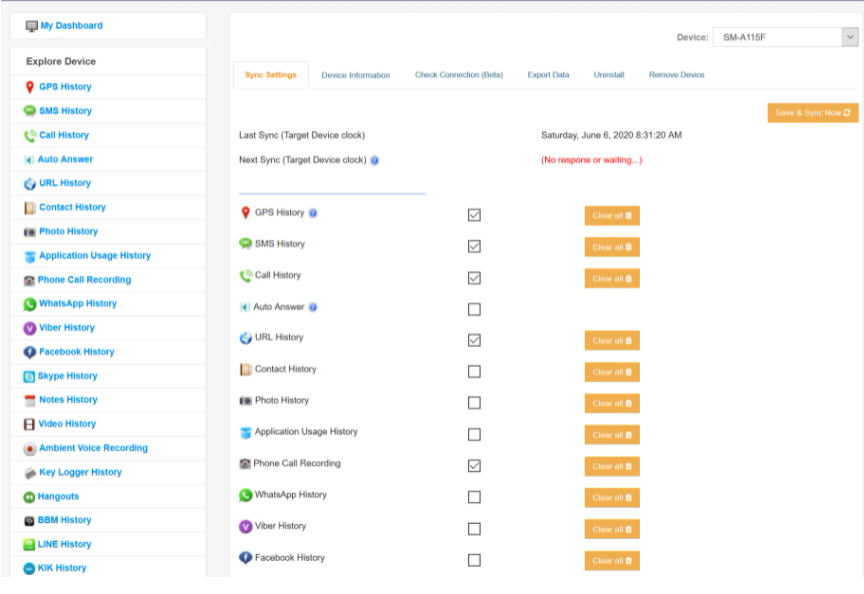 Message Tracker
You can get a lot of insight by looking at people's SMS. Thetruthspy enables users to keep tabs on all sent and received messages from the target Android or iOS device.
The app also shows all date & time stamps. This means you will know exactly when the conversations took palace. Thetruthspy cell phone spy app also accesses all exchanged media on SMS.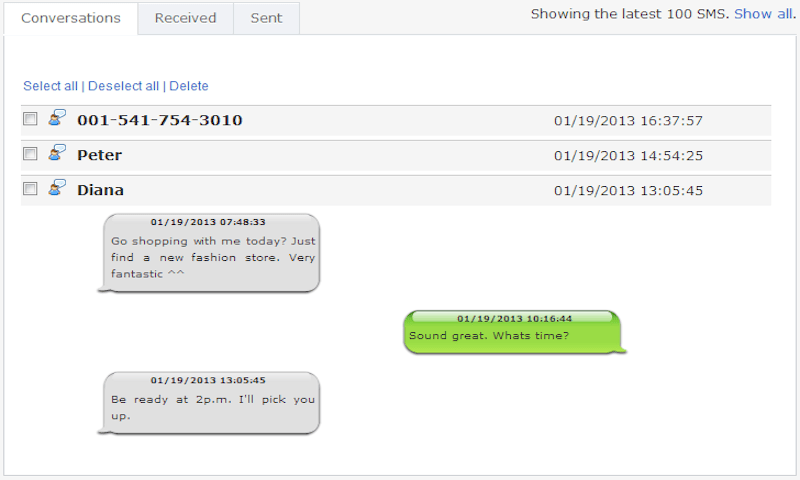 Calls Tracking
If you are worried about someone close to you, having access to their call data is important. Thetruthspy call tracking and recording feature allow you to record all the calls on target Android or iOS device. From the dashboard, you can easily go through every call made or received on the phone.
One neat feature is call recording. It enables the user to save the recorded call online. This is important if you don't have time to listen to live recordings.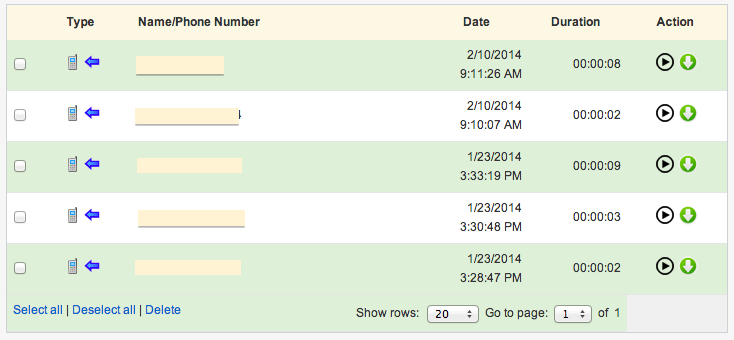 Social Media Tracking
People spend more time on social media today than with family. Having access to the social media platforms of a child, employee or spouse is important to keep them and yourself safe. Thetruthspy mobile spy app enables access to Skype chat messages, Facebook messages, WhatsApp, Twitter, Kik Messenger, and many other apps. This means you can catch employees who misuse company resources, catch a cheating partner, or prevent your kids from getting bullied or harassed. ThetruthSpy app will make sure you're in the know.
Location Tracking
Location tracking is one of the most important mobile spying features. It allows you to know the real-time and past locations of a target device. With Famiguard, you get all this, plus the ability to view the site on Google Map. Google map is very advanced and simple to use making it a very convenient addition. Famiguard includes features like address, date, time, longitude & latitude data. If your child loses their device, you can use this feature to locate it.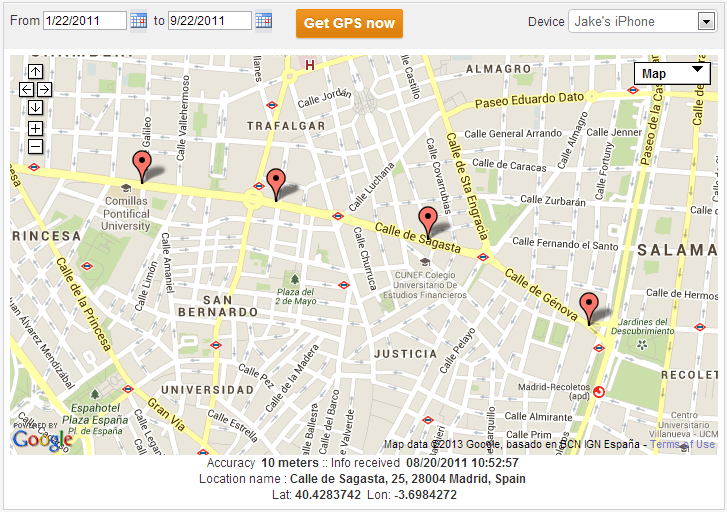 Internet Browser Monitoring
Our employees, children, and spouses spend a lot of time online. They are exposed to a lot of harm. You can also use it to have insight into their browsing data. Famiguard enables you to track the browsing history of Android and iOS phones.
From the dashboard, you can access all the visited sites from the phone browser. Famiguard will show you the name of the visited site with date and time stamps. Also, the app can track internet usage and time spent on each site. This is important for a child and employee monitoring.
Remote Spying Functions
Having a remote function on a mobile spy app is important to not get caught. Thetruthspy enables users to make spying calls, take pictures remotely and record surrounding voices.
Even most users rarely put them to use, it always presents an indispensable chance to learn more accurate details, when it is needed. For example, you can use a spy call to listen in on a spouse's girl's or boy's night out surroundings.
Thetruthspy Mobile Spy App Price
The truth spy has Standard, Premium, and Gold subscriptions

Thetruthspy Mobile Spy App Installation
The installation process is rather simple and straightforward. Here's how it goes:
How to Install Thetruthspy Mobile Spy App on Android
Step 1: Prepare the Phone
Open the phone and head to settings to enable sources. After that, go to Google Play and disabled Play Protect. Now the phone is prepared for downloading the app.
Step 2: Download
Download The TruthSpy by visiting android.thetruthspy.com. Use the download link to download the app.
Step 3: Install
Install the app once the download is complete, open the downloaded file, and click on install on the target device.
Step 4: Account Creation
Open the installed app and click on register/signup. Fill in all the details asked on the page. Make sure to always have a strong password for online security.
Step 5: Delete Evidence
Hide the app icon and delete the browser history to prevent yourself from getting caught.
Step 6: Log in
After everything is set up, the final step is to Log In. Go to my.thetruthspy.com and click on the login option given in the top right space. Enter your details and login.
NB: We have provided a general installation procedure for most Android devices. The process may differ slightly for different makes of devices. Here is a detailed android install process provided by Thetruthspy.
How to Install Thetruthspy Mobile Spy App on iPhone
Currently, we do not recommend installing the app on an iOS device because of the jailbreaking and battery drain issues mentioned earlier.
However, if you still want to install Thetruthspy mobile spy app on a target iOS device, follow these detailed instructions provided by Thetruthspy team.
Do I Need To Root/Jailbreak My Phone To Install Thetruthspy Mobile Spy App?
No, you do not need to root or jailbreak target devices to install Thetruthspy. However, for advanced features to work, a root/jailbreak will be required.
Is Thetruthspy Mobile Spy App Detectable?
No. Thetruthspy cell phone spy app is not detectable. The icon can be hidden. Also, all features work in stealth mode. This means they cannot be detected.
Is Thetruthspy Mobile Spy App Legal?
Many spy apps are legal as long as the monitored individual and the icon is visible. We recommend checking your local laws and regulations to avoid facing serious legal consequences. Always seek the advice of legal counsel before spying and monitoring spouses or employees.
Can You Install Thetruthspy Mobile Spy App Remotely?
Yes. you can install Thetruthspy app remotely on iOS target devices. Android users are not so lucky. Physical access is required to install the app on the target device.
Pros and Cons
Pros
Easy setup process
Many advanced features
Relatively affordable
Cons
Battery draining issues in iOS.
Conclusion
Thetruthspy is an advanced Android and iOS cell phone spy app. Its features like Location Tracking, all tracking, SMS monitoring, Social Media account monitoring
We suggest you take advantage of the trial period first. This is enough time to explore the capabilities and limitations of TheTruthSpy first-hand. It is also important to familiarize yourself with the dashboard and remote features. You will be well-versed with the app by the time you purchase a subscription.
Recently, we have received a lot of complaints from our avid subscribers. Most were not happy with Thetruthspy. Therefore, we DO NOT recommend this cell phone spy app. Our team recommends you try mSpy instead.
Expert's verdict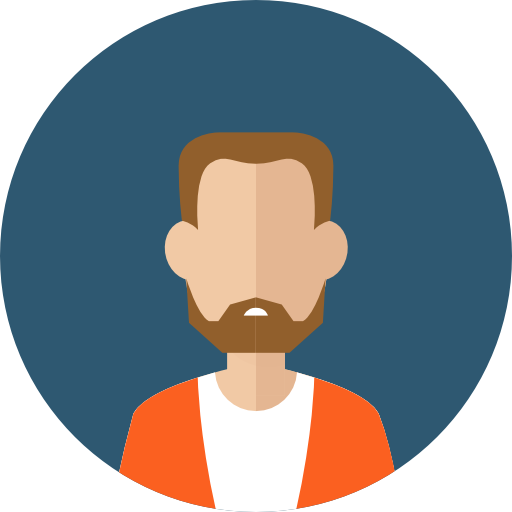 Top10SpySoftware
Top10SpySoftware
TheTruthSpy has a number of features to offer; which is quite remarkable for the price they cost. In terms of price/quality correlation, it is a good bargain and a really nice offer for worried parents and suspicious partners.