GEOfinder Review — Is It the Best Mobile Tracker Tool?
Do you want to trace your loved ones' location on your phone? You might be worried about your child's or spouse's safety. You may also want to spy on someone secretly to find the truth. Most methods available for location tracking don't work unless you have constant physical access to t[…]
https://realspyapps.com/demo/geofinder
https://realspyapps.com/go/geofinder
Android, iOS
Do you want to trace your loved ones' location on your phone? You might be worried about your child's or spouse's safety. You may also want to spy on someone secretly to find the truth. Most methods available for location tracking don't work unless you have constant physical access to the target device. However, GEOfinder eases the hassle for you.
GEOfinder is a fantastic phone tracker solution to monitor anyone's location anonymously. The app enables you to trace anyone by just knowing their phone number. You simply need to type in their phone number, sign up on GEOfinder, and you're ready to go!
Wondering how GEOfinder can track someone's location? This detailed review of GEOfiner includes the following;
Functionality
Compatibility
Exciting Features
Pricing
Quick Installation
Pros & Cons
What Is GEOfinder?
GEOfinder is robust mobile tracker software that identifies the exact location of any phone number worldwide on a map. You can easily track a mobile phone with any operating system, including Android and iOS. The geolocation system requires the user's prior consent in accordance with the GDPR. Also, you can use GEOfinder to locate your lost smartphone.
Isn't it wonderful?
How Does GEOfinder Work?
Working with GEOfinder is quite simple and unique. First, you must fill in the phone number of the target person you want to track. After that, GEOfinder will send a pre-written SMS with a clickable link to the desired person. The SMS is sent to make sure the target person tries to open the link without knowing what's inside. By the way, you can also track someone's location with Facebook.
As soon as they do it, their location is synced to your GEOfinder account. Then you can easily view their location remotely. But remember, you can track someone only if they click on the link in the SMS.
GEOfinder Compatibility
It doesn't matter which phone model you have. The app has vast compatibility with all operating systems of mobile devices, including iOS and Android. Moreover, you can use this location-tracing app on your tablet and computer. GEOfinder simply sends a message to the device you want to track, allowing it to perform its job.
Key Features of GEOfinder
Let's have a detailed look at the wonderful features of the GEOfinder mobile location tracker:
According to Legislation
GEOfinder service works in compliance with the Information Commissioner's Office recommendations. In accordance with legislation, geolocation will only activate with the consent of the target person.
Precise Geolocation
Precise geolocation is the main strength of this app. Once you enter the target person's phone number, GEOfinder starts its job and provides results with negligible error. You will receive the precise location of the target by mapping it in a short time.
Choice of Confidentiality
You can either request geolocation anonymously or identify yourself. If you make an anonymous request, the person will not know your identity. However, the other way is that the target person will be aware of your identity. GEOfinder doesn't allow any online exchange. The service handles all the information itself.
Worldwide Coverage
The Geolocation Service of this wonderful app is accurate and available worldwide. The only requirement is internet access on the desired mobile phone.
Track All Mobile Phone Brands
Thanks to GEOfinder's intelligent system. You are now able to trace any mobile phone, e.g., Samsung, Nokia, Apple, BlackBerry, and others. All smartphone brands can use this service. You can locate almost any smartphone with a SIM card and battery. You can also try different SIM card location trackers.
Trace the Location History
The location history feature of this app is quite wonderful. Geofinder shows both the target person's current location and a record of their location history. The location history is updated every three hours.
GEOfinder Pricing
Like other mobile tracking services, GEOfinder also has a pricing plan. It offers only one payment plan worth $29.99 once for all mobile devices and operating systems. Keep in mind that GEOfinder only allows location tracking services for an unlimited number of locations. You can use this account for 10 years.
The app doesn't offer any money-back policy. As soon as you purchase the service, you are ready to view the desired phone's location within 5 minutes. You can use the app to trace unlimited locations.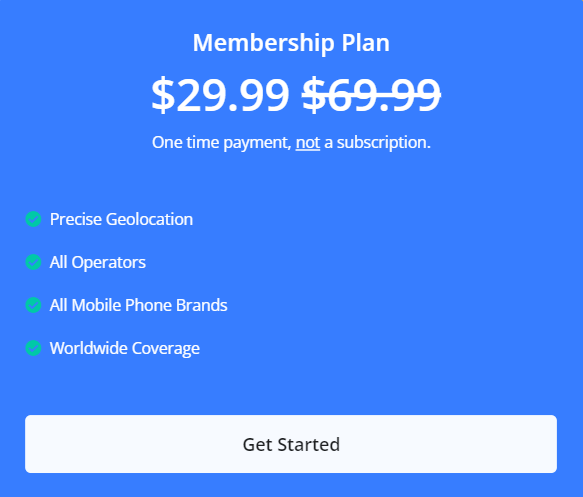 Creating an Account on GEOfinder
Navigate to the GEOfinder website and quickly create a user account. Fill in the payment details and pay to buy the service. As soon as you sign up, your GEOfinder account is ready to proceed. If you already have a GEOfinder account, simply log in through the website.
Steps to Track Someone's Location with GEOfinder
After creating a GEOfinder account, you need to follow some simple steps explained below: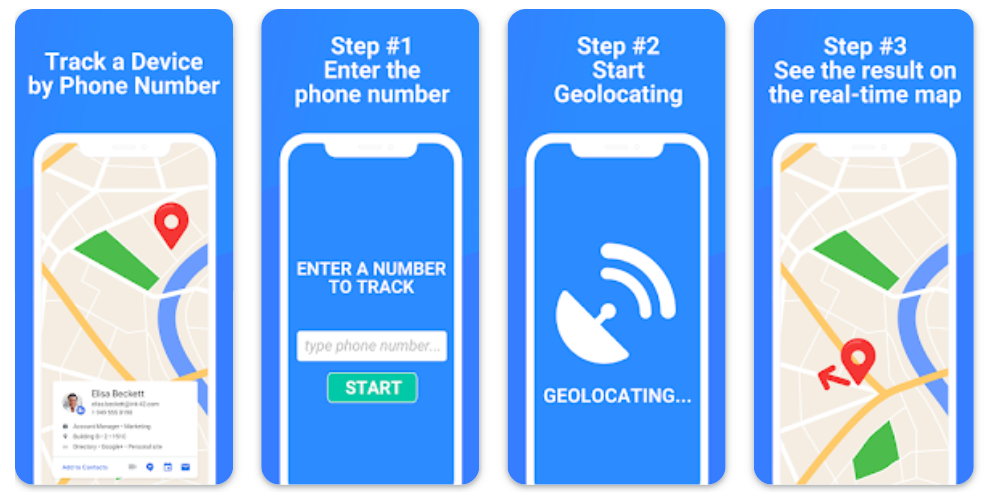 Step 1: Enter the Phone Number
The first step is to enter the phone number you want to geolocate. As you do this, the app will generate an SMS with a URL. The target person will receive the SMS and most likely click on it.
You must have an active data connection or WiFi while doing this. Make sure you have turned on the GPS on your mobile device. After entering the target phone number, enter your identity and your email address.
Step 2: Start Geolocating
The next step is to input your phone number to receive feedback on your geolocation. Then, you will quickly receive a feedback SMS on your phone. If the target phone is off, GEOfinder will not work until they switch on their device. Whenever the person turns his phone on, the service will activate and inform you about desired geolocation.
Step 3: See the Result on the Real-time Map
When you start geolocating, you will receive output via SMS. Tap on it to open the map with a precise, real-time location track. You can easily zoom in on the map for a detailed view of the location.
Pros
Trace any phone's location without physical access
Real-time location
Capable of tracking location history
Compatible with all cell phone models
Supports all versions of Android and iOS
Cons
Can only update every 3 hours
Unable to track location if the owner doesn't click the link
Final Thought
Have you ever felt a need to track someone's location? After reading this review, we can say that GEOfinder is an excellent mobile tracking tool. The only need is to know a person's phone number to track their whereabouts. Doesn't matter which part of the world you are living in; you can easily track your loved ones or spy on others while staying anonymous.
Don't hesitate to subscribe to this premium service and get started with an exciting geolocation experience!
FAQ
Is GEOfinder Safe to Use?
Yes, using GEOfinder on your mobile phone is completely safe and secure. It doesn't harm your phone in any way.
Can I Track Someone's Location Using GEOfinder for Free?
No, there's no such way to use GEOfinder for free. You need to pay first to activate the service on your mobile phone.
Is Using Geofinder Legal?
It all depends on your local laws. In some countries, tracking someone's phone without their prior consent is illegal. Don't forget to check the local jurisdiction for more information.