How to Locate Spyware and Get Rid of It Quickly
With our digital identities becoming more and more part of our real-life identity, they become attractive to malicious individuals or governments. Today, the average person has most of their private and public conversations online. It is therefore important to know how to locate spyware on Android and other devices.
Malicious individuals seek to access such information through spyware. Any digital device is susceptible to spyware attacks.
In this article, we will cover what spyware is, what the warning signs of infections are, and how to remove spyware from your mobile and computing devices.
What Are Stalkware And Spyware?
Spyware is a type of unethical software that can be used to steal personal data including images and video. Spyware can be used by anyone, ranging from fully-fledged cybercriminals or your spouse to monitor your devices.
Such parties may have full or limited access to sent and received emails, SMS, and MMS messages. Advanced stalkerware apps allow installers to eavesdrop on phone calls and record them online.
It, therefore, goes without saying that cell phone spyware detection and removal is key for your privacy and security.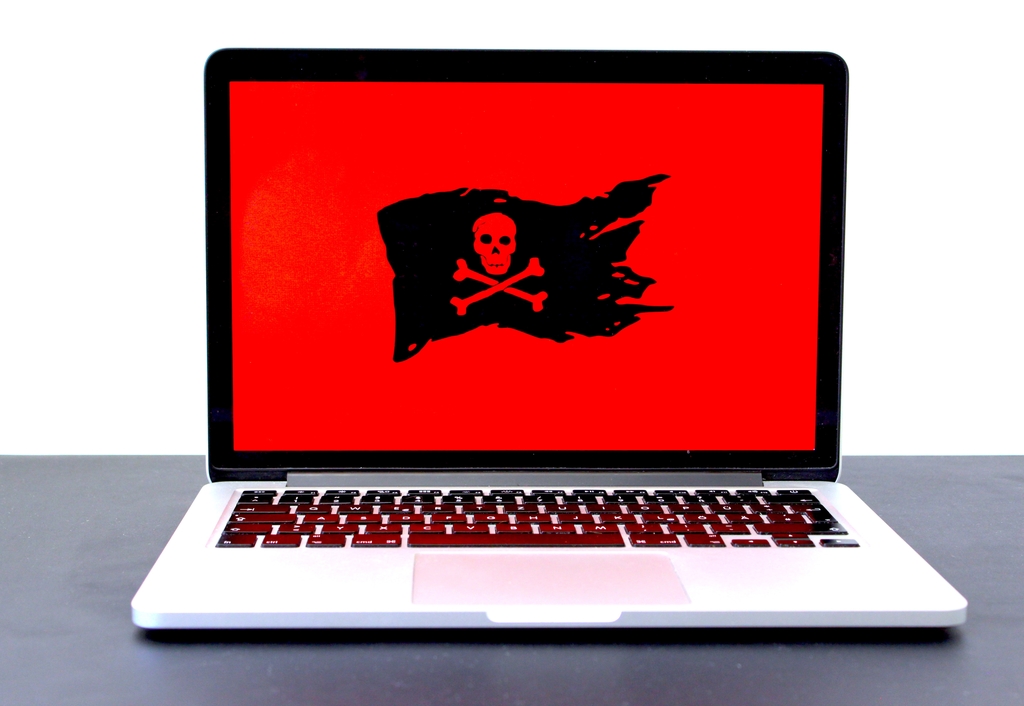 How to Locate Spyware and Stalkerware on Your Device?
Every electronic device has some sort of normal functioning state. It is, therefore, relatively easy to check for spyware.
When your Android device is attacked by malware or stalkerware, some signs can alert you to this. This is because spyware interferes with the normal functioning of the device. Here are some common symptoms of stalkerware on your phone:
Your device is getting overheated frequently
Stalkwares make devices hot because they use a lot of system resources such as CPU which in turn generates heat. If your device gets abnormally hot during daily use it might be infected with spyware.
Your battery drains quicker than usual
Stalkware is active 24/7 to monitor, collect and send to remote servers which chew up on battery resources. If your charging frequency has seen a recent spike, it might be because of stalkerware installed on your device.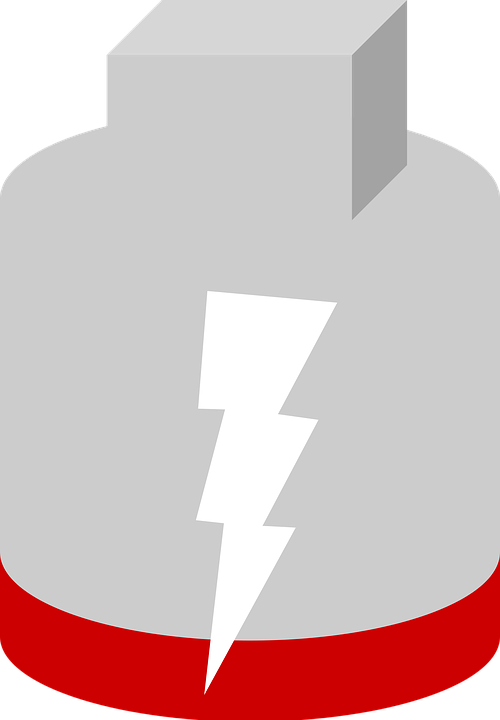 Aggressive pop-ups and Ads
Some spyware is meant to serve you random ads through on-screen pop-ups. If you are experiencing unfamiliar pop-ups, ads, or webpages, it may be related to stalkerware activity on your device.
Weird apps you never installed
Stalkerware always masquerades itself as normal or system apps installed on your device. If you suspect there is spyware installed on your device, hunt for unfamiliar apps on the installed apps list.
The device is slow
Stakware is heavy on CPU and memory use, which bottlenecks device performance. If your device suddenly gets noticeably slower than usual it might be a possible sign of stalkerware activity.
How to Locate Spyware on Android Phones?
If you are wondering how to find hidden spy apps on Android, there are several ways you can go about it. This will involve simple system checks or the use of special tools.
Is installation from unknown sources enabled?
If the provision to install apps from unknown sources is enabled, spyware might have been installed on your Android phone. Every spyware installation requires this option to be enabled, as they can't be directly downloaded via the Play Store.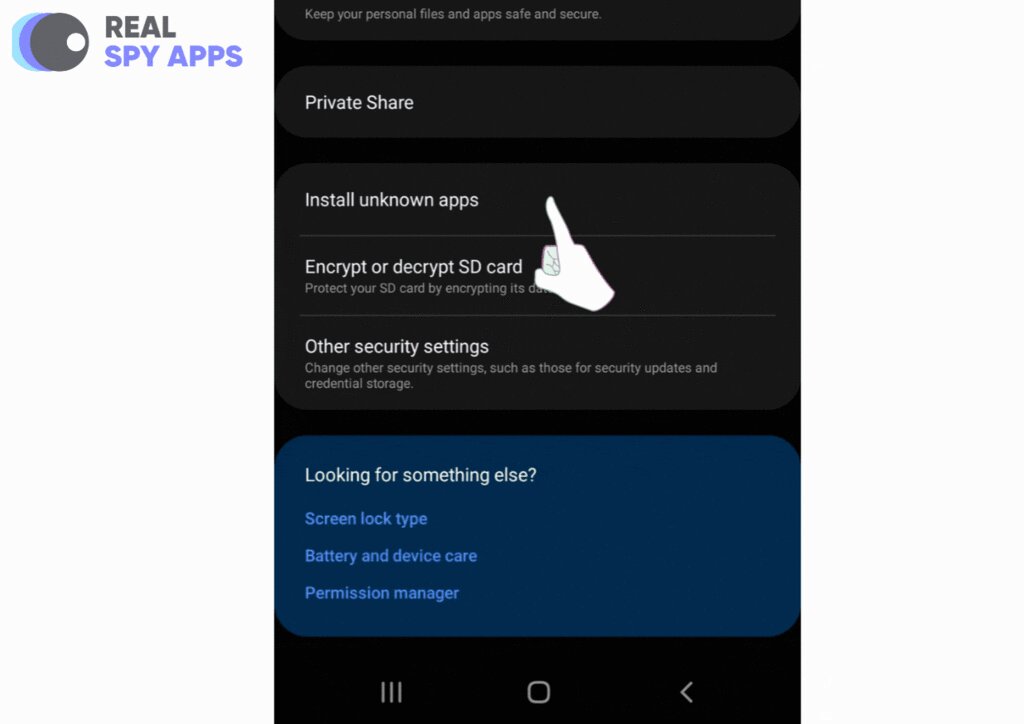 Do you have foreign apps on your Android phone?
A great way to locate malware on your android device is by hunting for unfamiliar apps on your device. A simple stroll through the list of your installed apps will help you spot potential spyware.
Is your phone rooted?
Most spyware requires Android devices to be rooted to function correctly. If you find your device has been rooted, someone might have installed a spy app! The Root checker app can be used to show whether or not root access is working properly.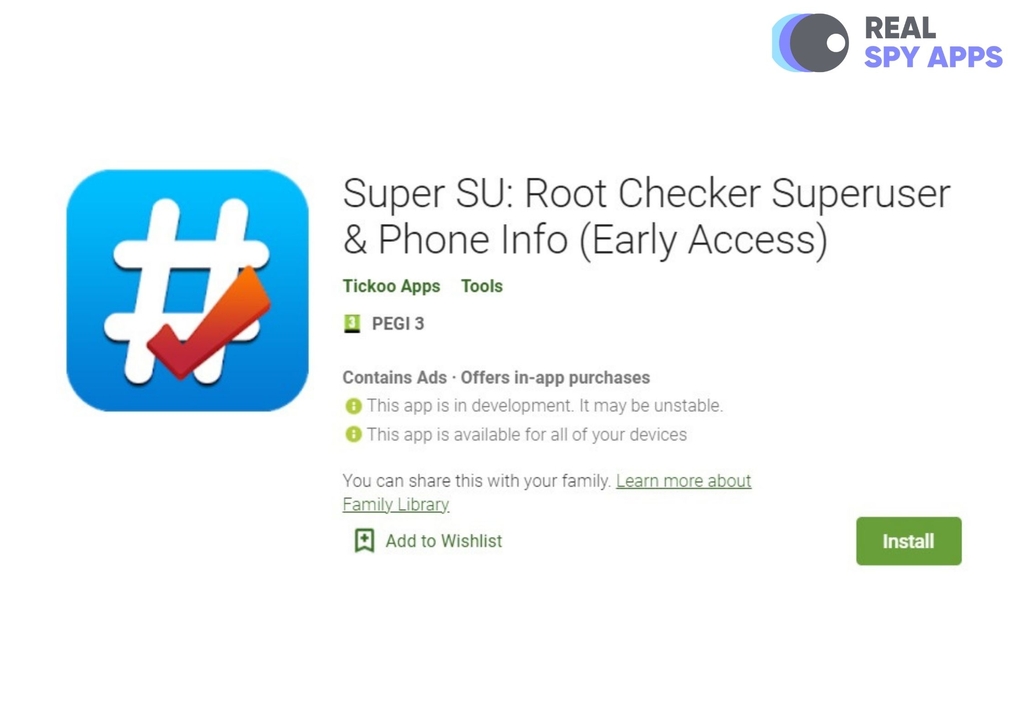 Use Android spy checker
A spyware detector for android can be used to locate malware on your device. Most antiviruses like BitDefender can locate and terminate malware if found on your device.
How to Check for Spyware on iPhone
iPhone users experience relatively minimal spyware threats compared to Android users. This is because iOS is a very secure platform with advanced threat detection and mitigation strategies.
iPhone users are however not fully immune to malware attacks. There are various ways to detect spyware on iPhone 6 or any other iPhone.
Is your phone jailbroken?
iPhones are hard to install malware on unless they are jailbroken. To check for jailbreaking, look for an app called Cydia on your device. It enables the installation of third-party software on jailbroken iOS devices.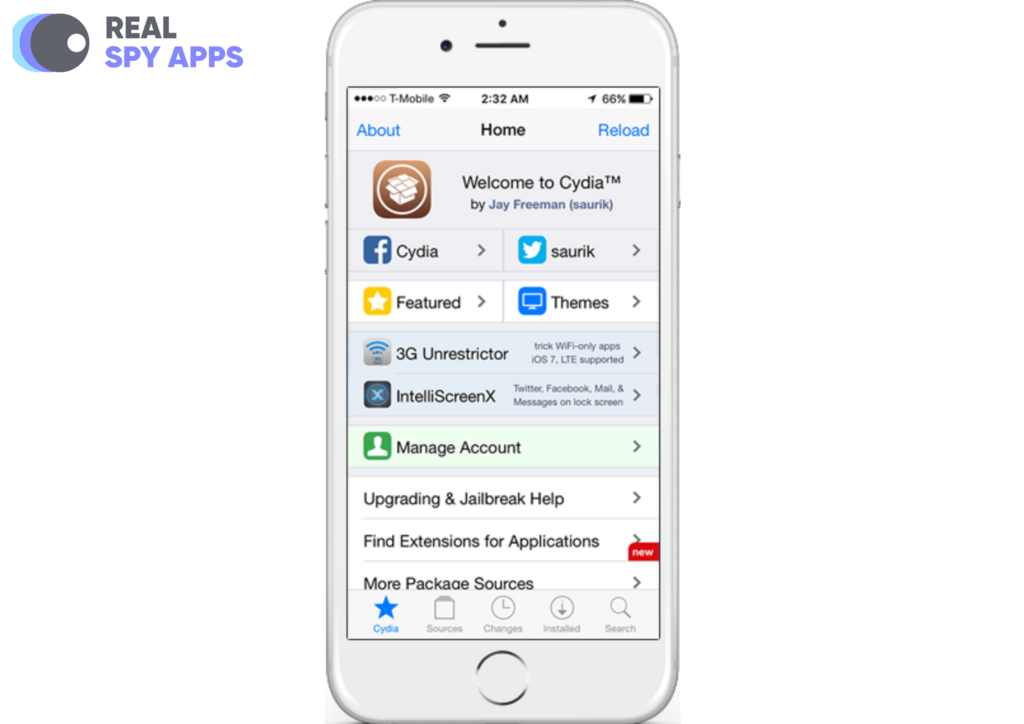 Do you notice any weird apps on your iPhone?
If I want to find spyware on my phone. I always check for unfamiliar apps on my device. To do this, Swipe left past all your Home Screen pages to arrive at the App Library. Here you will find all your apps organized by category.
Does anyone else know your iPhone iCloud credentials?
If you share your iCloud credentials with a partner or spouse, they may find it easy to install a spy app on your iPhone. iCloud credentials are iOS gatekeepers; sharing them is like giving the key to your house.
How to Detect Spyware on Your Computer
Malware manifests itself in different ways on a computer or may be completely undetectable. There are many advanced ways of detecting malware on a Pc. If you want to know how to check malware on your personal computers, here is how to go about it.
How to Detect Spyware on Windows 10
There are a couple of different ways you can check your Windows 10 device for spyware, such as using antivirus software, checking installed applications, or simply looking for weird computer behavior. Here's more information about that:
Windows Defender & other antivirus software
Running a virus scan with the built-in windows defender antivirus is your first line of defense. The windows defender is free and often updated, which is very important for combating emerging threats.
To detect malware on your PC, conduct a system-wide scan on windows defender software.
To run the scan:
Type Windows Defender on the search bar and click Open Windows Defender Security Center on the suggestion list that appears.
Click the Virus and Threat Protection button on the left side of the window that appears. Click the Quick Scan button.
Windows Defender scans your computer and reports any findings.
Checking your installed applications
A cool technique to detect spyware on Windows 10 is by checking the list of your installed apps. Make sure only permitted programs are installed on your device.
To access your installed app list you can Tap on the Windows explorer icon at the taskbar then tap on Uninstall or Change a program. The fully installed application list will appear.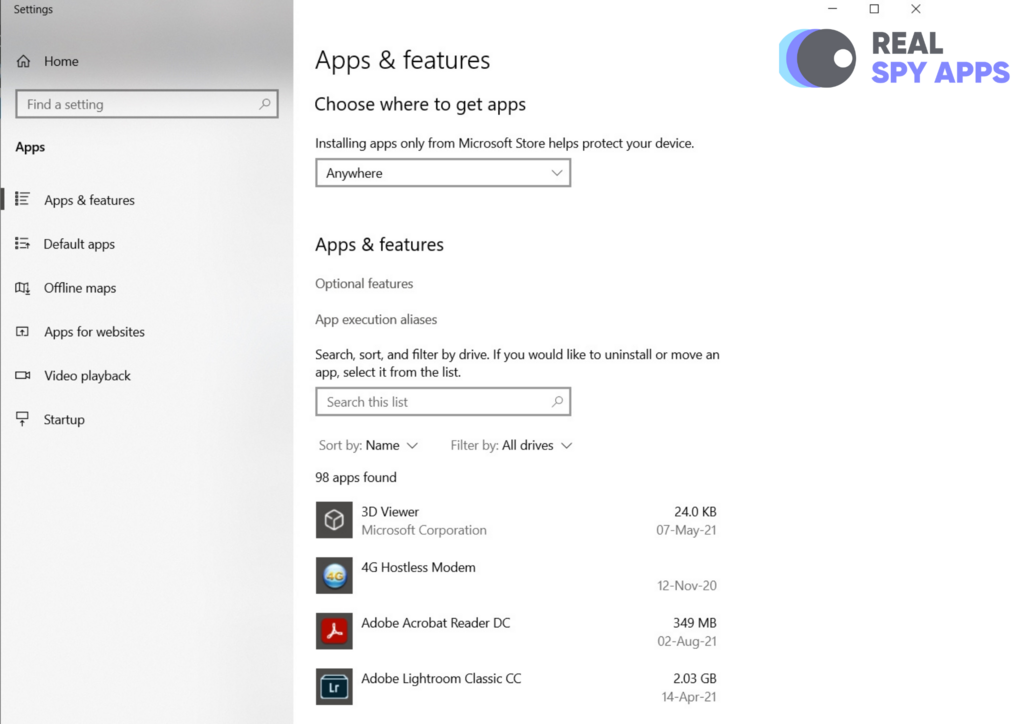 Watch out for abnormal activities
Another simple, free and cool trick to detect malware on Windows 10 is by checking its normal behavior. If Windows is slow to respond or crashes frequently, it may be infected by a virus.
How to Detect Spyware on Mac
Malware on Mac is rare because Apple is always on top of keeping up vulnerabilities and exploits. Despite this, there have been cases of malware attacks on mac devices, so it's important to know how to detect malware on Mac. Here's how to go about t:
Detecting Malware with XProtect
The built-in Apple antivirus known as Xprotect is a great place to start for a malware hunt. XProtect will scan all installed applications as well as stored files for malware and display the results.
Like any antivirus, it is important to keep Xprotect updated. There are many other third-party antiviruses like Kaspersky for Mac which does a pretty good job of identifying and reporting known malware.
Check installed and running apps
A simple trick for detecting malware on mac is checking the installed applications list. Be on the lookout for unfamiliar apps with generic names like "update services."
Some also have unconventional icons, unlike normal Mac programs. You can check any running apps on your Mac by clicking "Launchpad," then " Other" and "Activity Monitor".
How to Remove Hidden Spy Apps on Android?
Removing hidden spy apps on Android might seem like a tedious task, but it's much easier than you might think. There are a couple of different ways you can do about it – using special spyware removal tools, deleting suspicious apps and files, or performing a factory data reset. Below you'll find step-by-step instructions for each of these methods.
Use spyware removal tools
Once you scan your device for malware using an antivirus, you can use the same tool to remove it. This can be done manually or you can set the antivirus to automatically delete suspicious apps and files.
Delete suspicious apps
Any app you do not remember installing can be malware. To uninstall any app on an Android phone, long-press the app icon then tap uninstall on the options provided. Sometimes, spyware is difficult to get rid of and it may display errors when trying to uninstall it. In that case, we recommend performing a hard reset. We've explained this process step-by-step a couple of paragraphs below.
Delete suspicious files
Malware is often contained in suspicious download files. Spyware file names on android begin with .Apk extension, and if you did not personally download it, delete it immediately.
Do a factory reset/ Wipe Data
Some spyware is too advanced to be removed by antivirus. Doing a data wipe/factory reset will delete all data and programs and restore only factory pre-installed apps.
Here is how you can complete a data wipe/ factory reset on your Android device:
Tap Apps.
Tap Settings.
Tap Backup and reset.
Tap Factory data reset.
Tap Reset Device.
Tap Erase Everything.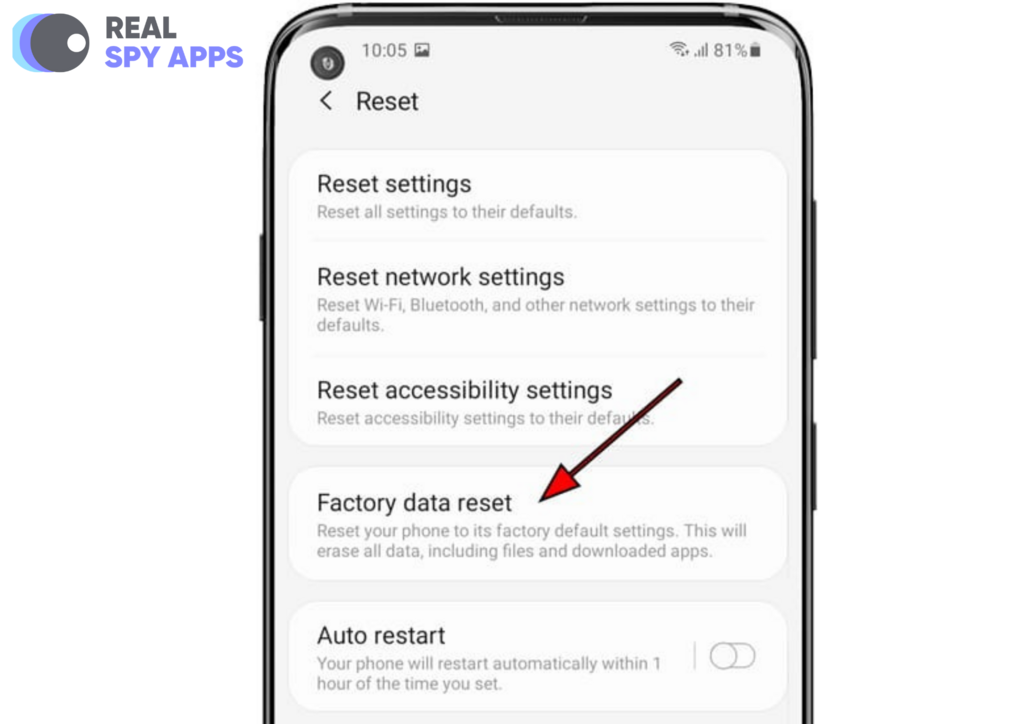 How to Remove Spyware from an iPhone?
Keep your iPhone updated
keeping your iPhone updated ensures it has all the latest threats and protection. Apple frequently releases security updates and simply keeping your device updated is enough to remove malware attacks.
To update your iPhone and remove spyware, follow the steps below:
Plug your device into power and connect to the Internet with Wi-Fi.
Go to Settings > General, then tap Software Update.
Tap Download and Install. …
To update now, tap Install. …
If asked, enter your passcode.
Use spyware remover
Spyware removal tools like antivirus is a safe way to get rid of phone trackers on your iPhone. Simply scan the device and take recommended actions to get rid of the malware.
Delete suspicious apps
Most malware can be removed through a simple uninstall procedure. To remove spyware by deleting an app simply follow the steps below:
Touch and hold the app.
Tap Remove App.
Tap Delete App, then tap Delete to confirm.
Erase all content and settings from iPhone
Some sophisticated spyware cannot be deleted like normal apps. If your iPhone has been severely compromised, erasing all content is the best way to get rid of all malware.
Here is how you can erase all your content and settings from iPhone:
Go to Settings > General > Reset.
Tap Erase All Content and Settings.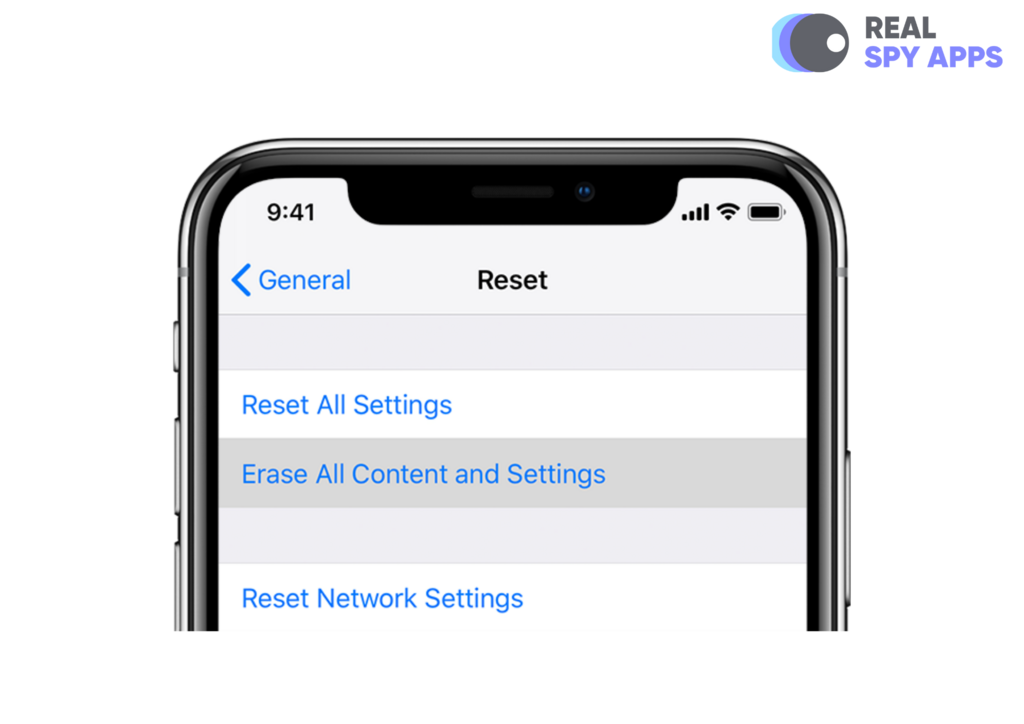 How to Remove Spyware from a Computer
Our computers are the hubs of most spyware that spreads to other devices. Removing all malware within them is key for your entire threat and virus protection.
Whether it is a Mac or Windows PC, there are similar ways to go about removing the malware. In this article, we present some of these methods.
How to Remove Spyware from Mac
You can remove spyware from macOS devices by using dedicated spyware removal tools, deleting suspicious apps, or factory resetting your phone. Here are detailed instructions for each of the mentioned methods:
Use a Spyware removal tool
You can use the Xprotect app built-in Mac or any other antivirus to scan and remove malware from your device.
XProtect will automatically detect and block the execution of known malware. It will check for known malicious content every time:
An app is first launched
An app has been changed
XProtect signatures are updated
Delete suspicious apps
Deleting an app, which also erases its data, is a sure way to get rid of any malware that can't be removed by antivirus.
To delete a spyware app on Mac using Finder, follow the steps below:
Locate the app in the Finder or use Spotlight
Select the app and choose File > Move to Trash
Enter the username and password of the device administrator
Empty the Trash to delete the app
Factory Reset your Mac
If your Mac device is too far infected and corrupted, conducting a factory reset and doing a clean OS install is the best way to remove spyware.
To do a factory reset on your Mac, follow the steps below:
Restart your Mac by holding the power button > select Restart when it appears
While the computer restarts, press and hold down the 'Command' and 'R' keys
When the Apple logo appears, release the 'Command and R keys'
When you see a Recovery Mode menu, select Disk Utility
Make sure the 'Macintosh HD' startup disk is highlighted in your Disk Utility window > select Erase
A pop-up window should appear. Change the Format to macOS Extended (Journaled) > select Erase again
Select Quit Disk Utility in the Disk Utilities menu.
A window will then appear giving you the option to reinstall macOS > select Install macOS
After the new macOS is installed, your computer has been successfully factory reset!
How to Remove Spyware from Windows 10
Removing spyware from Windows 10 is rather easy and quick if you use the correct tools and methods. You can use an antivirus, manually uninstall spyware programs, or resetting Windows 10. Here's how you can successfully perform each of these methods:
Remove spyware from PC using an Antivirus
Windows, just like Mac, has an in-house antivirus. You can use the built-in Windows Defender to perform a scan and eliminate malware threats manually or automatically.
Follow the steps below:
Open your Windows Security settings.
Select Virus & threat protection > Scan options.
Select Windows Defender Offline scan, and then select Scan now.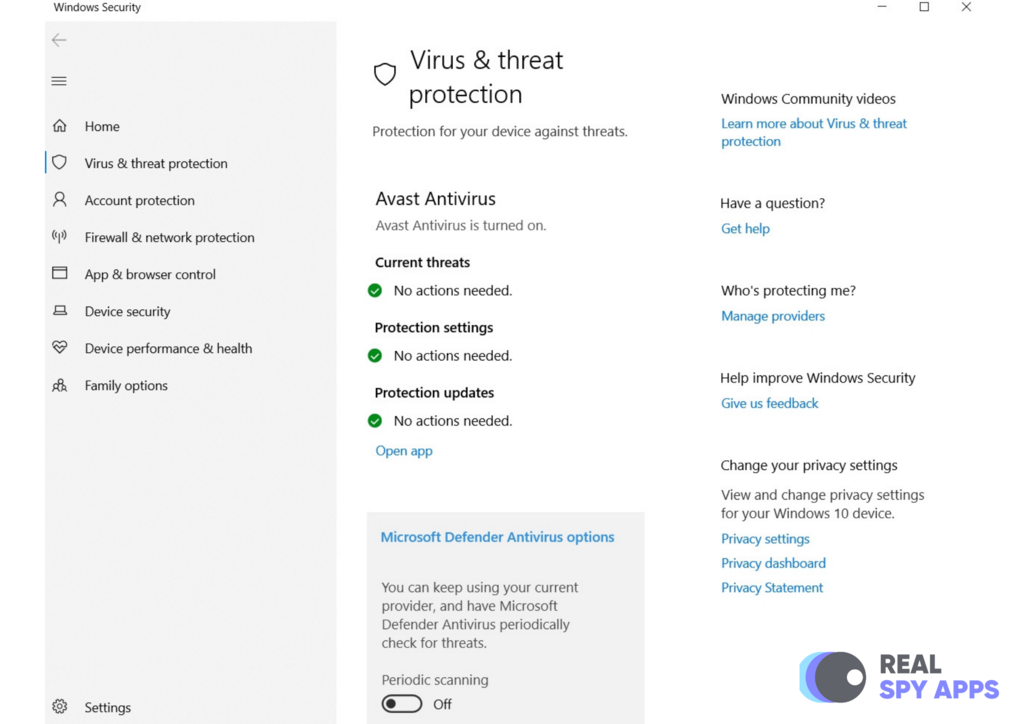 Uninstalling malicious programs
Malware on Windows 10 can be removed by simply uninstalling it, or associated programs.
Hackers often embed malware or spyware on these programs for malicious gains.
To uninstall a program and its features:
Tap on the Windows explorer icon at the taskbar
Tap on Uninstall or Change a program at the top of the window.
Scroll down to the app you want to uninstall and Click on it.
Tap uninstall
Follow all prompts to completely remove the software
Restart your device once complete
Reset Windows
Spyware on Windows 10 can be removed by resetting the OS. This option can be explored when you have malware that can't be uninstalled or removed using an antivirus.
To reset your Windows 10 PC, follow the steps below:
Swipe in from the right edge of the screen, tap Settings, and then tap Change PC settings.
Tap or click Update and recovery, and then tap or click Recovery.
Under Remove everything and reinstall Windows, tap or click Get started.
Follow the instructions on the screen.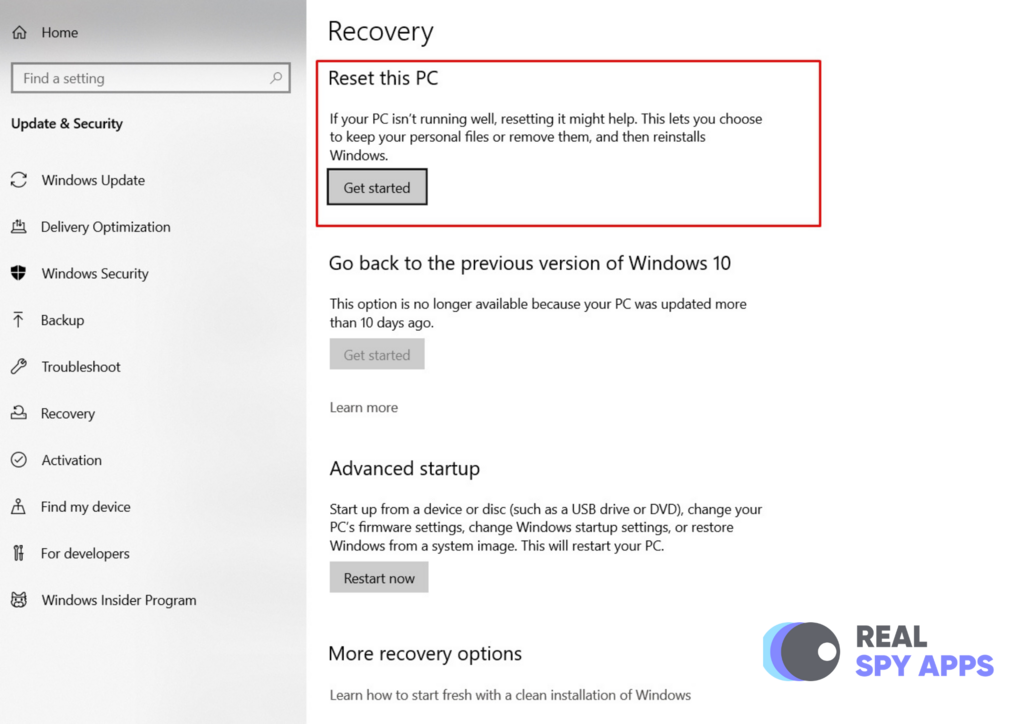 How to Remove Malware from Google Chrome
If chrome is displaying unwanted ads and pop-ups, it may be infected by malware. To remove malware from your Google chrome, follow the steps below.
Open Chrome.
At the top right, click More. Settings.
At the bottom, click Advanced.
Under "Reset and clean up," click Clean up computer.
Click Find.
If you're asked to remove unwanted software, click Remove. You may be asked to reboot your computer.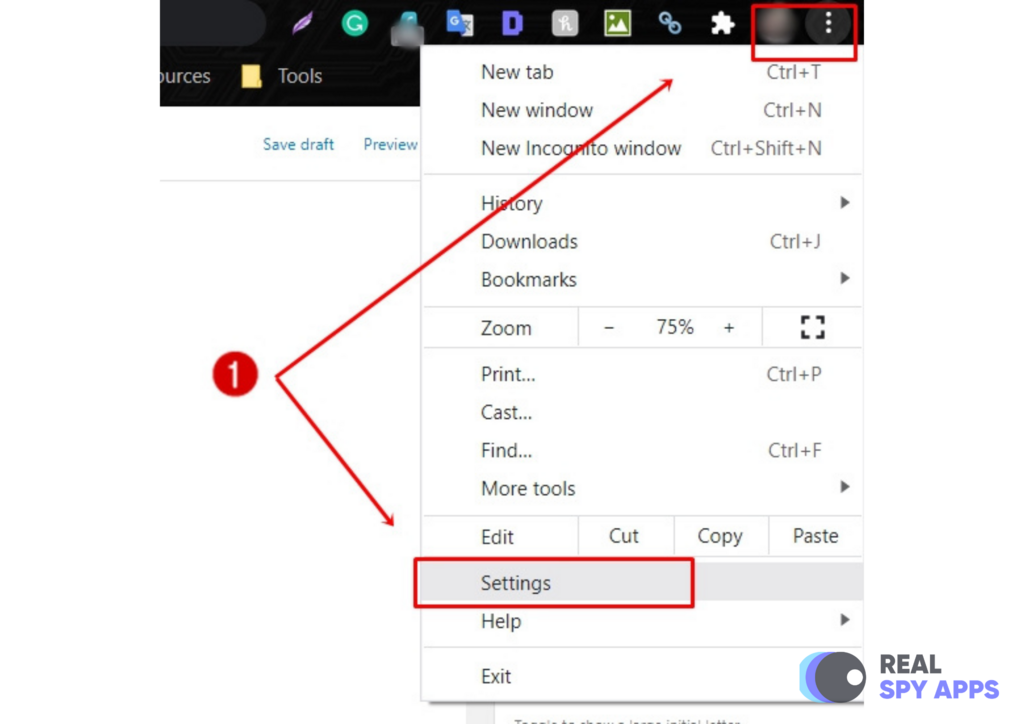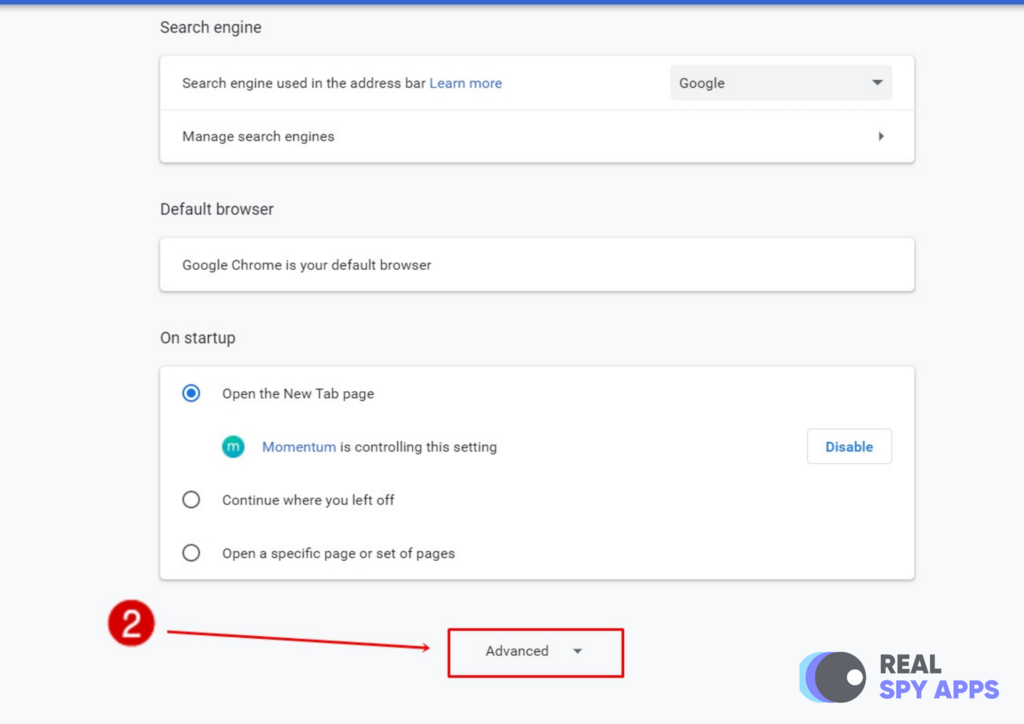 Summary
Spyware has become serious security and privacy problem with dangerous implications. Luckily, there are ways to prevent a government agency, country, or cybercriminals from spying on our digital lives.
Use the suggestions provided in this article to locate spyware on your device. We recommend permanently installing an antivirus and always keep it updated.
If you suspect you are still being monitored, a device refresh or a fresh device is the way to go. This will allow you to implement new security measures on your device.
FAQ
What's the Best Android App to Locate and Remove Spyware?
Bitdefender is the best Android spyware detection app in the market. it automatically detects and removes dangerous malware, ransomware, and other possible threats, so you don't have to worry about your device getting compromised.
Can Antivirus Detect Spyware on My Devices?
Yes. Antivirus software on Android, PC, iPhone, and Mac can detect and remove spyware from phone. They actively scan all files and apps for malware or potentially unwanted programs such as spy apps, screen lockers, or adware.
Is My Computer Being Monitored by the Government?
You can tell you are being monitored by the government if you find advanced spyware on your device. Governments monitor persons of interest by surveilling their social media and messages. If you suspect you are being monitored, perform an antivirus scan for malware.