TiSpy Review 2023 — Is It the Best Parental Control Tool?
Are you worried about your child's security online? Excessive use of mobile phones by children is a growing concern. Everyone worries about their kids' safety and well-being in this digital era. As a parent, tracking your child's online presence, including conversations and browsing h[…]
Are you worried about your child's security online? Excessive use of mobile phones by children is a growing concern. Everyone worries about their kids' safety and well-being in this digital era. As a parent, tracking your child's online presence, including conversations and browsing history, can help you ensure they are in safe hands. TiSpy can partner with you in accomplishing this task with ease.
Wondering if TiSpy is the right tracking software for you? If yes, here is all you need to know about TiSpy. This review covers everything about this wonderful app's features, compatibility, pricing, functionality, and pros and cons.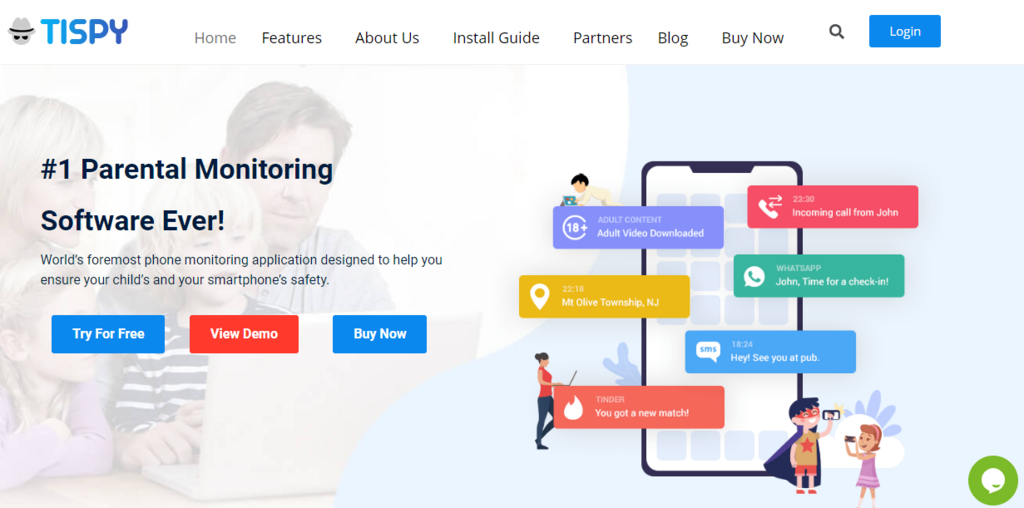 Let's dive into this article to review TiSpy in detail.
What Is TiSpy?
TiSpy is a top-rated parental control tool to monitor your kids' digital activities. You can compare its features with other similar apps. The app can monitor phone calls, SMS, and social media apps, including Whatsapp, Facebook, Snapchat, and others. Simply install the software on the target phone and log in to your registered account through any web browser. You get to know about your child's phone calls, text messages, and GPS locations.
How Does TiSpy Work?
Using TiSpy to track your child's phone is not so difficult. Following are the key steps for how this app works:
Launch TiSpy
First, download the app on the target device by clicking the available download button on the official TiSpy site. After that, open the downloaded file and install the app by following the on-screen instructions. Remember, you need to disable some features like Google Play Protect and Antivirus for Android devices.
Configure TiSpy
After you've installed the app on the target device, the next step is configuration. Open the application and configure it, including various permissions and so on.
Create an Account
After configuration, you are now ready to create the user account on TiSpy.
Login and Get Started
Finally, you are all set to start tracking your child's phone. Create an account on the target device and log in using your own browser. This way, you can monitor all the activities being done on the target device.
TiSpy Compatibility
TiSpy phone tracker is compatible with various operating systems. You can use the application to track your kids on Android, Mac, iOS, and Windows. If you are interested only in spy apps for Android, you can check some additional apps to spy.
As TiSpy is a hidden app, it pairs with operating system files to stay silent. You can check TiSpy's website to ensure that the app is compatible with your kid's device.
Key Features
The following are the key characteristics of TiSpy that make it superior to similar tracking apps.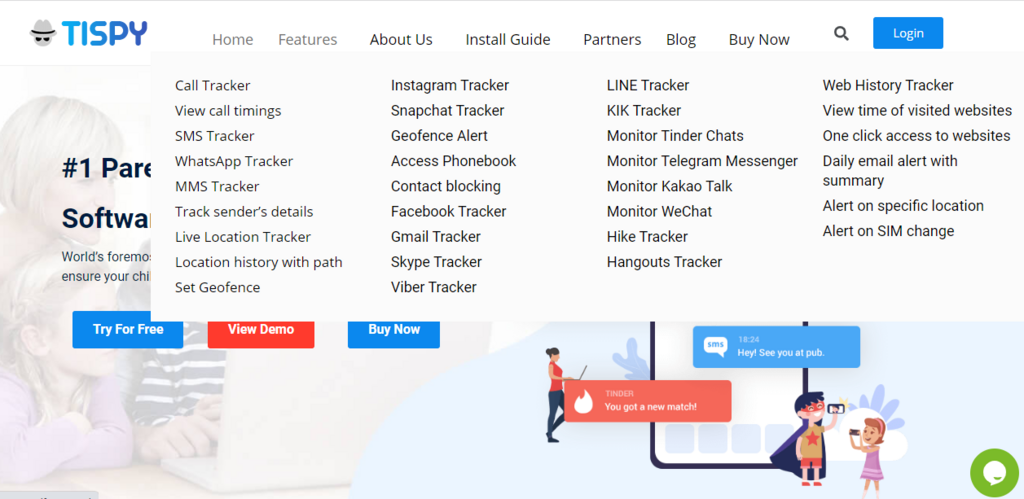 Call Tracker Feature
This feature allows you to keep track of your children's call log information. You can monitor incoming calls and the call history. With this feature, you can save your kids from spam calls. Moreover, the app offers the following perks:
Monitor the contact list
Detailed timestamps and call durations are recorded
Block calls from unwanted numbers
Hear recorded calls whenever you want
Filter by date & time of calls
Download the call recordings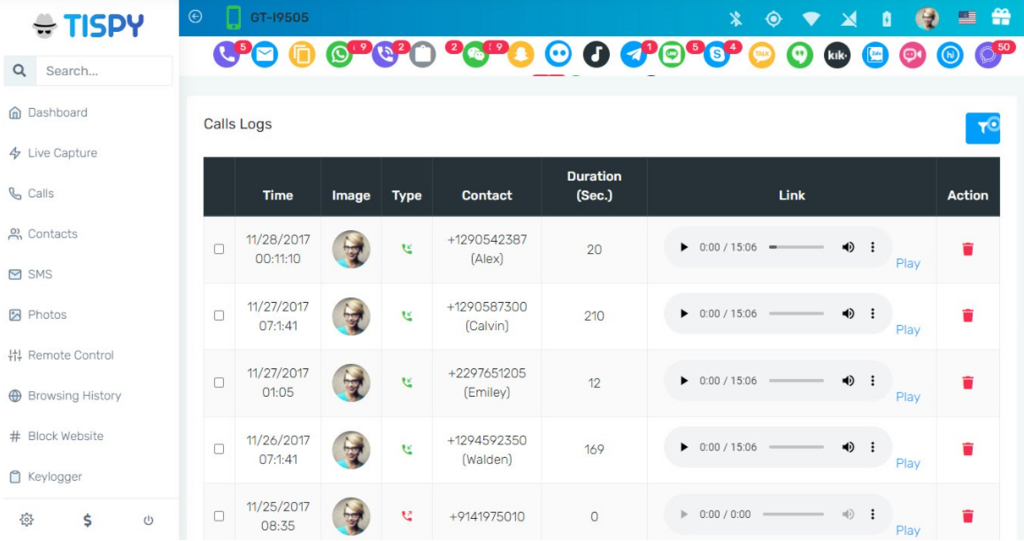 Track Text Messages
TiSpy tracks your child's text messages and chats. Also, it helps you monitor text messages with real-time updates from the person on the other side.
Send and receive messages
Monitor inbox messages remotely
Access deleted messages and see text messages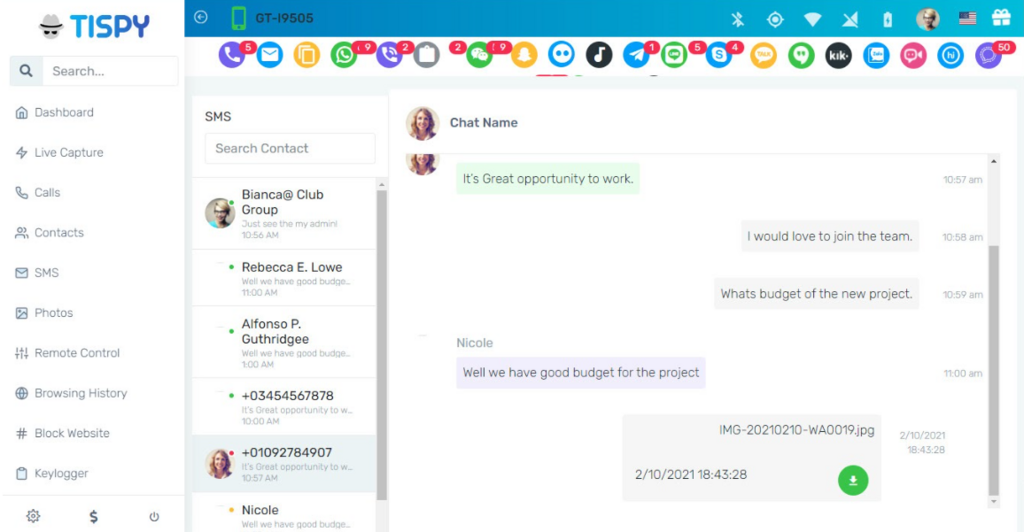 Location and Geo Tracking
The GPS tracking feature of TiSpy allows you to track your children's location without them knowing. The app uses satellite views and maps viewing options for monitoring locations. You can set up a Geofence and get email alerts on it.
The location tracking feature updates you about the real-time location of your child. Moreover, the location history option gives you the whole report of where your child has been all week.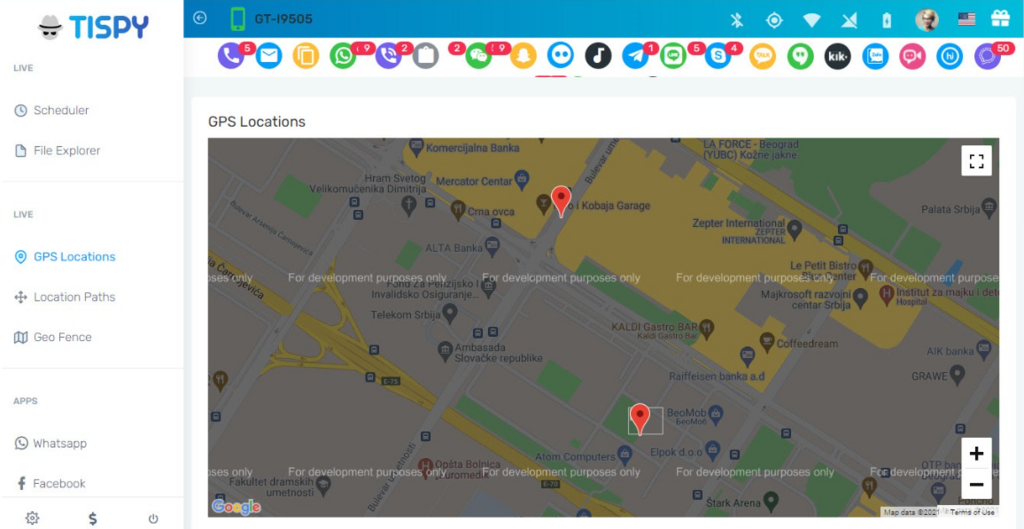 Key Logging
Keylogging is a wonderful feature for those who like to keep a close eye on their children. It enables you to monitor everything your child is typing on the device. It's perhaps the most effective feature that the app offers.
You can keep an eye on all the keystrokes in messaging, browser searching, and emails. Furthermore, you have details of every app on which they're typing.
Access Phonebook
TiSpy remotely grabs all details of each contact from the target mobile's phonebook, so you can approach all contacts directly from the dashboard. It also offers parents the chance to block numbers on the contact list that may lead to security risks.
Monitor Web History
If you want to protect your children from the hazards of visiting undesirable sites, you need to monitor their web history. You must be sure about whether the websites your kid visits are safe or contain harmful content.
With TiSpy, you can spy on all the browser history of the target phone. Moreover, you can view and monitor the time and date of each visited site. Also, the app allows you to check the frequency of each website your child visits.
Multimedia Tracking
This feature exposes you to the media content your children keep on their mobile device. This way, you can satisfy yourself that the child is not indulging in any violent content. An advanced nude image detection feature is a sigh of relief for worried parents.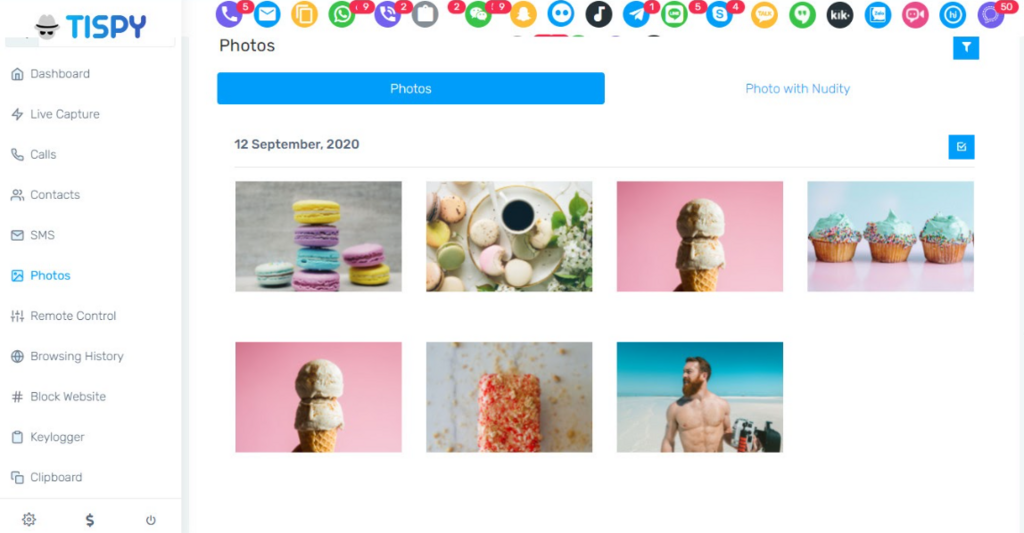 You can easily view all the GIFs, images, videos, and other media files. These files from the target device are automatically saved on the app's online dashboard. From here, you can download the data if required.
Track Social Media
Children are excessively exposed to social media sites, including Facebook and Instagram, on the top. Checking these sites on your kid's phone is quite necessary. Also, Whatsapp Messenger on your child's phone needs continuous monitoring.
With TiSpy, you can track your child's Whatsapp chats and the media they're sharing with others, and vice versa. Moreover, seeing the saved contacts and their profile photos is a great advantage.
Monitor Apps and Programs
Various pre-installed apps are available on a smartphone that your child may use. TiSpy allows you to monitor the usage of each app. In addition, you can restrict or block certain apps on your kid's phone. TiSpy can notify you whenever the child installs or uninstalls an app on the device.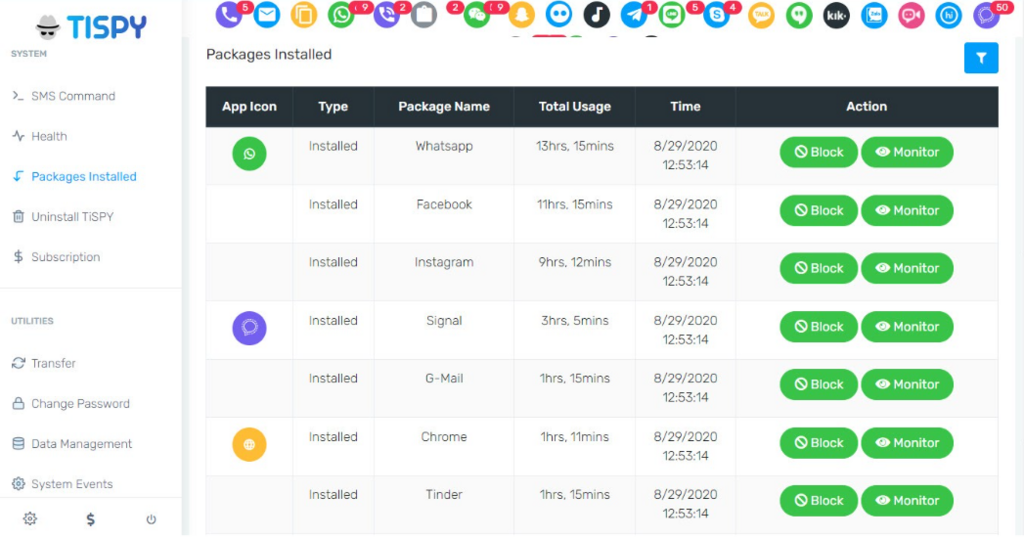 Capture Images
TiSpy has access to the device's front and back cameras. It captures and saves instant photos, locations, audio, and much more. These random captured photos will give you an insight into your child's activities.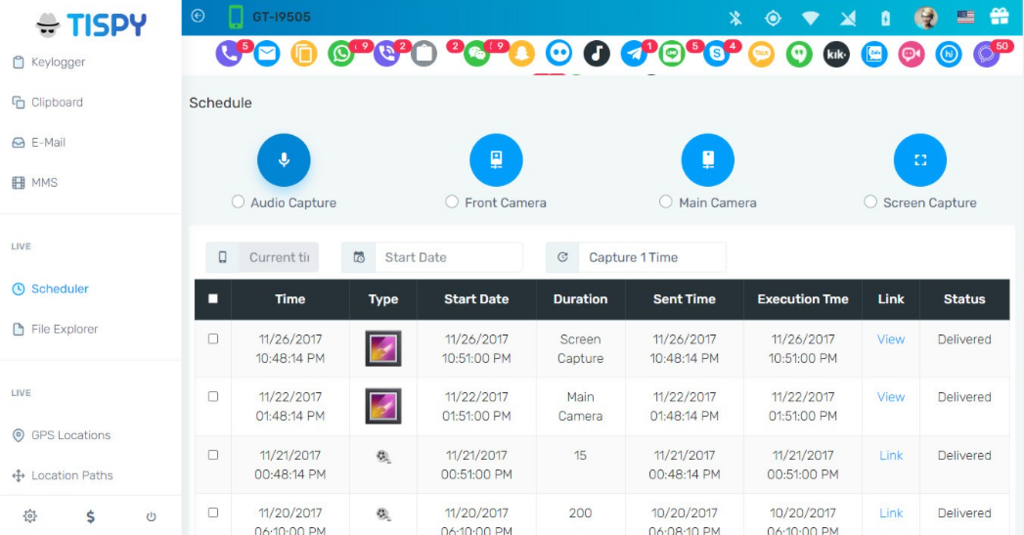 TiSpy Pricing
The app offers three subscription plans: including a 3-month, 6-month, and 12-month plan. The pricing of TiSpy depends on the plan you choose. If you are a first-time user and want to test the app before purchasing it, don't fret. You can take advantage of the 2-day free trial. After that, you can better decide on a subscription if the app suits you.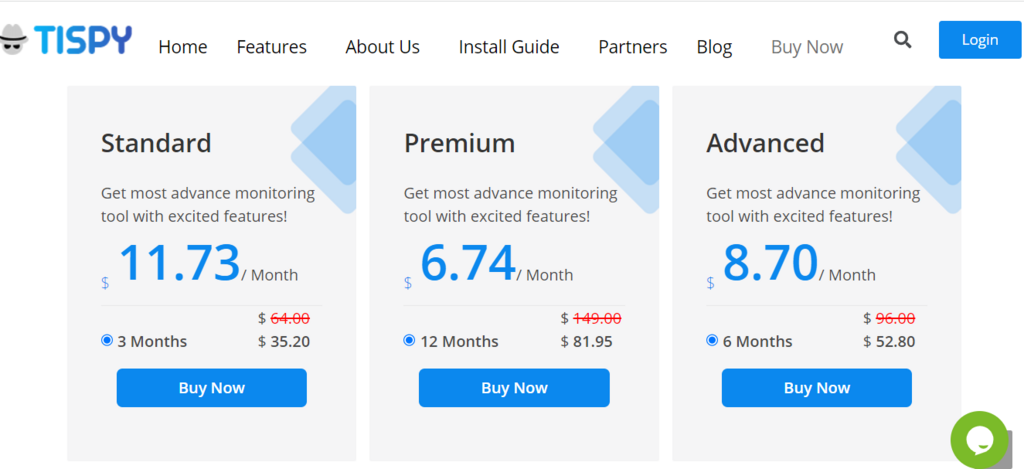 Pricing
Standard Plan
$ 11.73 per month
The basic 3-month plan
Advanced Plan
$8.70 per month
The 6-month package
Premium Plan
$6.74 per month for the annual plan
It is the most cost-effective option you can afford
How to Install and Setup TiSpy on Android
It takes only 2 minutes to install TiSpy on an Android device. Given below is a detailed step-by-step guide to installing TiSpy on your child's device.
Disable Google Play Protect and AntiVirus
Open the Play Store application on your phone. Tap Menu and select Play Protect. Make sure to disable the Scan device for the security threats option.
Download and Install "TiSpy"
After the initial settings, open the target device browser. To begin the installation, tap on the downloaded file.
Configure "TiSpy"
Read the End User License Agreement and accept it if you agree. During installation, TiSpy requires you to activate "Administrator rights."
By selecting, it will allow multiple features like Set Lock-Screen Password, Lock Device Screen and Disable Camera, etc.
Create / Register Account
If you are already using TiSpy, simply enable the "Already a TiSpy user" option.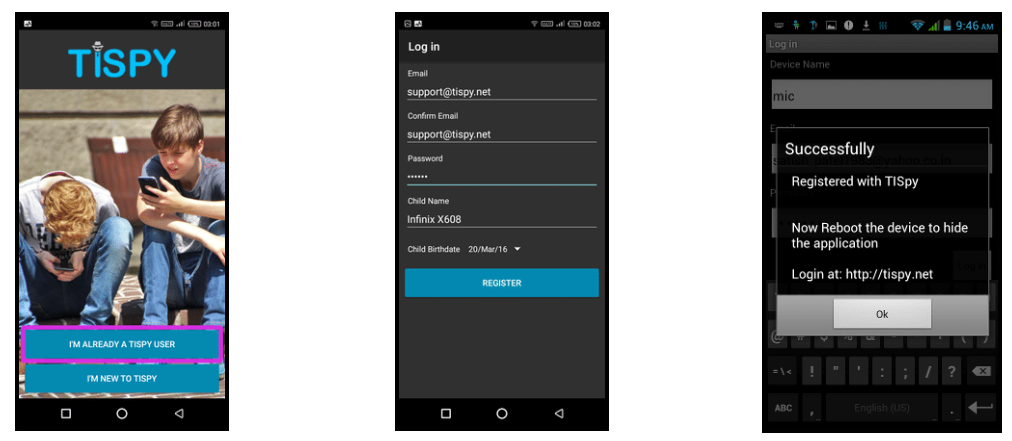 However, if you are a new user, you need to register yourself first on the app. Use the I'm new to TiSpy option and enter a valid email address. Tap on the "Registered For TiSpy" option to get a verification email in your inbox.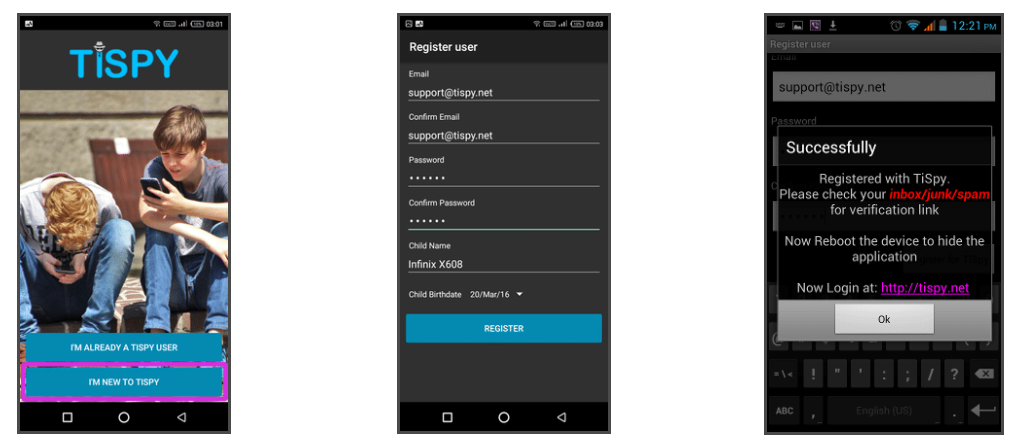 Email Verification
This step is critical for new users. You will get a verification email in your email inbox. Verify your email address to proceed.
Hide App Icon
In the end, use the Permission Tool to hide the TiSpy icon on Android > = 10.
How to Install TiSpy iOS Monitoring App
For this purpose, you will need a Mac computer or Windows PC, a charging cable, and your kid's iPhone.
Launch TiSpy Desktop App
First, download the TiSpy desktop app on your Mac computer to track an iOs device. Then check iOs device settings and turn off the Encrypt Local backup option, and enable syncing over Wifi.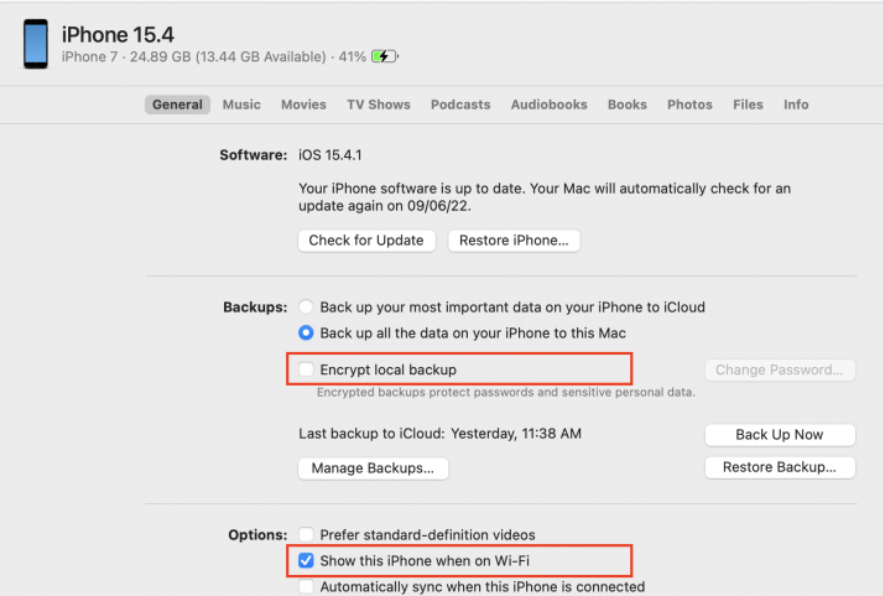 Open the downloaded pkg and allow the Unidentified developer. Follow the screen instructions to install the TiSpy app.
Connect iOs Device
Sign up or log in with your TiSpy account and connect the target iOS device to the laptop using a charging cable. Then you will be asked whether you trust the computer in iPhone. Simply click on Trust and tap +Add.
Finally, select a particular device to monitor.
Pros
Advanced tracking features are available in a single app
Outstanding silent tracking without being detected
100% secure monitoring services
The subscription price is reasonable
Supports various social media platforms
Easy to set up and use
Cons
Too short free trial
The monthly plan is not available
The installation process can be troublesome
Wrapping Up
Unquestionably, TiSpy is one of the best parental monitoring software. With advanced tracking and live screen viewing, TiSpy is an excellent option for worried parents. With a 2-day free trial and a trustable reputation, this app is undoubtedly worth a try, especially if you're looking for a silent monitoring app. 
Don't hesitate and give it a try!
FAQ
Is TiSpy Safe for Smartphones?
Yes, TiSpy does not harm the tracked device in any way. It only provides information about your child's activity on their mobile phone or tablet. The app offers a secure and convenient monitoring experience.
Can I Use TiSpy for Free?
Although TiSpy is a paid app, you can use it for free during a 2-day free trial. Simply enter your payment details and register for the free trial. After the free trial has ended, you can subscribe to the paid plan that suits you.
Will TiSpy Work Anywhere in the World?
TiSpy claims to work anywhere in the world. You only need a stable internet connection & an updated browser to use the app.
Is It Legal to Use TiSpy?
It's only legal if you use the app to monitor your child's activity anonymously. However, you can't use it to invade some other person's privacy or disguise them.
Can I Refund My Amount After Buying a TiSpy Subscription?
Many users ask about the refund policy of TiSpy. The app offers a 7-day refund policy for new users.