Spyrix Review 2023: Is This the Best Personal Monitor App?
Do you want to check your child's or partner's online activities? If you are hunting for versatile keylogger and monitoring software, Spyrix Personal Monitor App is your top pick. It is an effective tool for keeping an eye on your children and employees. You can use this cool keylogger to t[…]
Spyrix
https://realspyapps.com/demo/spyrix
https://realspyapps.com/go/spyrix
Android, iOS, macOS, Windows
Do you want to check your child's or partner's online activities? If you are hunting for versatile keylogger and monitoring software, Spyrix Personal Monitor App is your top pick. It is an effective tool for keeping an eye on your children and employees. You can use this cool keylogger to track someone's activities on a computer without hassle. Also, with Spyrix Keylogger you can download the report of recorded data from your account whenever you want.
This article reviews all the necessary details you need to know about Spyrix Personal Monitor, including:
Functionality
Compatibility
Hottest Features
Pricing
Installation & Setup
Pros & Cons
What Is Spyrix?
There are a lot of useful tools for spying. Spyrix is one of them. It is a multifunctional personal monitor to check the activities on your computer. Also, you can use it to spy on other people's computers to track their actions on the device. Moreover, the software allows you to enjoy hidden remote monitoring using a secure web account. Spyrix has various free and premium features for the remote monitoring of computers.
How Does Spyrix Work?
Spyrix allows the free recording and monitoring of every single keystroke on a computer. It can capture screenshots of the active programs at specified intervals to monitor all the activities on a computer. Also, it can generate reports about running applications.
Here is a simple overview of how Spyrix works:
Download the Spyrix Personal Monitor.
Install it on the target computer.
Choose the method of receiving logs.
Start monitoring the target PC via your online account.
Spyrix Compatibility
Spyrix Keylogger works well on Mac and Windows PC. Also, it supports the following versions of Windows and Mac computers.
Windows – Win7 x32, Win7 x64, Win 8, Win 10, WinVista x64, and WinXP
Mac – OS 10.12 and above.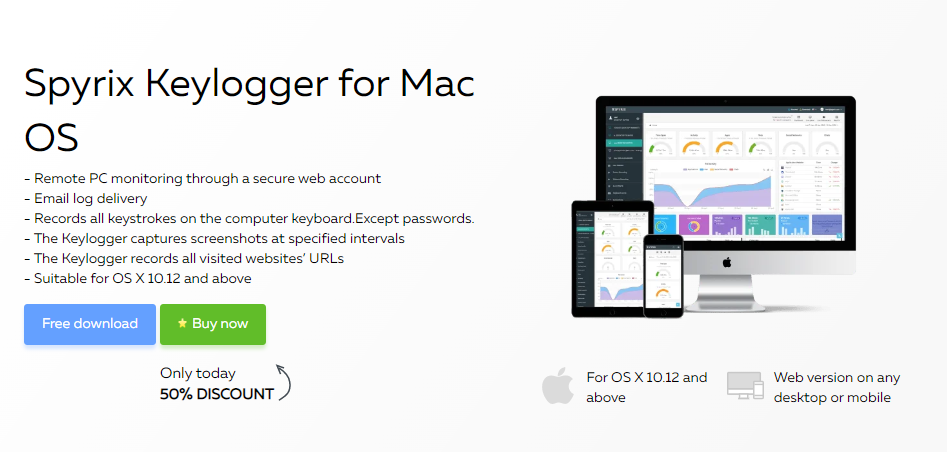 If you want to track a smartphone using Spyrix, EvaSpy for Android and Spyrix Viewer for iOS can make it easier for you.
Features of Spyrix Keylogger
Spyrix's dashboard is versatile enough with a variety of monitoring options. From keylogging to messaging activity, it has a lot to offer. Quick Data Syncing updates every new information continuously if there's stable internet on your device and the target. So, isn't it exciting? By the way, there are good keyloggers for Android and keyloggers for iPhone.
Here are some basic features of Spyrix that the free version offers.
Keystrokes Logging
Spyrix keylogger is highly efficient in capturing all the keystrokes accurately. For example, it breaks down all the keys pressed by a user, including the Enter and Backspace keys. Moreover, it can view all the recorded keystrokes even when they are removed. This feature makes Spyrix a perfect fit for parental control and employee monitoring.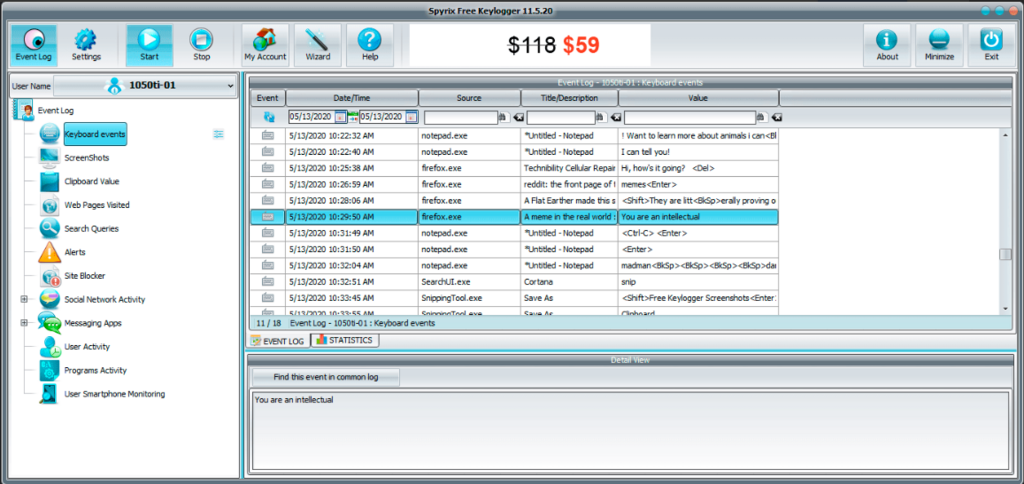 Clipboard Value
Clipboard Control is a wonderful feature of Spyrix. If you want to monitor your partner's copied passwords, emojis, messages, and other copied texts, Spyrix's clipboard control is for you. So, using it, you can view all the copied texts on your partner's computer.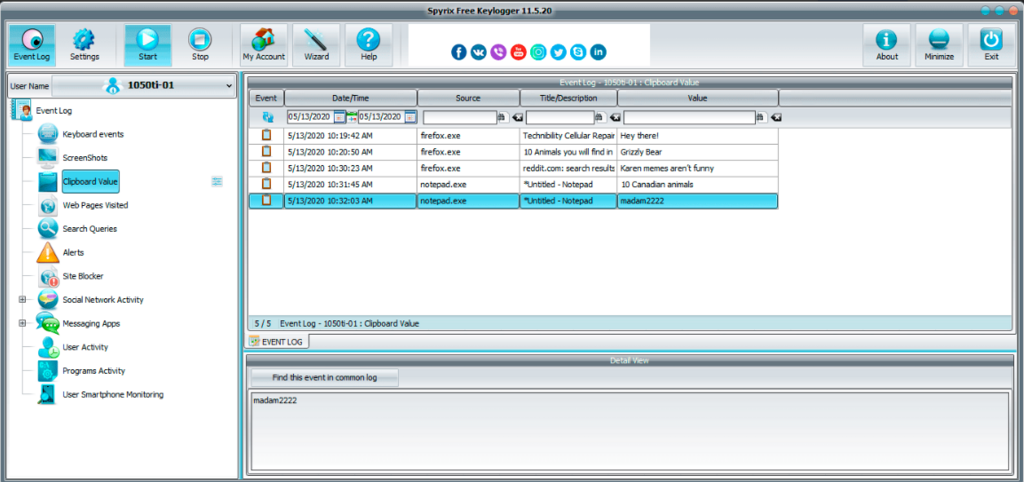 Capturing Screenshots
Screenshot Capture allows you to take screenshots of the target user's online activities. To activate this feature, you need to select the Screenshots section on Spyrix's dashboard. Besides capturing screenshots, you have some other related options here.
Spyrix's screenshot feature splits and organizes a list of screenshots with their timestamps. Moreover, it records the program's description or website that was open while capturing screenshots. So, if you want to enlarge any captured screenshot, simply double-click on it.
User Activity
Spyrix can record the date and time the computer is used and by whom. It will show you the screen time and other information about the user's activity on the target computer. In fact, User Activity is a great feature for parents monitoring their children and employers tracking their employees' performance.
Program Activity
The program Activity feature allows you to see all the running applications, including games and others. Also, you can monitor all the websites and programs the user has opened. This way, you can ensure your child does not waste much time browsing useless things and playing games.
All Events Logging
It's difficult to check the different features of Spyrix one by one. The Event Log feature displays all the recently captured events on one page. So, you can easily view all the recent activity when you log into Spyrix.
Spyrix Premium Version for Windows and Mac
In addition to the above-mentioned features, the premium version of Spyrix for Windows and Mac has the following advanced perks. Let's dig into them.
Stealth Mode
The most important premium feature is Invisible mode. Your target user cannot see Spyrix in the running or installed applications. So, they won't be able to notice any activity taking place due to Spyrix on their computer.
Live Screen Viewing
Live viewing is an advanced feature of Spyrix that lets you view and monitor the desired computer screens in real time. It records the screen activities of the target device and quickly broadcasts them to show you everything on your account.
For instance, Spyrix allows you to watch your partner's PC screen in live mode without them knowing. However, this feature requires stable internet access on both devices. So, using live mode to spy on someone's computer can quickly drain the laptop's battery with excessive internet consumption.
Social Media Tracking
Recording social activities on Facebook Messenger, Whatsapp, Viber, Skype, etc., is no more difficult with Spyrix. The software checks and reports all the actions performed on various social media apps like Instagram, Facebook, as well as Snapchat, Twitter, and others.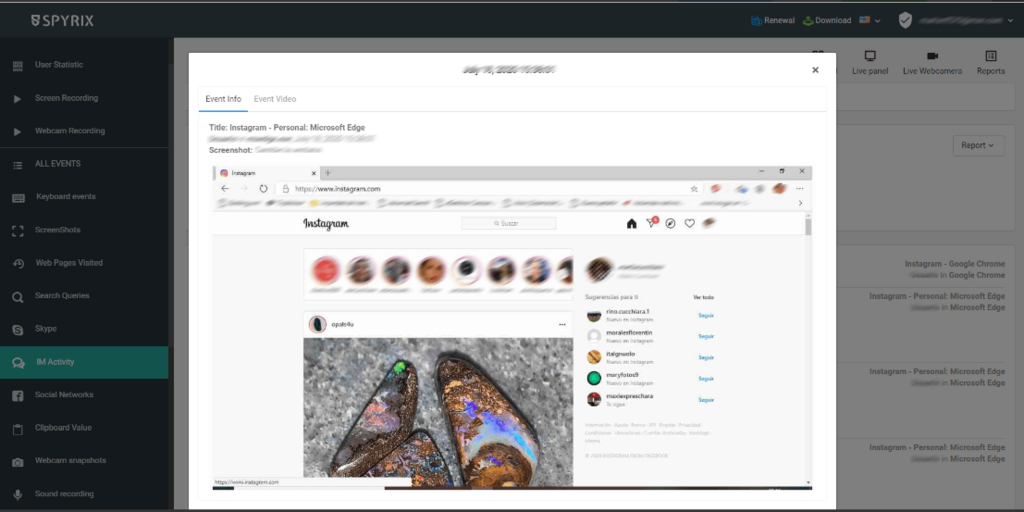 Screen and Webcam Recordings
You may need a screen and webcam recording to check what's happening on and around the target computer. Spyrix offers a continuous screen recording and a webcam recording of the target user. This way, you get a complete chance to monitor user activities taking place over time.
Sound Recording
Sound Monitoring is an interesting feature of Spyrix. It allows you to record the surrounding sound of the target computer. So, you can save and use the recording to determine what's going on around the user.
URL Monitoring
You can view what pages and websites the user has visited. URL Monitoring helps you to see and save all the visited web addresses. So, you can easily look through the sites your partner or children opened.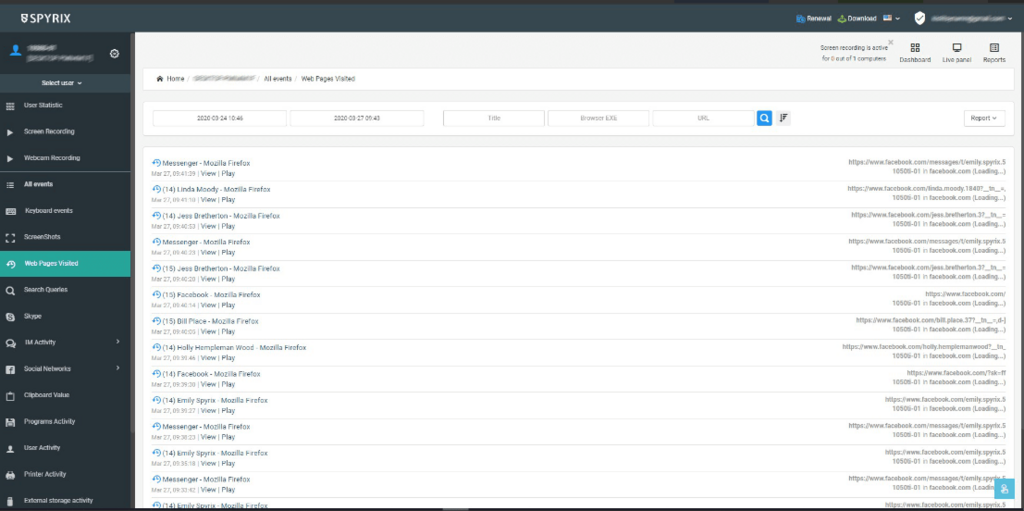 Messaging Activity
Using the premium version of Spyrix, you can check all the messaging activity on different platforms. You can track and record the received and sent messages on Facebook, Whatsapp, as well as Skype, Viber, and more. Moreover, Spyrix quickly uploads the recorded messaging activity when the user accesses any messaging platform.
Search Engine Monitoring
The software records all keywords the target user typed for doing different searches. You can see keyword alerts on your Spyrix dashboard.
Email Logging
Spyrix has an excellent Email logging feature. It supports log delivery through Email and FTP too. Email logs are sent in certain time intervals.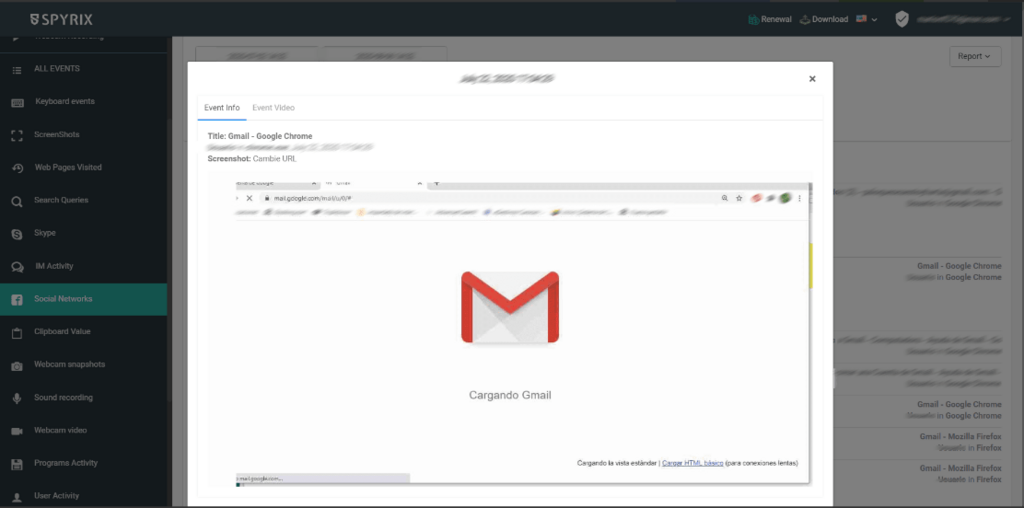 Call Recording
Spyrix records video calls on WhatsApp, Facebook, as well as Viber, Skype, Slack, Zoom, Telegram, and many others. All call recordings are stored on your Spyrix dashboard for about 6 months. So, you can view them anytime within this period.
Spyrix Pricing
Spyrix has variable pricing based on multiple devices and their numbers. Both free and premium versions are available for Windows. Here are three pricing tiers for the Windows premium version of Spyrix. For instance, monitoring a single Windows PC costs $69, three PCs $79, five computers $129, and so on. All subscription plans are applicable for 12 months.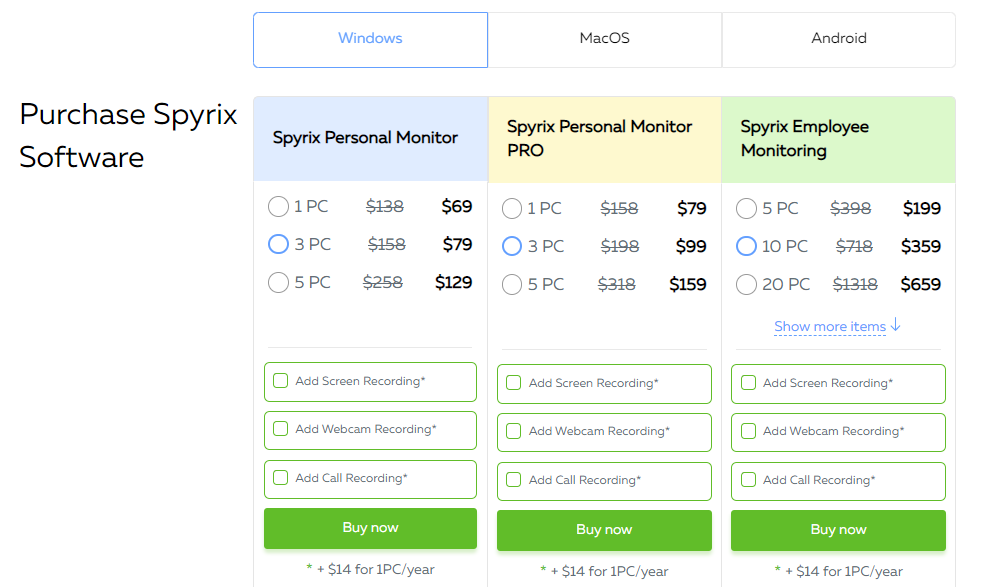 Spyrix Keylogger for Mac only offers a paid version with three different pricing plans.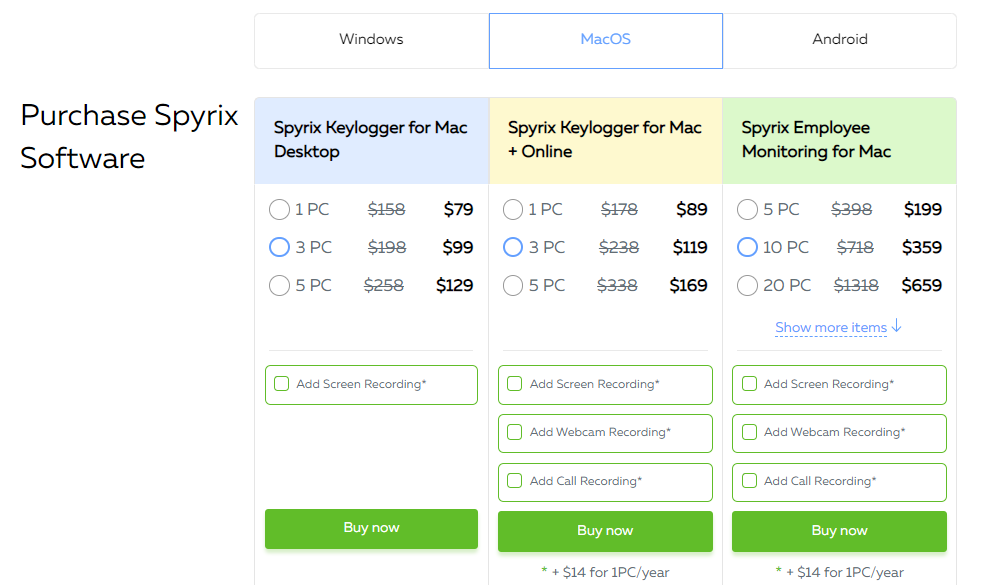 How to Install and Setup Spyrix on Windows?
Here is a step-by-step-wise installation guide to help you install Spyrix on the target device. By the way, remember, you need to modify a few default settings prior to installation. You can also consult the Online Manual for Windows on the official website to learn more.
Download Spyrix on the Target PC
First, navigate to Spyrix's official website, and download the Spyrix Personal Monitor. After that, install the Spyrix on the target PC.
Getting Ready for Installation
First, disable the Windows Defender Virus & Threat Protection in the Windows Security option. Moreover, you need to deactivate any antivirus pre-installed in your system.
2. Include Spyrix software in the exception list to avoid the antivirus software detecting it afterward.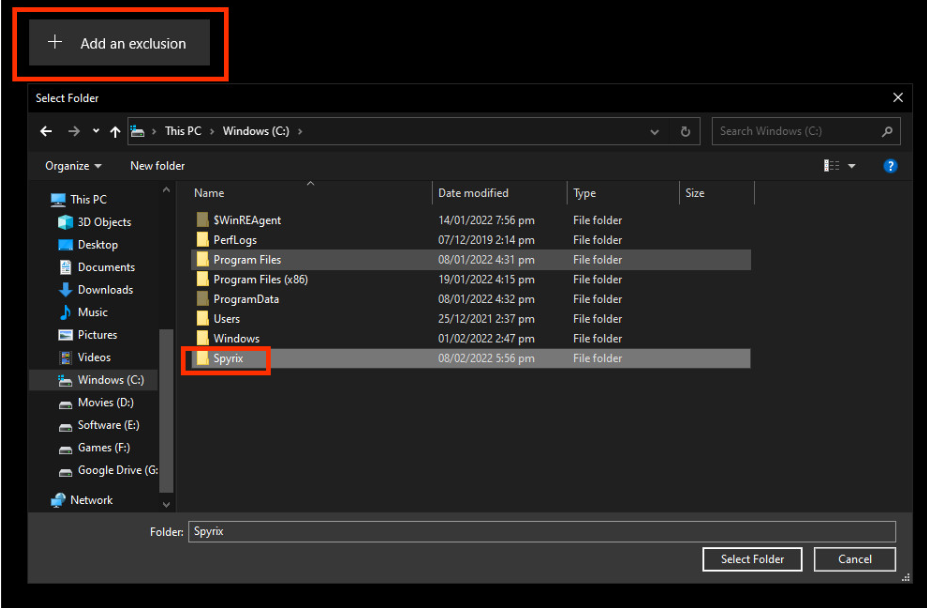 Then, you will enter your Email ID for remote monitoring. You will receive the recorded keylogger and screenshot data at this Email address.
Before proceeding ahead, tap, I accept the agreement and hit Next. Finally, install the software and click Finish to complete the installation.
Enter Email for Online Monitoring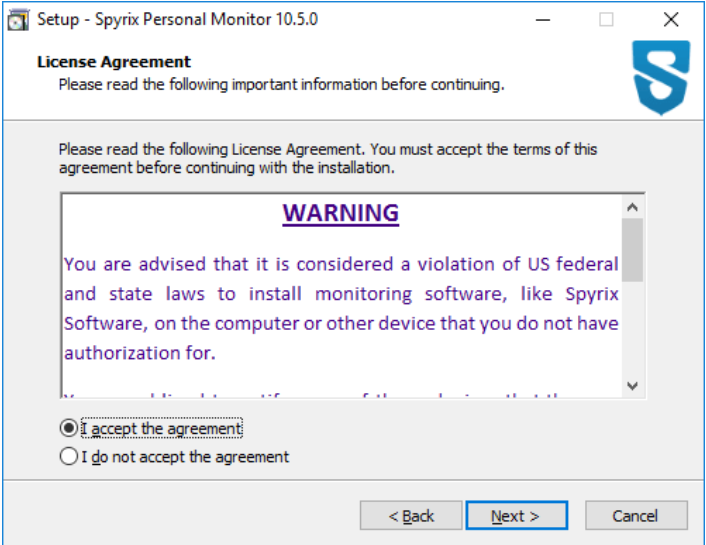 After the installation is complete; you can choose to hide the software on the target PC and change the screenshot quality.
First, you need to enter the Email address where you will receive the monitoring data.
If you have already added it while installing, simply click on Next.
Other Settings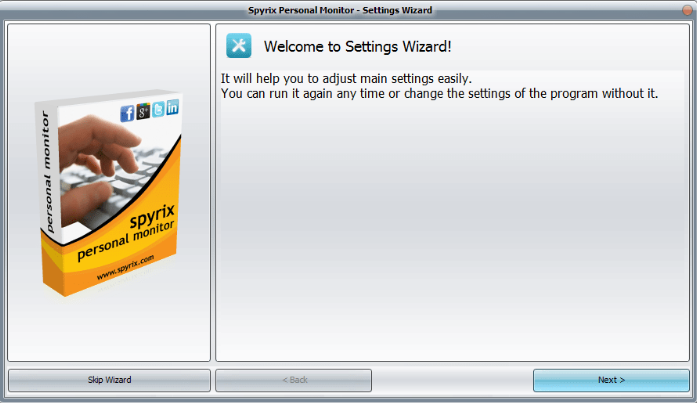 After entering the Email, the software will ask when to take a screenshot and what it should be.
Here, you can choose to capture a screenshot when the window is switched.
Adjust the slider to modify the screenshot quality.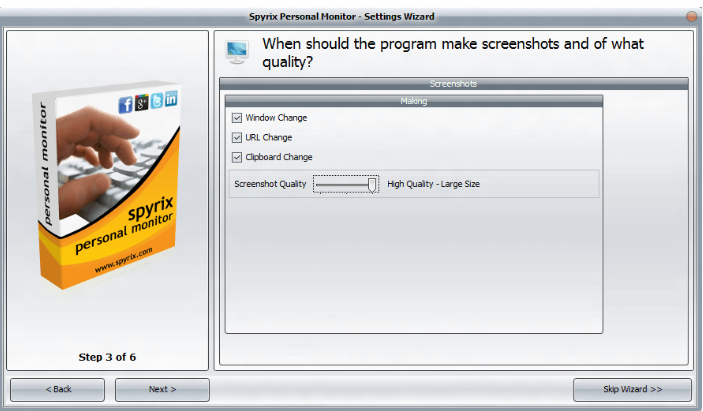 Hide the Software
At last, you can hide the software on the target PC if you want to monitor someone without them knowing. However, the hide option is not available in the free software. You need to purchase the premium version of Spyrix to activate the hidden mode.
How to Install and Setup Spyrix on Mac
Here is an overview of installing Spyrix on Mac devices. Consult the Online manual for Mac to learn more.
1. Go to Spyrix's official website and download Spyrix Keylogger for Mac.
2. Then, navigate to Finder and click Downloads to find the downloaded file.
3. Double-click the downloaded file to unzip it and get the installer, Spyrix Keylogger, for Mac 10.4.mpkg.

4. Right-click the installer and select Open in the available menu.

5. After opening the installer, click Install.
6. Enter your admin password to proceed with the installation process.
7. Next, you will see the About screen. Click Start Free Trial to start a free trial. If you have already bought Spyrix, click Registration and enter your license code.
8. After installation is complete, you will see the Setting Wizard to set up the program. Here, you can hide the software and set various monitoring parameters.
9. The program will start after a while. Simply press the hotkeys to open it.
Monitoring with Spyrix
You will receive the monitoring instructions on the Email you entered while creating an account. Log into your Spyrix's secure online account by following the instructions. So, now you're all set to monitor everything on your target user's computer.
Pros
Free keylogger for online monitoring on Windows
It records keystrokes with high accuracy
Direct customer support via Email
Records all the data copied to the clipboard.
Cons
There's no option to hide the tool in the free version
You don't get keystrokes and screenshots via Email in the free version.
If you want something to monitor your PC, the free version of Spyrix is for you. However, if you need software to spy on someone's online activities, buying a premium version will do wonders for you. The paid version is affordable and unlocks all the premium features, such as the live mode and access to the computer's microphone and webcam.
Get started with the free Spyrix tool and upgrade it if you like its wonderful features!
FAQ
Is It Legal to Use a Keylogger?
Yes, Keylogger software is legal if you want to install it on your PC to track your activities. It all depends on your choice to install a keylogger on your PC or not. However, installing a keylogger on another person's device can require some permissions or admin rights.
Is It Secure to Use Spyrix?
Yes, Spyrix is a password-protected software. This means no one can access your data without knowing the password. The software runs on the same computer you are monitoring.
Can I Use Spyrix for Free?
Yes, You can use the free version of Spyrix for Windows with limited features. However, this freeware is not available for mac or any other operating system.