SnoopReport Review 2023 — Is It the Best Instagram Tracker?
Content marketers and brands are competing fiercely for their promotion on Instagram. The platform has a strict privacy policy, preventing users from spying on others. However, tracking your competitors is necessary for you to come up with a winning strategy to boost your business. If you want […]
SnoopReport
https://app.snoopreport.com/en/auth/signup
https://snoopreport.com/
Android, iOS
Content marketers and brands are competing fiercely for their promotion on Instagram. The platform has a strict privacy policy, preventing users from spying on others. However, tracking your competitors is necessary for you to come up with a winning strategy to boost your business. If you want a tracking tool to analyze your competitors' performance on Instagram, SnoopReport is for you.
In addition, SnoopReport is the most trusted parental control tool for your child's safety on Instagram. You can easily monitor your child's Instagram activities without getting caught. Moreover, you can learn more about celebrities and know what your loved ones like and follow.
This article is a detailed review of a famous Instagram account tracker, the SnoopReport. Without wasting time, let's delve into the topic. This review includes the following details:
Compatibility
Features
Pricing Tiers
Setup and Use Process
Pros and Cons
What is SnoopReport?
Among the best private Instagram viewers, SnoopReport is a unique activity tracker available for all users. It's a reliable and accurate tool to discover someone's interests while staying anonymous. You can snoop on your target Instagram accounts and validate your suspicions about someone using SnoopReport. It generates weekly and monthly reports of users' activities in a .csv file for a detailed analysis.
How SnoopReport Works?
SnoopReport works by collecting data from open public sources with an ethical approach. It doesn't require access to your or your target's Instagram accounts. After creating an account on SnoopReport, you can log in using your email ID and password. Then, you will type and add the target username on Instagram. After adding one or more accounts, you will receive weekly and monthly reports of their Instagram activity.
SnoopReport Compatibility
Tracking apps usually have compatibility issues with different operating systems and devices. However, SnoopReport is a web-based tool rather than an application. You can use it in your web browser on any device, including PC, iPhone, Android, and others. SnoopReport is compatible with all available devices if web access is provided.
Key Features of SnoopReport
You will get various types of information about the tracked Instagram account with SnoopReport. Let's discover them one by one:
Liked Posts
Unlike Facebook, you don't usually see any posts liked by a specific account on Instagram. However, SnoopReport can display a list of photos and video posts that your target IG account likes. You can see the full post and the time when the user liked it.
Favorite Users
Along with the liked posts, you might want to view the accounts that posted them.
SnoopReport compiles such posts and lists them in descending order of popularity. This is a great way to see your competitor's impact on the target viewers. In a personal scenario, you can view your favorite accounts and what kind of content your target user views the most.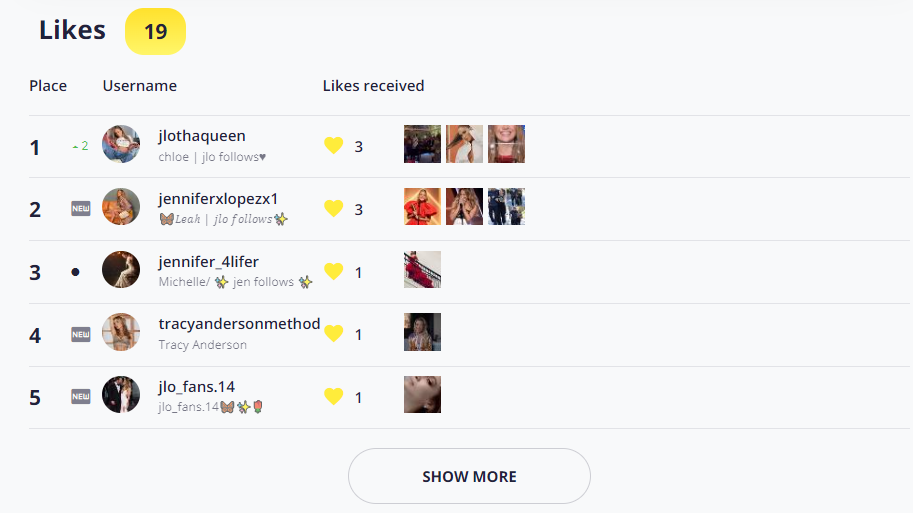 Hashtags Interactions
SnoopReport digests the available data on the target profile and shows you the top trends. It provides a list of the top hashtags featured in the liked posts. This information is available as a chart or a hashtag cloud. This way, you will get an overview of the trends catching the target person's attention.
Watchlist
You can add suspicious accounts to the watchlist to know if your kid or spouse likes them. Simply enter the usernames of unwanted Instagram users and get alerts every time your loved ones follow or like them.
Whenever any target user follows or likes the watchlisted user, you will get a notification in your Dashboard. Also, Snoopreport updates you about your target person's history of activities on the watchlisted account.
Newly Followed Accounts
Normally, Instagram only shows you a list of accounts someone's following. Snoopreport can also tell you who they've followed recently. You'll get all the account names the user has newly followed in the past week in each weekly summary. When you download the CSV file for your record, you can also see the timeframe in which they followed each new account.
Download Report
Sometimes, you need to download the activity report after viewing it to keep it as proof. You can download and save the report by tapping the Download CSV option. The downloaded CSV file will provide you with all the details, including likes, accounts, hashtags, and much more.

How to Use SnoopReport
It's super easy to use SnoopReport for tracking multiple Instagram accounts. You just need to go along these straightforward steps:
Step 1: Creating an Account on SnoopReport
First, sign up on SnoopReport with a free account using your email ID. Having an Instagram ID is not necessary to sign up for SnoopReport. After creating an account, Select and pay for the suitable plan you want to purchase.
Step 2: Adding an Instagram Account
In the second step, you need to add a new target account and input the Instagram handle. You can do this only if you know the Instagram username of the account you want to snoop on. After adding the username, you must choose when to snoop on the account. Repeat this process for all the Instagram accounts you want to track.
Step 3: Get SnoopReport Reports
After adding the desired accounts, your task is done. Relax and receive a weekly summary of your tracked account's activity weekly. Select the time frame you want the snooping reports of your target users. The activity report will include all the likes, follows, comments, and everything else done in the selected timeframe. You can download it in CSV format.
SnoopReport Pricing
SnoopReport offers different pricing tiers depending on the number of Instagram accounts users want to track.
The starting Personal plan costs $4.99 per month, allowing you to track a maximum of two accounts simultaneously.
The next plan allows you to track ten accounts at $14.99 per month, saving up to $9.96. This tier is ideal for tracking a few competitors, small businesses, or family members.
You can trace up to 100 accounts at $44.99 per month in a professional plan. It's commonly useful for content marketers to get an insight into their target audience.
Pros
No need to install any app.
User-friendly interface with versatile use cases
The price is quite affordable.
Access SnoopReport from anywhere.
Shows accurate and detailed reporting data
The only Instagram parental control tool available for iPhone
Cons
Data limitation is the major con of SnoopReport. It only gathers the data that is publicly available. You can't access any person's private activity, like messages on Instagram. It provides as much data as is ethically acceptable.
Why do we Recommend SnoopReport?
SnoopReport is highly recommended for Instagram monitoring due to its versatile and user-friendly nature. But you can also examine other Instagram spy apps.
Easy Use
The easiest way to track someone's activity on Instagram is SnoopReport. You don't need to hack or physically access someone's device to monitor their Instagram. Various YouTube videos are available to demonstrate SnoopReport's use.
Versatile Use
SnoopReport is a versatile monitoring tool for professional and personal use. Its range of subscription plans makes it a perfect tool for creating an effective Instagram marketing strategy. You can know more about the types of accounts and posts your target audiences like.
Final Thought
Whether you want to watch your kid's interests or stay closer to your favorite people, SnoopReport is your ultimate option. Also, achieving your business and marketing goals is now easier by knowing your competitor's and audience's interests on Instagram. SnoopReport allows you to check anyone's activity on Instagram and what they follow and like.
Sign up now to join a community of 55000+ Snoopers and get Instagram tracking results like never before!
FAQ
Can I Track Someone I Don't Follow on Instagram?
Yes, you can monitor any Instagram account without them knowing or following. However, the platform respects Instagram's privacy policy and cannot track private accounts.
How to Cancel My SnoopReport Subscription?
If you want to cancel your Snoopreport subscription, go to the Dashboard. Tap Settings and select the Discontinue subscription link at the bottom.
What Happens if I Lose My Internet Connection or Log Out?
SnoopReport can monitor target users' activity on Instagram even when you're logged out. All tracking activities happen on our cloud servers. There's no need to be logged in to track user actions.