eyeZy Review – Is This The Best Parental Control Software?
As children become more in sync with technological advances, the demand for parental control software continues to increase. Constantly searching for an all-inclusive parental software was worse than finding a needle in a haystack. So the first time I went through eyeZy's website, I felt […]
As children become more in sync with technological advances, the demand for parental control software continues to increase. Constantly searching for an all-inclusive parental software was worse than finding a needle in a haystack. So the first time I went through eyeZy's website, I felt like I had struck gold. The site seemed flawless, and all the essential features of a parent control software, like file finder, web monitoring, and app control, were present.
But I wasn't going to get too excited yet. I had to test it on my kids' devices to see if the features were as good as I had heard. I first tried it on an iPhone and encountered my first disappointment. To get complete access to all its features, I needed to bypass Apple restrictions on the iOS, so I settled for getting limited features on the iPhone. But testing on an Android automatically gives you access to all its unique features.
Before committing long-term to eyeZy, I started my journey with a 1-month package. I got a special discount on my subscription, so I was happy to pay less for more. There is a 14-day money-back guarantee if you can provide a valid explanation for why you are unsatisfied with the product, and your query cannot be resolved by customer service.
From keystroke recording to website monitoring, application, and internet control, eyeZy meets all the requirements that every parent wants from parental control software. I'll take you through some of these features that cut it for me. Continue reading.
Dashboard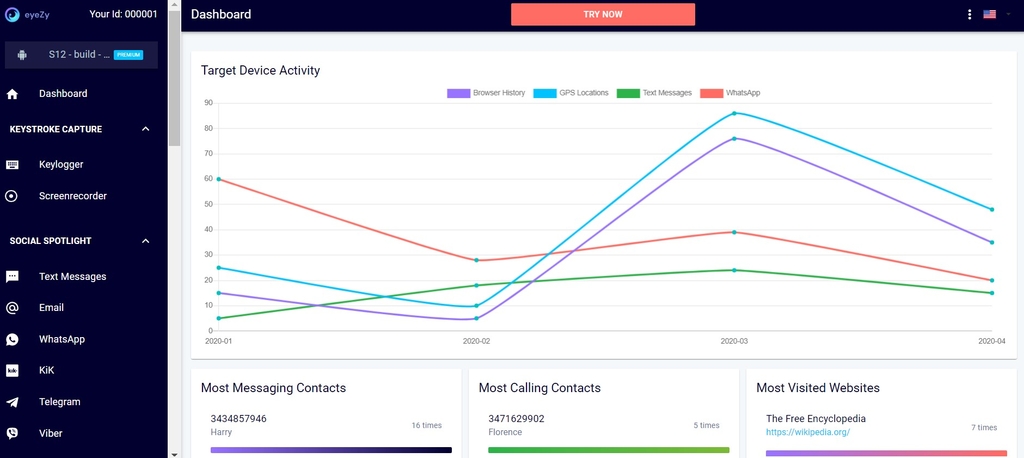 eyeZy's dashboard is undoubtedly a wonder to behold. Building a dashboard that properly curates these data would be a difficult task considering the large amount of data that the software tracks. But eyeZy's dashboard smashed the bar with an all-inclusive, nearly perfect dashboard.
On one half of the dashboard, a concise summary of smartphone usage is visible on the graph on the screen's middle. This summary includes call history, text messages, and visited websites. A map displaying your kids' current location and location history is located on the other half of the dashboard.
You can access each monitoring element from the dashboard's menu on the left-hand side. You can get access to whatever the kids are up to – what they type, their pictures, calendars, social media activities, etc.
Keystroke and Screen Recording
At first, the keystroke and screen recording feature was not visible on my dashboard, making me raise an eyebrow. Keystrokes and screen recording were crucial features that excited me when I checked eyeZy's website. But before I could conclude, I decided to reach out to customer support about the issue.
It goes without saying that eyeZy has excellent customer service, and the issue was quickly resolved. I could not access the keystroke and screen recording feature because I needed to give the software more control settings by jailbreaking my Mac and my kid's iPhone to allow eyeZy to show me stroke the kid types and screen record the iPhone.
Jailbreaking an iPhone exposes the device to the risk of viruses and internet hackers. Also, if it is a new phone, you lose your warranty. For these two reasons, I decided against jailbreaking the phone and installed eyeZy on an Android phone. The phone has to be rooted for the Keylogger feature to work, and it worked for me. I could read messages from several apps, including Instagram, Facebook, WhatsApp, and even Snapchat.
You can filter the messages using applications, which makes it easy to find specific messages. If there were an upgrade, I would suggest adding a search feature so parents could find specific words rather than going through a bland and harmless block of text.

The screen recording feature feels even better than the keylogger. It takes screenshots of new activities and makes it easier for me to monitor my kids' activities by scrolling through pictures. The only problem is that there are a lot of pictures to scroll through, which can be tiring.
Social Spotlight
Initially, I didn't see any need for the Social Spotlight feature. Why would anyone want this feature when they can use the keylogger and screen recording to monitor everything their kid does? It took a few weeks before I realized there was more to the Social Spotlight feature than I had imagined. The keylogger and screen recording only gave me a report of my kids' conversations.
However, social spotlight allows me to see other websites that they are visiting and check their online conversations. By reading this conversation, I, and other concerned parents, can know if their kid is being bullied and take necessary action. It's no news that victims of bullying find it hard to speak up and it affects them severely. If your kids are also engaging in inappropriate topics, you would quickly know this using the social spotlight feature. Great, isn't it?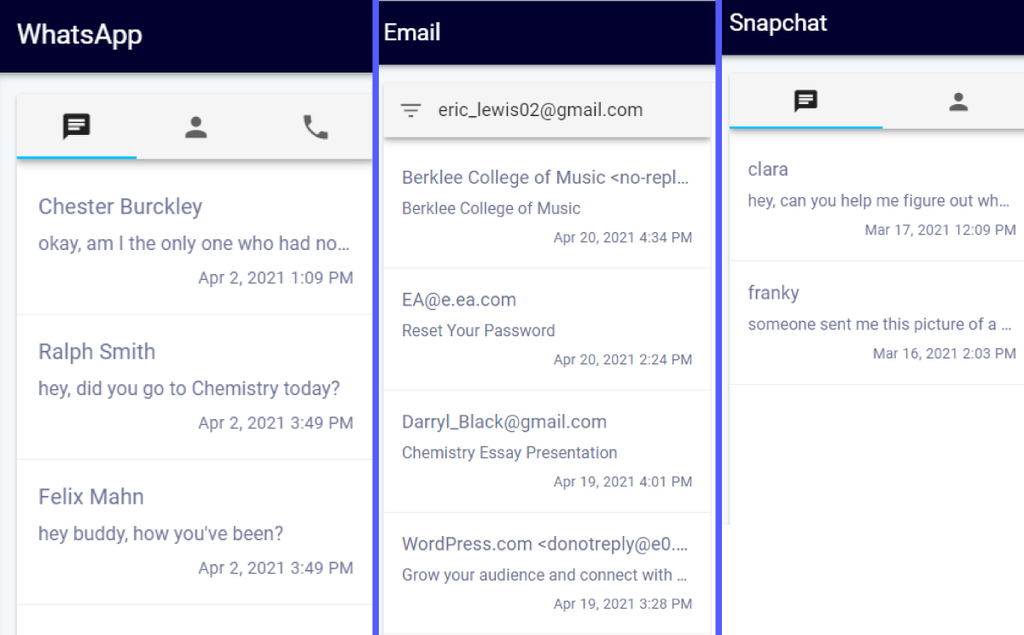 This feature allows you to monitors SMS (even the deleted ones), emails, WhatsApp, Instagram, Kik, Line, Telegram, Facebook, Snapchat, Telegram, Viber, Skype, and Hangouts. That's a whole lot, in my opinion.
Phone Analyzers
The phone analyzers allow you to know what your kids are saying on the phone and who they are telling. There's no hiding for these kids and for the first time, technology takes our side over them. Although, you can't know what exactly was said on the call as eyeZy doesn't record the conversation. However, you can see how long the call lasted and how frequently they interacted with the caller.
Accurate GPS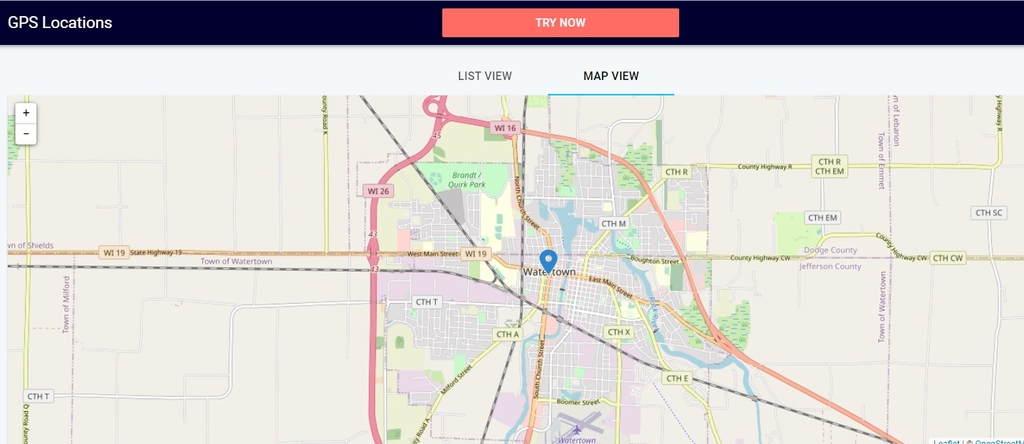 Thanks to its accurate and constantly updated GPS, you always know the kid's precise whereabouts. You can set up a geofence with the Magic Tracker feature to get real-time updates when your children enter or leave a particular area. The software also saves the location history, so you can always check their phone location see if they've been sneaking out at night or skipping school. The app uses Google Maps, so if you need to get them out of an area urgently or in an emergency, you can locate them using eyeZy. eyeZy also monitors the WiFi networks they use. Kids need to be taught the dangers of connecting to untrusted networks.
Blocks Apps, Websites, and WiFi

Monitoring the sites your kids' visit, the apps they use, or the WiFi they connect to is not good if you cannot do anything about it. No parent or guardian will sit tight and watch their kids visit a gambling site feeling comfortable because they know the activities. If you are a parent like me, you would want to do something and eyeZy gives you the power to do this. You can create restrictions for websites, applications, and WiFi networks you don't want them to use. Whatever it is – porn, fantasy sports, addictive games, gambling, or anything else. You can block these sites, apps, or networks with eyeZy.
This feature works like a web filter. The only difference is that web filters block all websites in a specific category, but eyeZy requires you to input specifically the names of websites you want to block. So you have to take the time to scroll through their browsing history to know if they've been visiting any unwanted sites.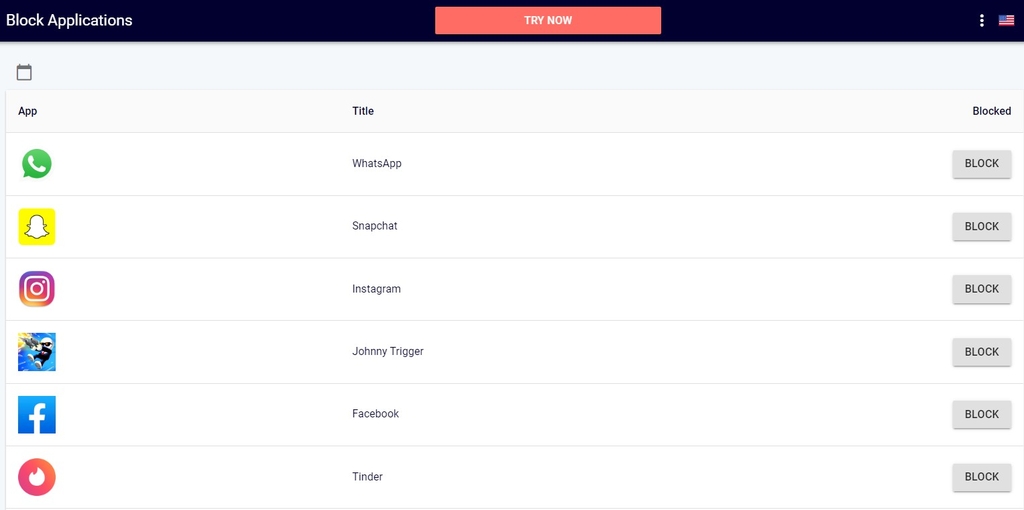 If your child spends too much time on an application, you can block the app on eyeZy. I think blocking the app might be too extreme, and as an alternative, eyeZy can allow parents to set a time limit for apps where kids are spending too much time. Visiting TikTok or Disney+ isn't a problem for me as a parent, but when the child begins to spend too much time on these apps is where I draw the line.
It is worth noting that using VPNs or incognito to access blocked sites will not work on the eyeZy app. Your kids will have to download a new browser to visit these websites, and once you notice this, you can block the app too.
Social Calendar
eyeZy does not only allow you to see what your kids are up to, but it also lets you in on their plans. The app allows you to see your child's calendar. For me, it was the first time. I had never seen any parental control app that offered this feature, and it blew my mind. Now what my kids plan to do, I can determine where they will be, what they will be doing, and with whom.
Files Finder

Kids can be secretive, I know. When they want to keep something from you, they put it n the most inconceivable places – very smart lots. But eyeZy's smarter. The app allows you to see all the pictures, videos, notes, emails, and even reminders on your kid's phone. The good thing is these data were easy to retrieve and can easily be accessed on your dashboard. Remember how well-organized I said the dashboard is? You can view all your kid's media files from one panel and filter them based on their categories through a side panel on the dashboard.
Installation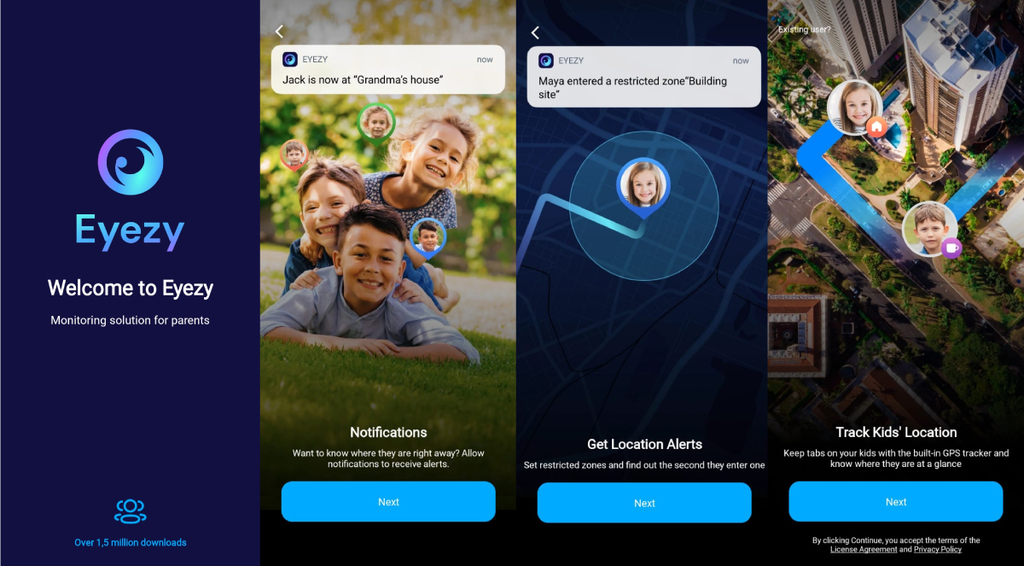 For an app with all of these superb functionalities, one would expect that it would take forever to download and install eyeZy. After installation, the app is user-friendly, and the dashboard is easy to navigate. First, you need to create an account. Then, you pay for a subscription. And voila, you can connect it to your children's gadgets.
If you are connecting with an iPhone, you need to connect to your kid's iCloud account to sync eyeZy with their Apple device. When I did mine, the data sync was faster than I imagined. It happened almost immediately. Afterward, I had to download the eyeZy on the kid's phone to monitor subsequent activities.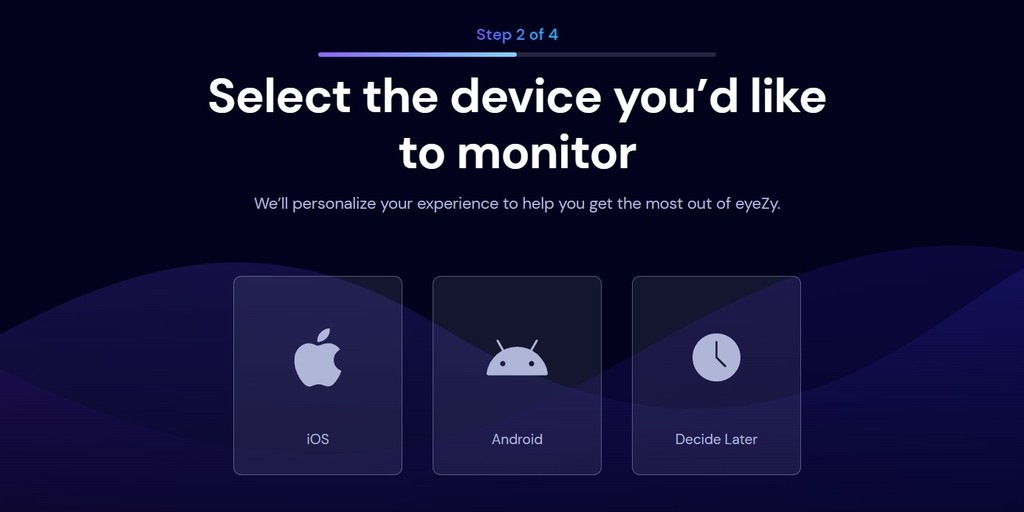 When I tried connecting with an Android, I got a download link in my email. I used the link to download the app on my child's phone and followed the following prompts. In a matter of minutes, I was done connecting the phone with the tracker on my device.
Easy To Use
I said in the previous section that the eyeZy is eaZy to use. You don't need to watch YouTube videos or read Reddit and Quora tutorials to find your way around the app. Everything you need is available on one panel, and you use the categories to access more data. eyeZy provides so much data it would take a lot of time to learn what information is available and where. It's almost like a full-time job, but isn't that what parenting is?
If you don't want your kids to know they are being monitored, eyeZy's got you covered. Once you pass the test of installing the app on their phones, it automatically runs in the background. You don't need to collect their phones for any app update or system configuration.
Support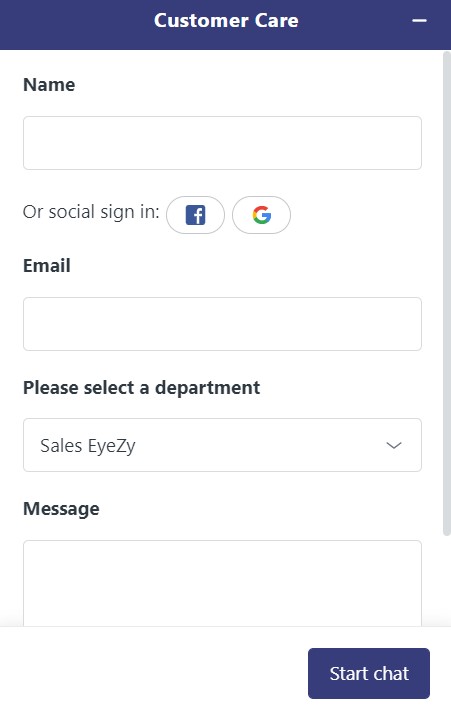 I briefly mentioned my encounter with customer support earlier when I was trying to access the keystroke and screen record feature. The response was fast and available in-app. However, before subscribing to the app, I had an issue with payment. But since I could not access the in-app customer service, an email ticket was created for me, and I didn't get an immediate response. I concluded that the app prioritizes paid customers over those yet to subscribe.
Pricing
eyeZy has an affordable subscription plan for users. You also get discounts for any subscription you choose between the 1, 3, and 12-month plans. The discounts get bigger as you subscribe for longer. However, you get access to all the app's premium features regardless of your chosen plan. Also, the subscription plan is applicable to monitor one device, i.e., one child. You need to buy more than one subscription plan to monitor several kids.
You also get a 14-day money-back guarantee, but the refund policy holds that you get a refund for issues you encounter within the first 14 days of subscribing if the customer team cannot resolve your issue. My candid advice would be to subscribe to the one-month plan to see if you like it before committing to a 3 or 12-month subscription plan.
Is It Legal To Use eyeZy?
Yes. eyeZy complies with all necessary regulations concerning parental software, making it legal to use.
Is eyeZy Safe?
Yes. Despite being effective, eyeZy poses no threat to the safety of your devices or the information it contains. However, you must remember to jailbreak your iPhone if you want access to eyeZy's advanced features. You have to root your Android device to access the social spotlight feature.
Is It Possible To Limit My Kids' App Usage With eyeZy?
No. You cannot limit the time your kids use an app with eyeZy. However, you can block the app, denying them access to it. If this sounds like a good option, you'll need to jailbreak your iPhone or root your Android to give eyeZy complete control over the phone and allow yourself to access this feature.
Can I Monitor My Kids' Social Activity With eyeZy?
Of course, you can. eyeZy has a Social Spotlight feature that allows you to monitor text messages, social media activities, and emails. But like other advanced features on the eyeZy software, you need to jailbreak your iPhone and root your Android device to use this feature. An alternative would be to check other parental control software that allows you to monitor your kids' social media.
Can eyeZy Be Detected on My Kids' Phones?
No. eyeZy operated like a cool ninja in stealth mode. To your kids, it will appear like a default factory app that cannot be deleted or uninstalled. And it does not get flagged by any antivirus or anti-spyware software.
Expert's verdict

Miloš Jovanović
Chief Technology Officer
eyeZy is definitely one of the strongest competitors on the spy app market. It exceeds its counterparts in terms of speed, reliability, and features. If you're looking for a very advanced spy app, this is your best bet,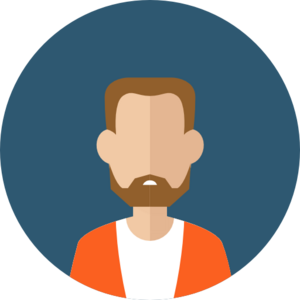 I was impressed with eyeZy's smooth and clean interface. Everything is very user-friendly and you can navigate to any part of the phone within seconds. It shows all information in real-time.