Can you install FlexiSPY on Android and iPhone? You can install FlexiSPY on Android and iPhone. To install FlexiSPY on Android, simply download an APK file; to download FlexiSPY on iPhone, you first need to jailbreak the advice.
Do you want to know what your kids are doing on their phones at all times? Are you worried about who they are talking to and the content they are accessing? FlexiSPY can help! This comprehensive parental control app secretly records all of your child's data and sends it directly to your FlexiSPY account which you can access from your own device!
Before you rush out and buy FlexiSPY, check out our in-depth review. We personally tested FlexiSPY on a number of different devices and experimented with the app's different features. Keep reading to find out how this app works, how to install it, and more!
What Devices Is FlexiSPY Compatible with?
The great thing about FlexiSPY is that it works on virtually every device! Many parental control apps only work on Android or iOS but not FlexiSPY. With this epic app, you can monitor your child's Android and iOS device as well as their Windows and macOS computers and laptops.
If your child's device, laptop, or computer meets the following requirements, you can install FlexiSPY today!
Device running Android 4 + – Works on all Android devices, including Samsung, Google, Samsung, Xiaomi, Asus, Huawei, OnePlus, and more!
Devices running version 7 or later – You can install FlexiSPY on iPads and iPhones
Computers and laptops running 10, 8.1, 8, or 7 – FlexiSPY is compatible with Asus, Acer, Dell, HP, and other top brands.
Virtually all Macs and MacBooks, including early operating systems such as El Capitan to new versions like Big Sur.
FlexiSPY is great if your child has multiple different devices. You can easily install it on their Samsung Galaxy and, at the same time, run it on their brand new MacBook. There is no place for your child to hide!
Before you purchase FlexiSPY and head to their website and use their compatibility tool to see if your child's device is suitable for this parental control. You simply select the make and model of your child's phone and its operating system, and FlexiSPY will instantly tell you if it is compatible.
How to Purchase and Download FlexiSPY?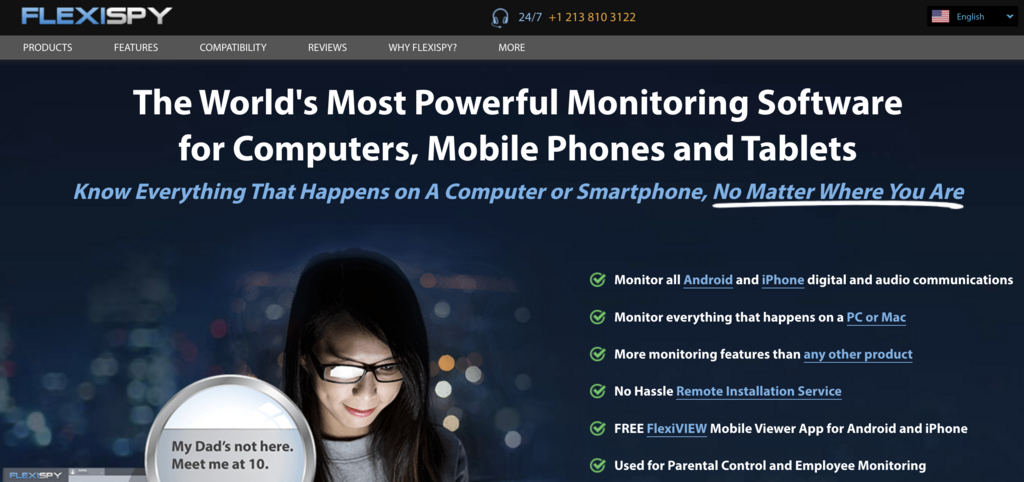 The FlexiSPY software is super easy to purchase and download. It takes just a couple of minutes to sign up, and then right away, you can install it on your child's phone. Following these steps to get started:
Head to FlexiSPY.com
Hit the Buy button
Select the device you want to spy on
Choose the payment package that best suits you
Click Proceed to checkout
Enter your payment details and email
Confirm your purchase
Sign in to your FlexiSPY account and click Manual Install to start the set up process, or purchase the FlexiSPY installation service and let one of their technicians help you
Keep reading to find out how to install FlexiSPY on iPhone and Android. Follow our steps and get this amazing parental control app set up in just a few minutes!
How Much Does FlexiSPY Cost?
FlexiSPY parental monitor app has 3 different plans – Lite, Premium, and Extreme.
Lite (track location, view browsing history & read texts) – $29.95 per month
Premium (Lite features + extensive social media tracking including Facebook, WhatsApp, Instagram, and TikTok) – $79 per month for 1 month, $119 for 3 months, $179 for 12 months
Extreme (Premium features + call recording, ambient recording, and remote camera capture – $119 for 1 month, $239 for 3 months, $419 for 12 months
FlexiSPY does not offer a free trial, but they do offer a 10-day money-back guarantee. They also have a fantastic demo mode and a 24/7 customer support team that is always ready to assist you. Overall the best value package is the Premium plan for 12 months. For just under $15 per month, you get to protect your children and know where they are at all times and who they are speaking to. Thanks to FlexiSPY, you never have to spend another night wondering if they are really staying at a friend's place or actually talking to a classmate!
Install FlexiSPY on the Target Device
FlexiSPY has done a great job of simplifying the installation process. Even if you don't have any tech skills, you can quickly install this comprehensive tracking app on any device and instantly see what your children are up to!
Installing FlexiSPY on an Android
Enable app installations from unknown sources in Android Settings > Security > Unknown sources.
Disable Play Protect in the Play Store by clicking on Menu > Play Protect > Scan device for security threats.
Sign in to your FlexiSPY account and click on Manual Install for guided installation.
Installing FlexiSPY on an iPhone
Install AltStore on your Mac and enable AltPlugin from the Mail app application folder to jailbreak the device.
Plug in the iPhone and sign in with the Apple ID to install Unc0ver, downloading the v5.3.1 version from https://unc0ver.dev.
Open Unc0ver on the iPhone and tap the Jailbreak button, then proceed to install FlexiSPY by adding the https://ios.mflx.biz source in Cydia, installing System Core, and entering the license key. Finally, click Hide App to complete the installation.
Configuring FlexiSPY settings
Sign in to your FlexiSPY account.
Click Help and select Device Settings.
Choose Data Delivery and enable or disable the desired features.
To monitor your child's activity, click on Dashboard.
FlexiSPY is a user-friendly app that lets you keep an eye on your child's activity from any device.
Features of FlexiSPY
FlexiSPY isn't just a well-designed and easy-to-use parental control app it is also loaded with features. FlexiSPY offers comprehensive tracking and gives you the power to see what your child is doing on their phone at all times. You can read their messages, see their live GPS location, see all of the websites they have visited, and even check out their private social media posts and messages.
The amazing thing about FlexiSPY is that the app is 100% hidden. Your child will have no idea that you are secretly monitoring them. Also, if they are paranoid and start surfing the web in incognito mode or deleting texts, FlexiSPY will still record everything!
Thanks to FlexiSPY, protecting your child from online creeps and preventing them from engaging in high-risk behavior is easy. Check out the best FlexiSPY features below:
Social media monitoring – With this incredible app, you can read all of your child's Facebook, Instagram, TikTok, WhatsApp, and Telegram messages. It doesn't matter if the chat is encrypted or the messages are deleted you can still access them. This feature is amazing if you want to prevent your kid from talking to predators online.
GPS tracking – Is your teenager actually having a sleepover, or are they at a party? Thanks to FlexiSPY, you can instantly discover the truth! This parental app provides you with live laser-accurate GPS coordinates and shows all of your child's previous locations.
Website and app blocking – Are you sick of your child scrolling through TikTok and Instagram at 2 in the morning? With this feature, you can block access to certain apps and websites with the click of a button!
Keylogging – What is your kid's Facebook password? Crack it with FlexiSPY's keylogger! This feature records every keystroke your kid makes on their phone, including when they enter their passwords to their accounts!
Access videos and photos – What kinds of videos or photos does your child have saved on their phone? Are they recording inappropriate content? Use FlexiSPY to instantly download all of their photos and videos.
View browser history – Is your kid watching explicit material? Is your child watching inappropriate videos? With this feature, you can visit every single website your kid has visited, even if they have cleared their browsing history!
Access text messages – Are you concerned about this mysterious friend that your child keeps texting? With FlexiSPY, you can instantly read all text messages without your child suspecting a thing.
Record phone calls – Listen in on your child's phone calls. Hear exactly what your child is talking to their friends about. This is a great feature if you want to quickly put a stop to any rebellious teenage behavior.
Geo-fencing – Create a virtual boundary on a map and then get a notification every time your child leaves or enters this boundary. For example, let's say your kid is staying the night at their friend's house, and you want to make sure they don't sneak out to a party. You can create a geo-fence around the house and be alerted in real-time if your child leaves!
There is virtually nothing you can't monitor with FlexiSPY! Even the craftiest teenagers won't be able to escape the all-seeing eye of this state-of-the-art tracking app. Install FlexiSPY and start reading your kid's private Facebook, WhatsApp, and Instagram messages now!
Configure FlexiSPY Settings
FlexiSPY gives you the power to alter settings so you can track specific things on your child's phone. To configure FlexiSPY settings simply:
Sign into your account
Tap Help
Click Device Settings
Select Data Delivery
Click Change Application Settings
Now you will see a list of all the FlexiSPY features. If the feature has a blue tick, it is enabled. To enable a feature, simply click on it, and to disable a feature, click on the blue tick. Then just click confirm to update the settings.
FlexiSPY is very user-friendly. Once you have completed the initial installation, the app will be completely hidden, and all of the features will be enabled. You shouldn't have to make any updates, and you don't have to touch your child's phone again!
Monitor Activity with FlexiSPY
To monitor FlexiSPY, all you need to do is sign into your account. Then click on Dashboard. From the dashboard, you can click on messages, location, calls, browsing history, and more! Everything you need to keep an eye on your children is just one click away.
Once you have installed FlexiSPY, you never have to touch your child's device again. You can monitor everything remotely via your dashboard. This well-designed dashboard gives you the flexibility to check in on your child whenever and wherever, and from any device.
Conclusion
How do you install FlexiSPY on Android and iPhone? To install FlexiSPY on Android, you just need to create a FlexiSPY account, allow app installation from unknown sources, disable Play Protect, and then follow the guided installation in your FlexiSPY account. The whole process is incredibly simple and should take less than 10 minutes. There is no need to root your Android device, you just need to download an APK file.
Installing FlexiSPY on an iPhone is a lot more complex as first, you need to jailbreak the device, which can take up to an hour and requires you to connect your child's iPhone to your computer. After you have jailbroken the device, you then need to open Cydia and follow some basic steps outlined above. If the iPhone is jailbroken, you can install FlexiSPY in under 10 minutes.
FlexiSPY is a top-rated parental control app that allows you to remotely track your child's location, read their private social media messages, view their photos and videos, record their phone calls, and check out their browsing history. The app runs in stealth mode, so your kid will never know you are watching their every step. If you are serious about protecting your children, we recommend installing FlexiSPY on their device now!